A new poll from the University of California-Berkeley Institute of Governmental Studies (IGS) reveals that more Californians disapprove of the job Gov. Gavin Newsom (D) is doing (49%) than approve (44%) – the first time this has happened since Newsom took office in 2019.
This marks an 11-point decline in Newsom's approval rating since the last time IGS asked the same question in February, just nine months ago.
"This includes significant declines among the governor's Democratic voter base and is most prominent among two of the state's swing voter blocs – political moderates and No Party Preference voters," according to the poll.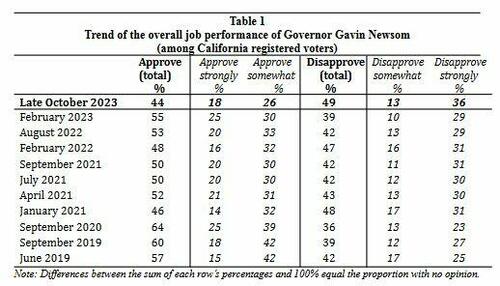 "Younger voters have also turned against the governor, while voters ages 65 or older remain supportive."
Poll Director Mark DiCamillo suggested the sharp decline was due to those with extreme views, "with the proportion strongly approving of Newsom's performance declining from 25% to 18%, while those strongly disapproving climbed from 29% to 36%," NY1 reports.
According to DiCamillo, the decline is "broad-based and is particularly noteworthy among political moderates and No Party Preference voters."
While 66% of Democrats approve of the job Newsom is doing, just 37% of No Party Preference and 7% of Republicans approve. Support was strongest in San Francisco (53%), where Newsom served as mayor before being elected governor, and among females, with 46% of women approving of his job performance compared with 41% of men.

While 53% of voters age 65 or older continue to support the governor, younger voters are less approving. Just 35% of voters age 18 to 29 and 38% of voters age 30 to 39 approve of the job he's doing. -NY1
Newsom's declining approval rating comes as California struggles with budget shortfalls and other issues. Meanwhile, just 50% of California voters approved of Newsom's recent trip to China to meet with President Xi Jinping, while 39% disapproved.
It also comes as Newsom stands accused of running a 'shadow' Presidential campaign to take the mantle if Joe Biden dies or otherwise isn't the Democratic nominee in the 2024 US election.
Loading…