It wasn't quite as ugly as yesterday's 3Y auction, but it certainly wasn't pretty: moments ago the Treasury sold $35BN in a 10Y reopening (9Y-10M technically), which priced at another cycle high of 4.61%, above last month's 4.289%, and the highest since August 2007. The auction also tailed then 4.592% When Issued by 1.8bps, which was not only the biggest 10Y auction tail since April, but was the 8th consecutive auction without a stop through (last month's was on the screws).
The bid to cover printed at 2.50, down from 2.52 last month and the lowest since June.
The internals were concerning because while Indirects took down 60.3%, the lowest since Dec '22 (and clearly below the six-auction average of 66.5), with Directs awarded 18.7% (also the highest since last December), it was the 20.9% allotted to Dealers – the highest since October 2022 – that was a red alert, because with Dealers still unwilling to hold US paper, the Fed may have no choice but to activate the mechanism that allows Dealers to activate the mechanism that permits them to flip their TSY holdings right back to the Fed. A mechanism better known as QE.
Overall, a subpar, disappointing auction which sucked on both on the top line and also in the internals. No surprise that 10Y yields have jumped to session highs in the moments after the poor auction.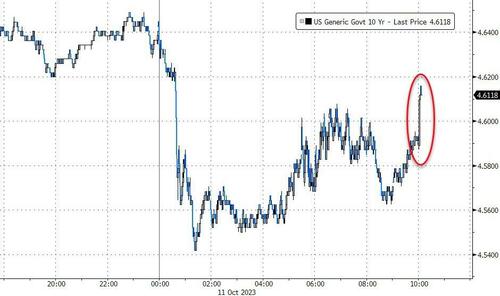 Loading…