After yesterday's solid (inventory liquidation driven) earnings from Target, many were hoping for follow through today from the OG, the world's largest retailer WMT which reported Q3 results at 7:00am ET. Alas, those same long-suffering consumer discretionary investors were in for more disappointment when the retailing giant reported earnings that generally beat on revenue and earnings, and even though it raised its previous guidance, the numbers came in shy of Wall Street estimates which in turn sent its stock tumbling.
Let's take a closer look at what WMT reported, starting with Q3 historicals:
Adjusted EPS $1.53 vs. $1.50 y/y, just barely beating the (previously lowered) consensus estimate of $1.52
Revenue $160.80 billion, +5.2% y/y, beating the estimate of $159.13 billion (global eCommerce net sales hit $24
billion, reaching 15% of net sales; they were up 15% led by pickup and delivery)
Total US comparable sales ex-gas +4.7%, beating the consensus estimate +3.35%

Walmart-only US stores comparable sales ex-gas +4.9%, beating consensus estimate +3.46%
Sam's Club US comparable sales ex-gas +3.8%, beating estimate +3.66%
The increase in Walmart's comp store sales was notable because both Target and Home Depot reported declines in that metric this week, as consumers continued to pull back from discretionary purchases.
The key charts: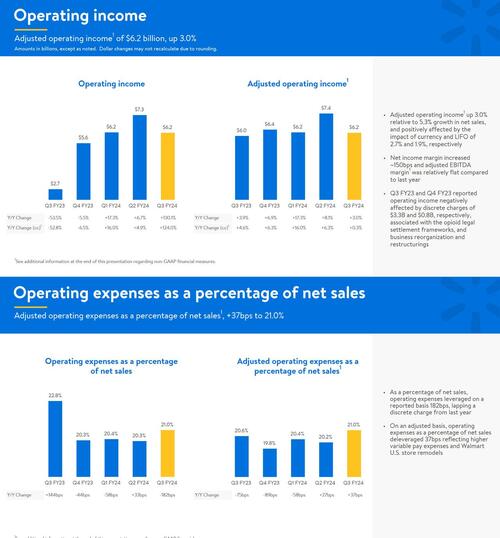 So far so good, and if that was the extent of it the stock would probably be soaring now. However, what the market threw up all over was the company's disappointing guidance (which was raised but still failed to meet consensus estimates), as well as its cautious tone about the outlook for US shoppers after signs of weakness at the end of October.
Looking ahead, Walmart forecast that adjusted earnings for fiscal 2024 will be in the range $6.48-$6.48 a share, up from its previous outlook range of $6.36 – $6.46 a share. However, this was still viewed as weak compared to consensus: Wall Street had been estimating $6.48, which Walmart now admits may be a stretch.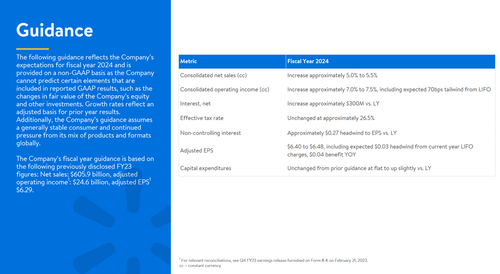 Not helping was the company's commentary on consumer strength, or rather, weakness trends: according to CFO John Rainey, there was a "sharper falloff" in sales during the last two weeks of October. Demand however picked up in November, spurred in part by seasonal offerings.
"The takeaway for us is that we're seeing strength, we're seeing share gains versus others, but there still is pressure on the consumer," Rainey said. The punchline: "We are more cautious on the consumer than we were 90 days ago at this time."
Separately, the company als warned that "general merchandise sales reflected softness in discretionary categories including apparel, home, and toys", categories which some had expected would show a rebound.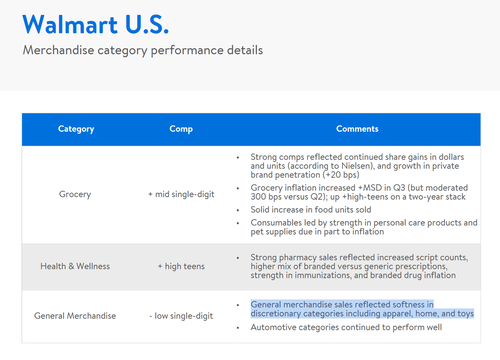 In the aftermath of Target's earnings, which were actually quite ugly but for some reason the huge short squeeze was enough to make markets forget that fundamentals are rapidly deteriorating, Walmart's muted tone pointed to growing uncertainty around consumer spending even as the company grabs more sales from many rivals.
One thing is certain: the market did not like what Walmart had to say, and the shares tumbled as much as 8%. Walmart stock had climbed 20% this year through Wednesday, compared with the 17% increase in the S&P 500 Index. It is about to lose about half this gain in the premarket.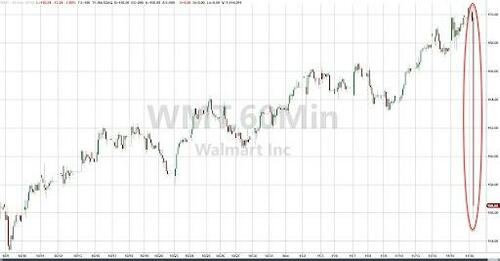 Full Q3 company presentation below (pdf link here)
Loading…