Confirming the leaks that hit markets yesterday, The Wall Street Journal reports that Changpeng Zhao ('CZ'), founder and chief executive of Binance, the world's largest crypto exchange, plans to step down and plead guilty to violating criminal U.S. anti-money laundering requirements, in a deal meant to allow the company to continue operating.
Zhao founded the firm in 2017 and turned it into the most important hub of the global crypto market.
The CFTC claimed that Binance for years didn't have a program to prevent and detect terrorist financing and money laundering. It also said Binance gave Americans access to derivatives such as futures or swaps that can only be traded in the U.S. if they are offered on regulated platforms. Binance never registered with U.S. regulators, making its risky leveraged products off-limits to American traders, the CFTC said.
U.S. government authorities are expected to unveil the settlement with Binance Holdings on Tuesday, resolving a years-long investigation into the world's largest crypto exchange, according to a source familiar with the matter.
The deal, which will include charges against individuals and resolve allegations of violations of the Bank Secrecy Act and other U.S. laws, involves multiple U.S. agencies: the Justice Department, the Commodity Futures Trading Commission and the Treasury Department's Financial Crimes Enforcement Network, the source said.
CZ reportedly will agree to pay fines totaling $4.3 billion, which includes amounts to settle civil allegations made by regulators
Binance Coin – the token tied to the exchange's performance – was choppy on the news today but holding its gains from the leak yesterday…
One more pillar of the FUD drag on crypto disappears… which is why BTC maybe ramping back from earlier losses…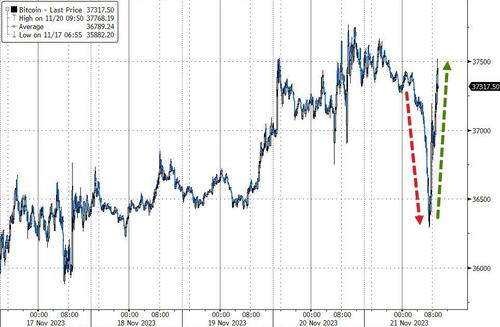 Zhao resides in the United Arab Emirates – a nation that remains welcoming to crypto even as countries such as China and the U.S. have cracked down on the unregulated industry
Loading…