US industrial production unexpectedly jumped by 0.3% MoM in September (0.0% exp) as capacity utilization picked up modestly (from 79.5% to 79.7%). This is the 3rd straight month of increased industrial production (and IP remains marginally higher on YoY basis)…
Source: Bloomberg
Utilities slid 0.3% MoM in Sept after rising 0.7% MoM in Aug.
On the manufacturing specific sector, production rose 0.4% MoM (better than the 0.0% exp).
Manufacturing production, however, remains lower on a YoY basis for the seventh straight month.
Once again, seasonal-adjustments saved the day as Manufacturing output fell 0.5% NSA (+0.4% SA)…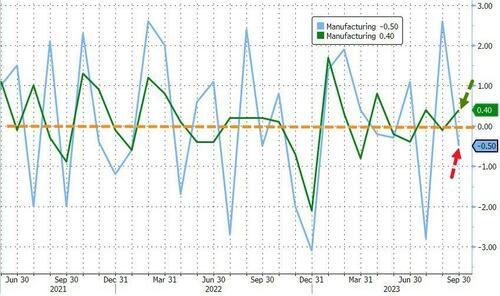 Source: Bloomberg
Seasonals saved Bidenomics…
One thing of note – ahead of the UAW strikes – is that Business Light Vehicles-Autos production plunged 6.2% MoM in September (after a big jump in August)…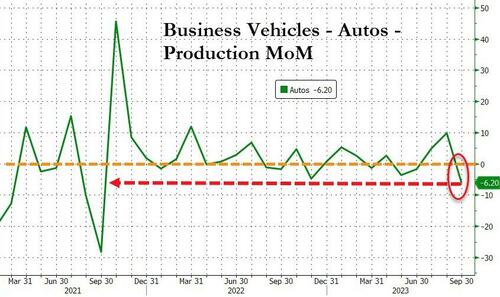 Presumably this will be an utter shitshow next month as the factory closures hit.
Loading…