With housing affordability at its lowest since at least the early 1980s, (as supply suffers with housing starts slumping, and mortgage rates continuing to surge), it's no surprise that analysts expected existing home sales in September to tumble 3.7% MoM. Sales actually fell 2.0% MoM (so better than expected,  but still the 19th monthly decline in the last 22 months). That decline left existing home sales down over 15% YoY…
Source: Bloomberg
The total existing home sales SAAR dropped back below 4mm for the first time since October 2010 (during the foreclosure crisis)…
Source: Bloomberg
Sales fell in all regions except the Northeast in September… and in every price range…
Single-family home sales fell to an annualized 3.53 million pace, the lowest since 2010. Condominium and co-op sales also declined.
"As has been the case throughout this year, limited inventory and low housing affordability continue to hamper home sales," said Lawrence Yun, NAR's chief economist.

"The Federal Reserve simply cannot keep raising interest rates in light of softening inflation and weakening job gains."
First-time buyers made up a historically low 27% of purchases, down from the prior month.
Cash sales represented 29% of total sales, matching the highest level in over a decade. Investors, who often purchase with cash and are therefore less sensitive to mortgage rates, made up 18% of the market.
"It would be very unusual to have higher cash compared to first time buyers," Yun said on a call with reporters.
And, if mortgage rates (and thus affordability) are anything to go by, things are about to get real…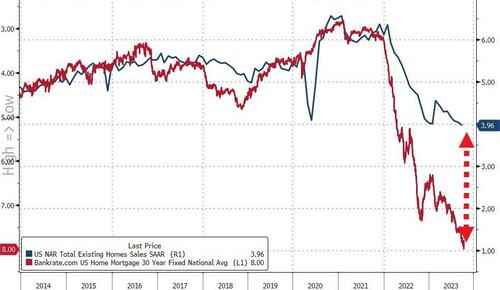 Source: Bloomberg
The median selling price rose 2.8% from a year earlier to $394,300, the highest September reading on record, pushing affordability even lower. But existing home prices are falling relative to new home prices (with the ratio near record lows)…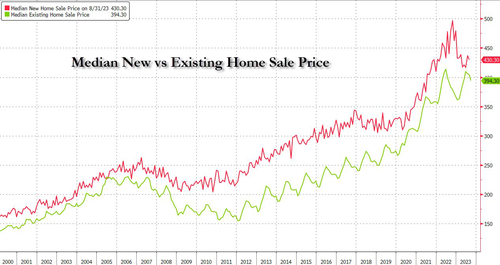 Finally, amid all this un-affordability for shelter, some Americans are turning elsewhere…and with mortgage rates back above 8%, it can only get worse.
Loading…