Five candidates have met the criteria needed to appear on stage for the third Republican 2024 presidential debate in Miami on Nov. 8, according to the Republican National Committee (RNC).
Former New Jersey Gov. Chris Christie, Florida Gov. Ron DeSantis, former U.S. Ambassador to the United Nations Nikki Haley, businessman and entrepreneur Vivek Ramaswamy, and Sen. Tim Scott (R-S.C.) have all qualified for the latest debate and will take to the stage at the Adrienne Arsht Center for the Performing Arts of Miami-Dade County.
All five of the GOP 2024 presidential candidates made the cut after polling at least 4 percent in two national polls or 4 percent in a national poll as well as two polls from four of the early-voting states of Iowa, New Hampshire, Nevada, and South Carolina.
The Republican White House hopefuls also needed to receive a minimum of 70,000 unique donors, with at least 200 of those coming from 20 states or territories.
Additionally, the candidates had to sign a number of RNC pledges, including promising to support the party's eventual nominee.
North Dakota Gov. Doug Burgum failed to qualify for Wednesday's GOP presidential debate and won't appear on stage, according to the RNC, nor will former Arkansas Gov. Asa Hutchinson, who qualified for and participated in the first debate but did not make the stage for the second one in Southern California.
Former Vice President Mike Pence dropped out of the race in October.
Elsewhere, former President Donald Trump, who did not appear at the first two debates (and is scheduled to skip this one), surpassed the donor and polling requirements with ease, according to an analysis by NBC News, and will instead hold a rally at Ted Hendricks Stadium in nearby Hialeah, Florida.
But, as Jackson Richman writes at The Epoch Times, while this will be an opportunity for the GOP candidates to appeal to those beyond the conservative echo chamber, it isn't without facing NBC's left-wing bias.
Following conservative Fox News and Fox Business hosting the first two Republican presidential primary debates, a liberal media outlet is set to put on the third one to the displeasure of conservative media critics.
NBC News will broadcast the Nov. 8 debate from the Adrienne Arsht Center for the Performing Arts of Miami-Dade County in Florida.
This debate is an opportunity to appeal to voters outside the right-wing echo chamber.
Rick Edmonds, media business analyst at the centrist Poynter Institute for Media Studies, told The Epoch Times that NBC "makes sense," given that "the Republican candidates need now to be thinking about how they can appeal to a broader swath of voters should they win the primary."
John Ziegler, a right-wing media critic, told The Epoch Times that the debate will be an opportunity for the candidates to appeal to independents—although President Trump holds a commanding lead in the primary.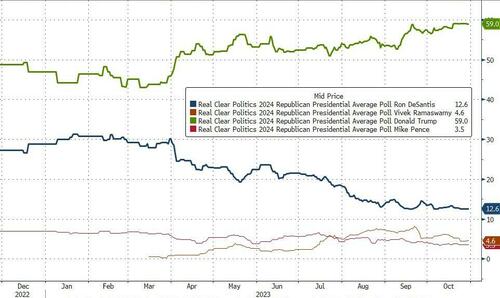 Mr. Edmonds noted that in 2012, Brian Williams, then-anchor for the NBC Nightly News, hosted one of the Republican primary debates and asked about the issues, not parroting Democrat sentiments.
However, don't expect that attitude to be echoed during this debate, according to Mr. Edmonds.
Pushback
NBC has come under fire from conservatives for the network's left-wing media bias.
While the Republican candidates should face tough questions, there's a difference between playing hardball and being a propagandist, according to Emily Jashinsky, director of the conservative National Journalism Center and the culture editor of the right-wing outlet The Federalist.
Ms. Jashinsky remarked that left-wing outlets such as NBC News can't be moved to be objective toward Republicans.
"Repeatedly giving those outlets access rewards bad behavior and does voters a disservice," she told The Epoch Times.
Ms. Jashinsky said the RNC's decision to pick NBC News as the broadcaster for the debate is "a totally unforced error," as it would enable the outlet to unfairly cover Republican voters.
"Republicans should face tough questions from the left, but they shouldn't help leftists pretending to be neutral journalists keep lying to the public about their biases," she said.
Nicholas Fondacaro, an analyst at the right-wing Media Research Center, told The Epoch Times: "It's disappointing to see the RNC award a debate to a network that has no interest in giving Republicans a fair shake on the stage or at the ballot box. After previous debates this cycle, NBC was one of the networks that voiced exacerbation that the primary process was still playing out despite Trump being the front-runner and not attending."
After all, Mr. Fondacaro said, there are outlets other than Fox News, Fox Business, and NBC News that could have hosted the third debate, including The Daily Caller, The Daily Wire, NewsNation, and Newsmax.
Will the Debate Be Fair?
But the Republican National Committee doesn't seem to be worried about the possibility of left-wing bias from moderators Kristen Welker, anchor of Meet the Press, and Lester Holt, anchor of NBC Nightly News.
"I am eager to announce that the RNC has selected NBC News, Salem Radio Network, the Republican Jewish Coalition, and Rumble as our partners for the third Republican primary debate in Miami," RNC Chairwoman Ronna McDaniel said in a statement.
The third moderator, Hugh Hewitt, is a conservative radio host, but "even he will be ineffective in whatever questions he asks," according to Mr. Ziegler.
"But he's there as a token so that conservatives feel like it's not a complete left-wing crap show," he said.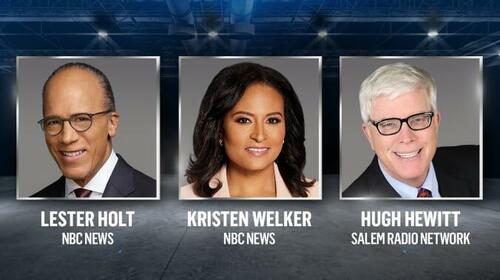 Nonetheless, the RNC stated, "The partners for our third debate will offer our candidates an excellent opportunity to meet the moment and contrast their plans and vision with the failures of the Biden White House."
But according to critics, that's wishful thinking.
Former Fox News producer Eduardo Neret, who lives in Miami, told The Epoch Times that left-wing outlets such as NBC News shouldn't broadcast GOP primary debates.
"Mainstream and left-wing media outlets don't care about conservatives," he said.

"They oppose conservatives on every issue and work to suppress and smear conservative voices and beliefs. That's apparently not obvious to the RNC."
Ms. Jashinsky said: "Like most political institutions, the RNC faces enormous pressures from legacy media. They're convinced they can negotiate with companies like NBC News when, in reality, they're just getting rolled and are trying to make themselves feel better about it."
Mr. Fondacaro predicted that the moderators will ask the candidates questions about issues such as climate change that are usually not of interest to Republican voters. Mr. Neret said to "expect Lester Holt and Kristen Welker to run interference for the Democratic Party on a host of other issues."
"And unlike the Fox News debates, they're sure to make it largely about the guy who's not there," Mr. Fondacaro said, referring to President Trump.

"Expect loads of questions about January 6, Trump's legal woes, and maybe even some loyalty questions."
Mr. Ziegler concurred with Mr. Fondacaro but went as far as to call the debate farcical and cynical given President Trump's domination in the primary polls.
"They don't care that these candidates are being fed to the wolves because they're perfectly fine and maybe even in favor of Donald Trump being the nominee," Mr. Ziegler said.

"So this is all going to favor Donald Trump just like the first debate did, just like the second debate did, and the third debate will. It's Groundhog Day."
Mr. Fondacaro suggested NBC News wants a Trump–Biden rematch because the incumbent could win a second term if he faces his predecessor.
Mr. Neret called for Mr. Holt and Ms. Welker to ask "questions on issues that primary voters care about, like immigration, crime, and the economy."
Neither the RNC nor NBC responded to a request for comment on possible bias from Ms. Welker and Mr. Holt.
NBC Universal's Recent History of Moderating Debates
This won't be the first time NBC Universal will have a GOP presidential primary debate on any of its platforms.
In 2015, CNBC hosted such a debate—moderated by John Harwood, Becky Quick, and Carl Quintanilla—that was denounced for being biased against the 2016 GOP presidential primary field.
Mr. Harwood asked, in a snarky tone, then-candidate Trump if he was running "a comic book version of a presidential campaign" by calling for a wall on the southern border, the deportation of 11 million illegal aliens and, in Mr. Harwood's words, "[making] Americans better off because your greatness would replace the stupidity and incompetence of others."
Mr. Quintanilla asked Sen. Marco Rubio (R-Fla.) about missing Senate votes in order to be on the campaign trail with, "Do you hate your job?" He asked this question repeatedly.
He asked Sen. Ted Cruz (R-Texas), regarding a debt ceiling agreement, "Does your opposition to it show that you're not the kind of problem-solver American voters want?"
Mr. Cruz fired back with a summary of the bias during the debate.
"You know, let me say something at the outset. The questions that have been asked so far in this debate illustrate why the American people don't trust the media," he said.

"This is not a cage match. And if you look at the questions: Donald Trump, are you a comic book villain? Ben Carson, can you do math? John Kasich, will you insult two people over here? Marco Rubio, why don't you resign? Jeb Bush, why have your numbers fallen?

"How about talking about the substantive issues."
Mr. Cruz went as far as to tell the moderators that they have no "intention of voting in a Republican primary."
Then-RNC Chairman Reince Priebus said the moderators did "a disservice to their network, our candidates and voters."
Mr. Holt moderated the first debate of the 2016 general election cycle, where he baselessly accused President Trump of "calling for tax cuts for the wealthy."
Ms. Welker, who moderated the second debate of the 2020 general election cycle, seemed to ignore the science that the risk of children suffering from or dying of COVID-19 is low. She asked President Trump what is his "message to parents who worry that sending their children to school will endanger not only their kids, but also their teachers and families."
At the end of the day, Ms. Jashinsky said, "NBC News likely won't do a good job covering issues Republican voters care about, but even if they touched on the right topics, it would still be presented with dishonest and counterproductive framing, which is why the debate is a giant missed opportunity to push legacy media to do better with a stick, not a carrot, and a giant missed opportunity to work with a new media outlet that treats Republicans fairly."
Loading…