After soaring in October, UMich surveyed inflation expectations were expected to moderate slightly in preliminary November data. They did not!
12-month inflation expectations shot higher still from 4.2% to 4.4% (exp 4.0%) and 5-10 year inflation exp rose to 3.2% (hotter than the 3.0% prior and expected)….
Source: Bloomberg
That is the highest medium-term inflation expectation since 2011.
Gas price expectations, both over the short and long run, rose to their highest readings this year.
Consensus forecast for 'expectations' to rise and 'current conditions' to fade further from October's weakness, but consumer sentiment slipped for the fourth straight month, falling 5% in November…
Source: Bloomberg
Surveys of Consumers Director Joanne Hsu noted that:
"…while current and expected personal finances both improved modestly this month, the long-run economic outlook slid 12%, in part due to growing concerns about the negative effects of high interest rates."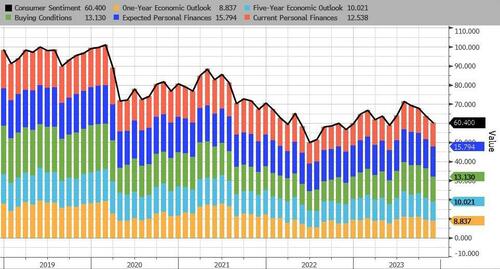 Overall, lower-income consumers and younger consumers exhibited the strongest declines in sentiment…
About 36% of consumers spontaneously blamed high interest rates or tight credit for poor buying conditions for vehicles; this is the highest share on record. Similarly, the share of consumers blaming similar factors for poor home and durables buying conditions are both at their highest since 1982.
As Hsu conclude: " The combination of expectations for persistently high prices, high borrowing costs, and labor market weakness does not bode well for the prospect of continued strength in consumer spending and economic growth. "
Loading…