As former President Donald Trump stands trial in New York on charges of inflating his wealth by billions of dollars, his net worth has come back into the spotlight.
According to the Bloomberg Billionaires Index, Trump's fortune went from $2.6 billion in 2021 to $3.1 billion, a jump of $500 million, Bloomberg reports.
Despite the sluggish real estate market, Trump's businesses have demonstrated considerable resilience. Notably, revenues at his golf courses have soared by more than 50% since 2019, reflecting a surge in profitability. This financial buoyancy coincides with Trump's move to Florida, which has experienced a real estate boom, benefiting properties such as Mar-a-Lago in Palm Beach and the Doral resort in Miami. Additionally, the liquidation of his Washington hotel and the reduction of loans have left Trump with a robust financial standing, featuring more liquidity and less debt than at any previous point in the past decade.
"The company has never been stronger and never been better," said Eric Trump, EVP of the Trump Organization, said in an interview with Bloomberg. "We have the most cash and the lowest debt. We are in a fantastic spot."
The ongoing trial dissecting Trump's financial disclosures. While Trump claims his assets are worth  $4.5 billion, Bloomberg's calculations have consistently been lower. The state of New York has accused Trump of inflating his fortune, adding intensity to the trial's proceedings.
Trump argued in court that the properties accused of being overvalued are, in fact, undervalued when considering the premium his brand contributes to their market value. He also suggested that his financial statements were not a pivotal factor for banks when deciding on his loans.
"They just weren't a very important element in banks' decision-making process," Trump told the court. "And we'll explain that as this trial goes along."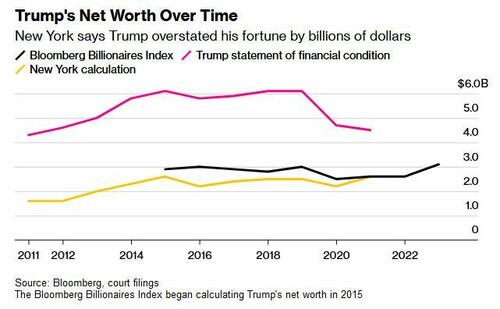 Mar-a-Lago, for example, was valued by Trump in 2021 at $612.1 million, while Bloomberg has it at $240 million, and the state of New York has it at $27.6 million.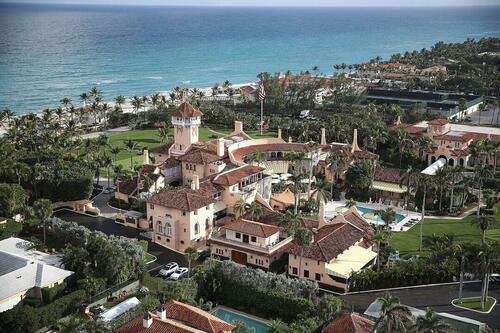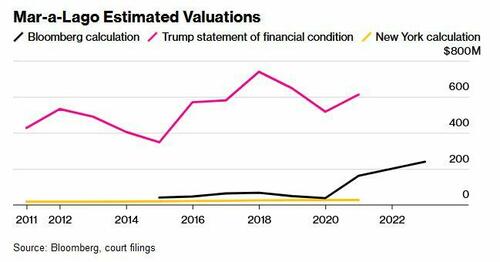 According to Florida realtor Liza Pulitzer, New York's estimated value for Mar-a-Lago "was a shock to the real estate community and anybody with any understanding of the island and its values."
That assumes a buyer views it as a single-family residence. It's currently not zoned for such use, though Trump is able to reside there through a loophole designating himself an employee.

Trump's legal team engaged an expert witness who argued that a future buyer could do the same thing. And if they didn't like the idea of sharing their property with others, they could reduce the club to a membership of one. Still, it's unclear if Palm Beach would allow that without a change to its zoning status.

Historically, Mar-a-Lago never made much money for the Trump organization, but that seems to be changing. It took in about $41 million in revenue last year, according to Trump's most recent ethics disclosure, compared with $21 million in 2019. -Bloomberg
Meanwhile, Trump valued his penthouse apartment at Trump Tower at $131.3 million, while Bloomberg has it at $40 million, and New York hasn't weighed in.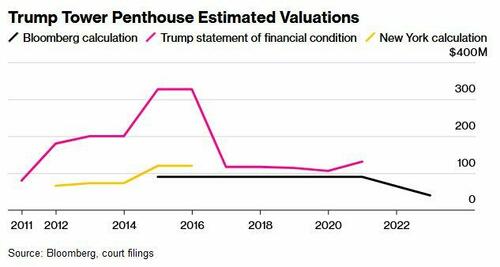 Trump's trial could set precedent for future disputes involving high-profile properties.
Loading…