The Gaza hospital attack prompted 'safety' initially last night (oil, gold, & bonds higher in price), then China macro data's upside surprise (on alcohol and tobacco sales) prompted some excitement but was offset by the property sector plunging even more as Xi addressed the BRI Forum.
Biden didn't seem to calm things down at all in the MidEast as he stumbled through his address, and the China chip crackdown is becoming an issue.
Property was on Americans' minds too as mortgage rates hit 8% (23 year highs), with housing data ugly (starts and rental-unit permits plunged) after homebuilder sentiment slumped.
FedSpeak was all aligned ahead of tomorrow's speech by Powell. Waller will 'watch and see' if more rate-hikes needed; Williams says rates need to be more restrictive 'for some time'. The Beige Book was 'meh'.
Morgan Stanley (worst day since June 2020) upset the 'banks are awesome' narrative as credit loss reserves rose more than expected (and NIM did not rise as much as expected).
So with all that said, what did the market do?
Banks were not pretty…
Source: Bloomberg
The AI story is starting to show cracks, extending losses from the Biden chip crackdown and ASML comments…
Source: Bloomberg
As NVDA tumbled again today. Is that big head-and-shoulders pattern really going to play out again?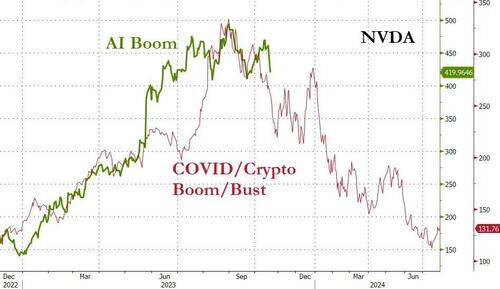 Source: Bloomberg
The GLP (Anti-Obesity) names dumped again…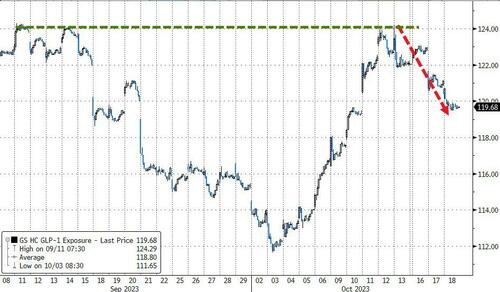 Source: Bloomberg
'Most Shorted' stocks were clubbed like a baby seal, back to new cycle lows, erasing the squeeze of the last two days…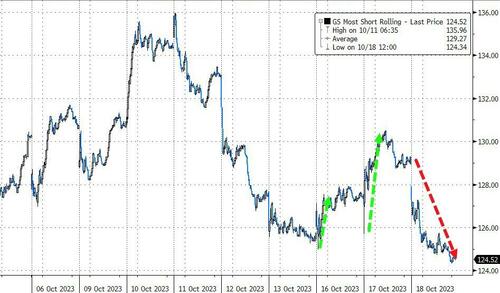 Source: Bloomberg
VIX topped 20 again intraday (but could not close above it for the 104th consecutive day)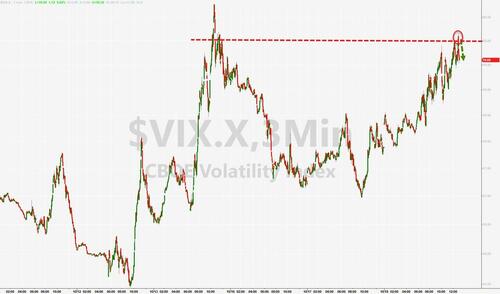 All of which left all the majors down hard with Small Caps leading the slump…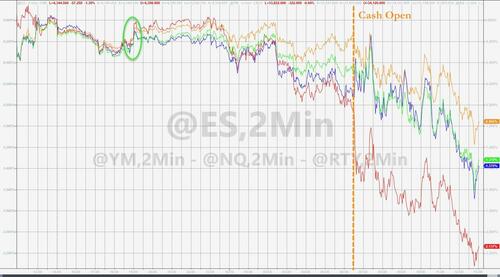 Bonds were also dumped.
Comments from Fed's Waller prompted a drop in the 2Y yield around 1245ET (but realistically his comments were more of the same – data-driven, inflation-fight not over, higher-for-longer, no cuts soon) with weight given to his comments on higher long-rates doing The Fed's tightening job for them (which as we have noted previously is an idiotically reflexive argument). A strong 20Y auction extended those gains (and also pushed stocks higher) around 1300ET but that bump in stocks didn't last. Overall, all yields were higher on the day led by the long-end (30Y +8bps, 2Y +1bps)…it's been an ugly week so far with the belly underperforming…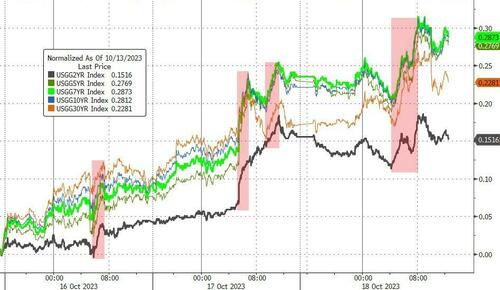 Source: Bloomberg
30Y Yields topped 5.00% again (first time since Payrolls spike) but could not hold it…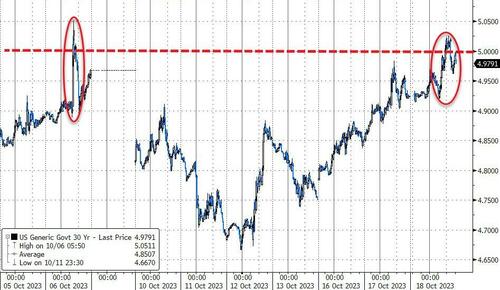 Source: Bloomberg
Rate-cut expectations for next year continue to plunge (the last week has seen over 35bps of cuts removed from market expectations)…
Source: Bloomberg
There were some winners on the day…
Spot Gold topped $1960 – its highest since July…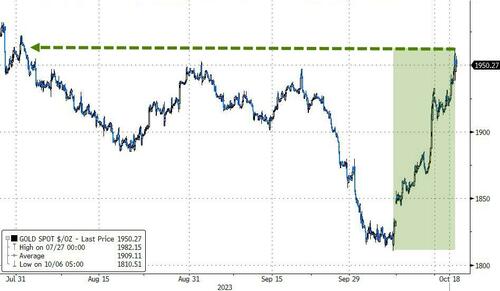 Source: Bloomberg
Oil prices jumped again overnight after China and Gaza with WTI above $88.50 (in the front-month futs)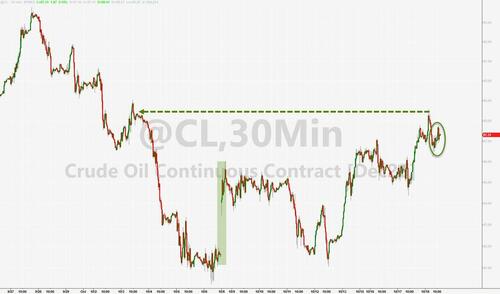 The dollar surged today, taking out last Friday's highs, up to payrolls print levels…
Source: Bloomberg
And amid all this chaos, bitcoin was quiet with a failed test up to $29k…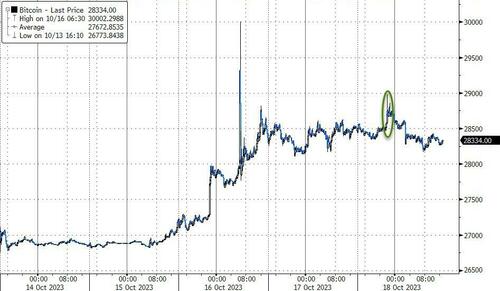 Source: Bloomberg
Finally, is gold the new 'fear index'?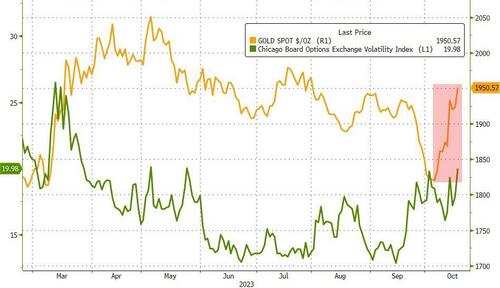 Source: Bloomberg
It has systemically decoupled from real rates for sure. Have Central Banks lost control?
Loading…