Authored by Frank Fang and Eva Fu via The Epoch Times (emphasis ours),
Senate Majority Leader Chuck Schumer (D-N.Y.) met with Shanghai's communist party boss in his first stop leading a bipartisan delegation to China, telling the latter he wants to see a level playing field as the two countries engage in economic competition.
The meeting took place shortly after the senators' arrival in Shanghai on an overcast and windy Saturday afternoon, which marks the first day of a three-country tour that will also take them to South Korea and Japan.
"Many of our constituents feel that in instances China does not treat American companies fairly," Mr. Schumer told Shanghai communist party secretary Chen Jining, adding that such feelings affect "America's view of China."
"We believe we need reciprocity allowing American companies to compete as freely in China as Chinese companies are able to compete here," he said. "We are prepared to compete but we do not seek to conflict."
The delegation is co-led by Sen. Mike Crapo (R-Idado). The four other senators on the trip are Sens. Bill Cassidy (R-La.), John Kennedy (R-La.), Maggie Hassan (D-N.H.), and Jon Ossoff (D-Ga.).
The Shanghai official in his public remarks avoided going into specific issues, stressing instead the importance of a stable China–U.S. relationship. Noting the over 5,600 U.S. companies in the Chinese city, he also offered windows to promote trade at the local level.
Mr. Schumer also raised the issue of fentanyl, noting the supply of fentanyl precursors enabling the opioid's production in Mexico.
"They are fueling the fentanyl crisis that is poisoning communities across the United States," he said. "Every one of us knows families who have lost young men and women to fentanyl."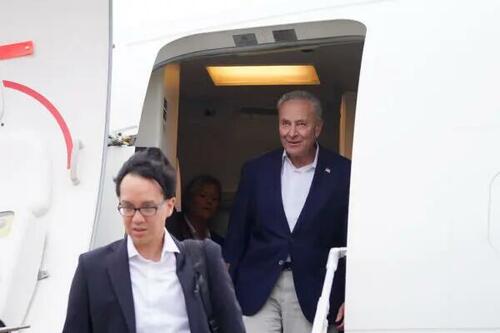 Last month, the American Chamber of Commerce in Shanghai found in its annual poll that U.S. firms's China outlook was the worst in decades. Regulatory challenges facing U.S. firms included a lack of intellectual property protection, data localization, and other cybersecurity requirements.
The senators' trip comes after Commerce Secretary Gina Raimondo's visit to China in August. During her trip, she said American companies had complained to her that China has become "uninvestable," citing changes to counterespionage laws, exorbitant fines without any explanation, and Chinese authorities' raids on foreign firms.
In September, Ms. Raimondo told NBC in an interview that the United States was trying to "choke" China's military capacity. "Certainly, on my watch, we are not going to sell the most sophisticated American chip to China that they want for their military capacity," she said.
Secretary of State Antony Blinken, Treasury Secretary Janet Yellen, and John Kerry, President Joe Biden's climate envoy, have all visited China this year.
White House press secretary Karine Jean-Pierre said on Oct. 5 that the Biden administration has been in touch with the senate delegation and "certainly support[s]" their visit to the region.
The China trip also took place amid bilateral tensions in the backdrop. On Saturday, China's commerce ministry complained about the new U.S. restrictions on 42 Chinese companies that allegedly supplied parts to the Russian military, claiming it was "a typical act of economic coercion and unilateral bullying."
'Xi Is an Adversary'
Before the delegation arrived in China, several Republican senators took to X, formerly known as Twitter, to express doubts about engaging with Chinese Communist Party (CCP) officials.
"Nothing [Schumer] says will stop the CCP's human rights abuses, shipping of deadly fentanyl to our border or theft of American resources," Sen. Rick Scott (R-Fla.) wrote on Oct. 6.
Mexico cartels have been buying precursor chemicals from China to make fentanyl and ship finished products to the United States. On Oct. 3, the Treasury Department sanctioned more than 20 entities and individuals in China involved in a network for manufacturing and distributing fentanyl and other drugs.
On the same day, the Justice Department charged eight Chinese corporations and 12 Chinese nationals for allegedly illegally important fentanyl and related chemicals into the United States.
In a separate X post on Oct. 6, Mr. Scott urged Mr. Schumer to ask CCP officials why they had recently placed a floating barrier at the entrance to the lagoon at Scarborough Shoal, a rich fishing ground for Philippine fishermen.
"He could ask them why they're putting up illegal barriers to impede navigation and harm the fishers," Mr. Scott wrote. "It's acts of aggression like this that tell us precisely who Xi is, an adversary."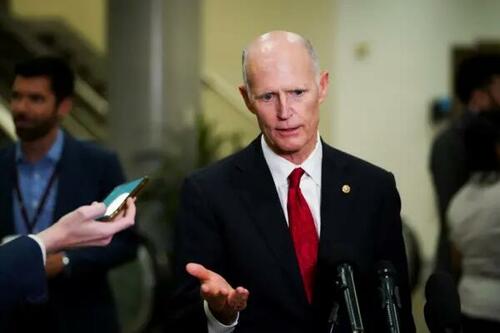 Also ahead of the delegation's arrival in China, Sen. Marco Rubio (R-Fla.) released a short clip, explaining that he couldn't be on the delegation because he had been sanctioned by China.
The CCP imposed sanctions on Mr. Rubio and several other lawmakers in 2020, in retaliation against U.S. sanctions against Chinese and Hong Kong officials for undermining Hong Kong's autonomy and freedoms.
Also in his clip, Mr. Rubio warned that the United States cannot accommodate the CCP.
"In the end, [China's] viewpoint is, no matter how much these politicians talk tough, they're so addicted to what we can provide them, and in the end, they're really limited to what they can do. And they will perceive these leadership trips as an indicator of us looking for an exit strategy and an accommodation on that front," Mr. Rubio says in the video.
Sen. Bill Hagerty (R-Tenn.) said Mr. Schumer should not have traveled to China; instead, the Senate Majority leader should have canceled the Senate's October recess and have the senators debate all 12 appropriations bills, to avert another government shutdown on Nov. 17.
"The last thing Chuck Schumer should be doing is going to China to try to secure a meeting with Xi Jinping with the appropriations process unfinished," Mr. Hagerty wrote on Oct. 6. 
Loading…