Authored by Matt McGregor via The Epoch Times (emphasis ours),
Former President Donald Trump's defense of Operation Warp Speed remains a sticking point for some of his supporters drawn to Robert F. Kennedy Jr.'s message and his direct rebuke of the COVID policies.
Attendees of an event at the Mississippi Civil Rights Museum where Mr. Kennedy spoke on Oct. 2 discussed with The Epoch Times their concerns and what they appreciated about his message, but noted significant differences between the two.
"As Kennedy has been calling out the truth no matter how much criticism he's faced for it, Trump has really been silent on the whole COVID sham," Scott Stringer said.
"In my mind, Trump was tricked."
Mr. Kennedy has frequently railed against the ties between Big Pharma, the medical profession, and the government that has been toxic for the country, Mr. Stringer said.
"The medical community cannot be trusted,"he said.
In a recent visit to the doctor's office with his son, he said staff pushed the vaccine, which was unrelated to why they were there.
"I can't believe they did that with all the medical data that's come in," he said.
Charlotte Stringer, Mr. Stringer's wife, agreed that President Trump needs to admit that he was wrong. This admission, she said, would bring him more support.
The problem is, given his personality, it's unlikely he will confess to such an enormous mistake, she said.
"I don't think that's going to happen," she said. "With that said, I think he's the best choice to run this country."
On Mr. Kennedy's speech, she appreciated his open-mindedness given his history as a person who for years listened to and advocated for mothers of the vaccine-injured while they were being dismissed by the pharmaceutical industry.
Having witnessed churches close and continue to take in tithes while simultaneously getting loans from the Paycheck Protection Program, she said Mr. Kennedy's stance against the lockdowns, specifically regarding the closure of the churches, resonated intensely with her.
"That really made me have huge respect for him," she said.
'We've Got to Stop the Shots'
MaryJo Perry, president of Mississippi Parents for Vaccine Rights (MPVR), said she's troubled by President Trump's unwillingness to admit what she describes as Operation Warp Speed having been a failure.
"I don't know if his motive is pride, or if there's something else going on," she said.
Mr. Trump planned to set up a commission to investigate childhood vaccines back in 2017 after he got elected and was about to take the White House, Mr. Kennedy broke the news and said he would chair the commission after he met Mr. Trump on Jan. 10, 2017.
However, the idea was never implemented and the Trump Campaign didn't confirm the proposal.
Ms. Perry pointed to a video of Bill Gates stating that he had advised President Trump against the investigation.
"That would be a bad thing, don't do that," Mr. Gates said in the interview.
Though she doesn't know if this was why President Trump abandoned the idea of starting a commission with Mr. Kennedy.
"And then, on the heels of that, we had this Operation Warp Speed that didn't work, and yet he's still protecting it," she said. "That bothers me greatly."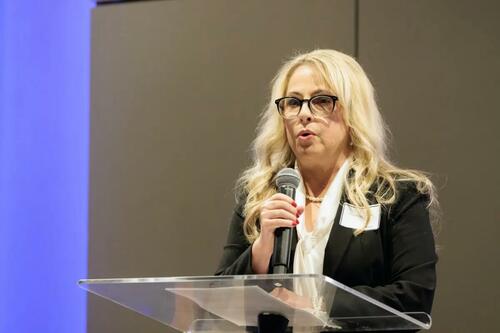 Also present was Dr. John Witcher, founder of MS Against Mandates, who was fired for treating COVID patients with ivermectin.
"Though he never mandated them, he pushed the shots and has said multiple times that he saved 100 million people by rolling out the vaccines," Dr. Witcher said. "He knows that a lot of his constituents are 100 percent against the vaccine, but he doesn't want to admit that he was duped by Dr. Fauci."
"Of course, that's what Kennedy has been out there saying from Day One," Dr. Witcher said. "He continues to be against the shot. And we've got to stop these shots."
'A Man of Integrity'
Overall, Mr. Stringer said that it came off "very clearly" that Mr. Kennedy was "a man of integrity."
"He believes in his positions, and he's not afraid to change his views," he said.
On whether a Trump/Kennedy ticket would work, Mr. Stringer said there's no question that both love the country, unlike the current administration.
The alliance could have the potential to unify the nation, he said.
But there would need to be an alignment on issues like energy and the COVID vaccines, he said.
"I agree more with Trump on energy, and we've got to have a better energy policy, but how does that stand with where Kennedy stands on energy?" Mr. Stringer asked. "Kennedy doesn't like nuclear energy or coal, and he worked to remove fracking from New York State, though he and Trump seem to agree on wind energy and the fact that it's gotten out of control."
On vaccines, they would need to come to an understanding, he said.
"Trump would need to reconcile with the great work Mr. Kennedy has done to expose the truth on vaccines so that Trump can leverage that and say, 'You know what, I was duped,'" he said.
Both have taken a stance against the Ukraine war, which Mr. Stringer also opposes.
"We do not need to send them another dime," he said. "I think there's some suppression of real information on what's going on over there. I think it's one of the most corrupt governments and countries in the world, honestly."
Mr. Stringer said he believes Mr. Kennedy would make a great vice president and a great president.
"He believes in what his uncle and his dad stood for, and I think he could keep us solid in a lot of ways," he said, referring to the late President John F. Kennedy and the late Sen. Robert F. Kennedy, respectively.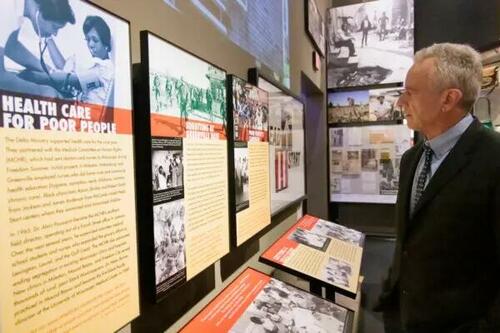 Declaring Independence
Before Mr. Kennedy announced a week later on Monday, Oct. 9, that he would not be running as a Democrat but as an independent, those in last week's audience were already speculating that he would be leaving his former party.
Mr. Stringer said he wasn't concerned over whether this decision could end up drawing votes from either side.
"I'm not afraid that anyone speaking the truth is going to split the vote," he said. "The big question is who's he going to take the votes from? Biden or Trump?"
Predicting that Mr. Kennedy would leave the Democratic Party, Ms. Stringer wants to see President Trump leave the Republican Party and become independent as well.
"I would love to see them meet in the middle and run together," she said.
Given the rate of the country's decline, Ms. Stringer said she's not overly concerned with hot-button social issues that seem to never be resolved and just wants to see President Trump back in office.
If Mr. Kennedy were to join him, even better, she said.
On concerns over spitting the vote, she believes Mr. Kennedy would take votes away from President Biden.
"There are a lot of people on the left who are seeing what Biden—or whoever is leading him—is doing and wishing they had voted for Trump," she said. "It's clear that a man who doesn't know how to walk across a stage, who falls down, who can't remember people's names or state he's in, is being controlled. He's not running the show, and many on the left are realizing that their children won't have a pot to pee in because he is turning this country into a laughingstock to the rest of the world."
'Trump Needs to Follow Kennedy's Lead'
Dr. Witcher said he's not alone in wanting to see Mr. Kennedy as vice president to President Trump.
"Like many people, I think they could be a great team together," Dr. Witcher said. "We've got to expose the corruption at all levels of government."
President Trump, he said, has the capacity and gumption to charge forward, while Mr. Kennedy has the experience of fighting against the pharmaceutical industry.
"The COVID vaccine mandates that were enacted are really the biggest issue, and we can't forget that," Dr. Witcher said. "There are a lot of people in his camp that voted for him who did not and will not take the vaccine. They saw COVID as a plandemic from day one. Trump needs to follow Kennedy's lead on that because it's the reason he's so popular."
When asked if he thought Mr. Kennedy would make a good leader, Ron Matis, the political director for the Mississippi District of the United Pentecostal Church, the organization that cosponsored the event with MPVR, said he thought that the most powerful statement he made was that he's willing to examine all sides of the argument and, if wrong, adjust his worldview accordingly.
"That's something you don't hear people who are running for office say," Mr. Matis said. "They seem to have everything baked in and are not willing to listen, so the fact that he said as a leader he would be open to changing his position based on evidence, I think a lot of people found that refreshing."
Loading…