Deflationary pressures intensified in China in October as year-over-year Consumer Price inflation turned negative once again as food prices plunged (especially pork). Additionally, Producer Price deflation widened slightly in October in year-over-year terms due to lower prices of crude oil and nonferrous metals.
Specifically, consumer prices fell 0.2% YoY after hovering near zero in the previous two months (below expectations of 0.0%) and producer prices fell for a 13th straight month, dropping 2.6% (worse than the 2.5% YoY drop in September).
Source: Bloomberg
While non-food inflation was flat at +0.7% YoY in October, with increasing fuel costs offset by falling core goods and services prices, food inflation tumbled to -4.0% YoY in October from -3.2% YoY in September.
On major food items, inflation in pork prices fell to -30.1% YoY in October from -22.0% YoY in September, while inflation in fresh vegetables rose to -3.8% YoY in October from -6.4% YoY in September.
NBS commented that food prices fell sequentially on good weather conditions and moderated demand after the Golden week holiday in early October.
The price of pork in China, which is the world's largest producer and consumer, has long followed a boom-and-bust cycle as smaller farmers pile into the market in response to rising demand. That leads to oversupply and triggers sharp price falls, forcing the same farmers to retreat.
Live hog futures traded on China's Dalian Commodity Exchange have dropped about 15 per cent since the start of October, reflecting a sharp deterioration in expectations for nationwide pork prices. Wholesale pork prices in China are down more than 40 per cent from a year ago.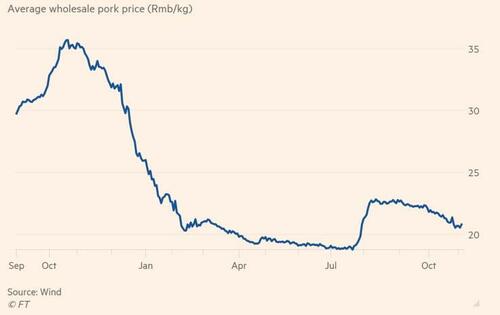 Pork prices began to rebound in July – partly in response to government-led buying – only to fall back again as large listed hog farmers, including Muyuan and New Hope, opted not to cut capacity despite broader weakness in demand.
"Part of the problem is that a lot of these big companies have on some level accepted the boom-and-bust cycle," Darin Friedrichs, director of market research at Sitonia Consulting in Shanghai, said.

"And they think they're better at playing it than their competitors."
As The FT reports, China continues to experience deflation as other major economies continue to grapple with 'high' inflation…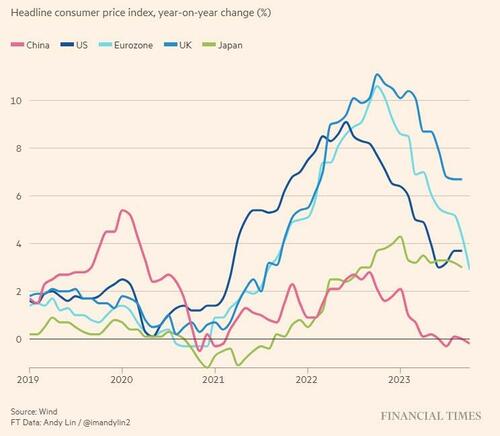 Rob Carnell, economist at ING, disputed that China was suffering from deflation, which he defined as not just a decline in consumer prices but also in the prices of "real and financial assets and wages".
"What China has right now is a low rate of underlying inflation, which reflects the fact that domestic demand is fairly weak," he said.

"What we are seeing today is mainly the result of a supply excess, rather than a collapse in demand."
Most notably, this report undermines a recent assessment by the PBOC that prices would rebound from the summer's rough patch, prompting calls for more 'measures' to counter this deflationary pressure (because there's nothing that citizens hate more than paying less for things).
While the latest inflation data could make markets more cautious about China's growth recovery, it also fuels hopes for additional policy support, said Xiaojia Zhi, head of research at Credit Agricole CIB. This includes a further cut to the reserve requirement ratio, she said, a view also shared by other economists.
"Combating persistent disinflation amid weak demand remains a challenge for Chinese policymakers," said Bruce Pang, chief economist for Greater China at Jones Lang LaSalle Ltd.

"An appropriate policy mix and more supportive measure are needed to prevent the economy from a downward drift in inflation expectations that could threaten business confidence and household spending."
But, as Goldman Sachs said in an analyst note that China's headline CPI should rise gradually in the coming months, although "persistent pork prices deflation is likely to slow the pace".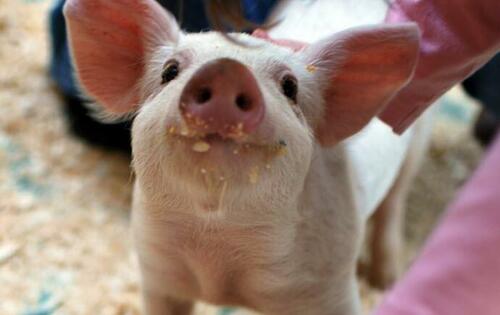 PBOC to China's citizens: squeal, little piggy!
Loading…