Beating expectations, Argentina's Peronist coalition took the most votes in the country's presidential election on Sunday, but will have to contend with the previously-favored firebrand libertarian Javier Milei in one last run-off election in November.  
With 98% of the vote, incumbent economy minister Sergio Massa had 36.6% of the vote, while Milei took 30%. With center-right candidate Patricia Bullrich eliminated from the run-off after receiving just 24% of Sunday's votes, Argentina's voters are now presented with sharply contrasting alternatives in the upcoming Nov. 19 finale.  
Massa's strength was beyond what pollsters had anticipated. Considered a centrist, Massa is part of an incumbent government overseeing an economy being ravaged by inflation rate that clocked in at a stunning 124% YOY rate in September. More than 40% of Argentinians now live in poverty. 
Milei has described himself as an anarcho-capitalist, so Western journalists naturally throw all kinds of pejorative labels at him — everything from "far-right libertarian radical" to "eccentric."  He's cultivated an extraordinarily passionate following, with bold proposals to dismantle Argentina's central bank, dollarize the country's economy and radically reduce the size of government by closing down many major agencies: 
Let's go Argentina 🇦🇷

Javier Milei is an absolute BOSS. #ArgentinaVotapic.twitter.com/szL8INIyvP

— 101™ (@VattaVujay) October 22, 2023
Milei is a fan of Ludwig von Mises, Henry Hazlitt, Friedrich Hyaek and Murray Rothbard — so such an extent that he's been accuse of plagiarizing passages of their writing. He has famously wielded a chainsaw to illustrate his government-cutting intentions, and has derided climate change as part of "the socialist agenda." When expressing his hatred for leftism, he gushes with exhilarating vitriol: 
Today is the Argentine presidential election. It is also the 53rd birthday of the front runner, libertarian Javier Milei. pic.twitter.com/5Suskw5fMM

— William Shockley (@William68332190) October 22, 2023
On Sunday, Milei continued breathing fire, telling supporters, "We are facing a criminal organization that won't stop committing atrocities to stay in power." His campaign also said it had received more some 4,500 reports of stolen or damaged ballots for his party. 
In part, Reuters attributes Massa's outperformance to effective messaging about how Argentina's social safety nets and subsidies would be ravaged if Milei's ambitions came to life, "including a recent stunt showing how train and bus fares could rise sharply if [Massa] lost."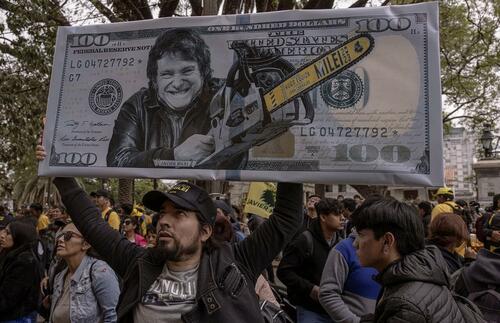 Demonstrating a doom-loop in which crises caused by big government prompt citizens to increase their demands for for big government, a bricklayer en route to the voting booth told Reuters, "Peronism is the only space that offers the possibility that the poorest of us can have basic things at our fingertips."
Thankfully, not all citizens fall into that trap. "[Milei] is the only one who understands the situation in the country and understands how to save it," said 22-year-old Buenos Aires student Nicolas Mercado. The New York Times notes that Milei does particularly well with "young, male voters excited about his combative, anti-establishment rhetoric and older Argentines desperate for change."
All in all, Goldman notes that after tonight's election, investors' attention will turn its focus to two points.
First, any announcements by the two candidates advancing to the second round. When it comes to Mr. Massa, given his capacity as Finance Minister and candidates, policy announcements will be key. Policy missteps are something that Argentina cannot affordat this juncture. Inflation is tracking at 138% and accelerating, currency and financial pressures are building up, economic activity is contracting, the fiscal deficit is widening, international reserves are at critically low levels, and net international reserves arenegative. For Mr. Milei, any announcement of cabinet positions in an eventual government, for example the finance minister, will be key.

Second, any potential endorsement by candidates who fell out of the race. Most notably, announcements or endorsements made by Ms. Bullrich and former president Mauricio Macri (Juntos por El Cambio) will be key.
Given the poor track record of polls uncertainty will remain elevated into the second-round election. Most polls significantly missed changes in voters support in favor of Mr. Milei ahead of the PASO in August and Mr. Massa in today's election.
As such, financial pressures are likely to remain intense and pressure on the exchange will persist. The dynamics of Peso-denominated term deposits, in our view, will be critical for financial stability.
 The country's dollar bonds – already trading below 30 cents on the dollar – extended their losses on Monday, with five of them including the 2030 note figuring among the worst performers in emerging markets.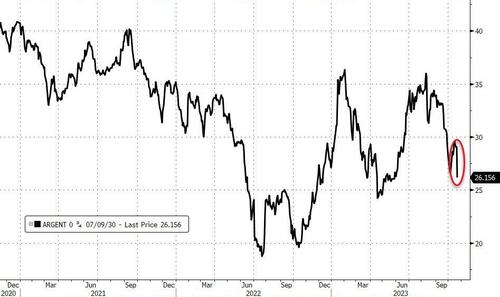 The next presidential debate will be on November 12.
Loading…