Oil and gold prices are sliding after a series of headlines hit this morning suggesting a ceasefire in the Hamas-Israel war is imminent.
Qatar-based Al-Jazeera says, quoting sources it didn't name, that the Qatar-mediated negotiations are progressing "quickly" to achieve a "cease-fire" agreement and a hostage exchange deal between Israel and Hamas.
'War premia' are leaking out of gold…
…and oil is giving back gains after rallying overnight as the US conducted strikes on two Iran-linked facilities in Syria, reanimating investor concerns of a wider conflict and disrupt crude supplies….
However, putting the oil move in context…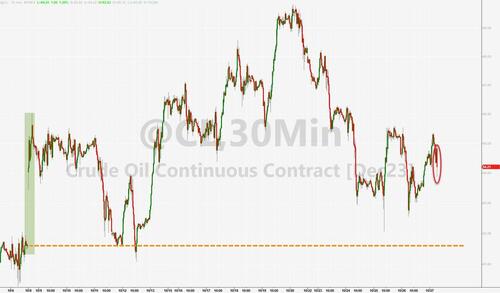 …suggests the oil market is not fully believing the headline.
This doesn't look very "ceasefirey"…
Some of the heaviest strikes I've seen against northern Gaza since the war began. pic.twitter.com/PobwbNIYKW

— Trey Yingst (@TreyYingst) October 27, 2023
Loading…