Authored by Catherine Yang via The Epoch Times (emphasis ours),
When Dallas Mayor Eric Johnson announced his switch from Democrat to Republican in a Wall Street Journal op-ed, he wrote he had "no intention of changing my approach to my job" but that American cities needed the fiscal conservatism and law enforcement that Republicans push for.
And he's not alone. This year has already seen five state lawmakers switch affiliation from Democrat to Republican. Last year, Sen. Kyrsten Sinema (I-Ariz.) switched from Democrat to Independent. Sen. Joe Manchin (D-W.Va.) has said he's giving serious consideration to leaving the Democratic Party, and is reportedly aiming for a third party bid in 2024 for the Oval Office. In 2022, it was reported that 1 million voters had switched to the Republican Party, compared to 630,000 who became Democrats.
While switching parties is not unique, doing so while holding a partisan elected office is much more rare. According to Ballotpedia, 173 legislators have done so while in office since 1994, mostly in favor of the Republican Party.
Mr. Johnson's office is not a partisan one, which he noted in his op-ed.
"I was never a favorite of the Democratic caucus, and the feeling was mutual. By the time I was elected mayor—a nonpartisan office—in 2019, I was relieved to be free from hyperpartisanship and ready to focus on solving problems," he wrote.
Local Issues
The state lawmakers' reasons for switching are not "grandiose" statements about the nation, according to Georgia state representative Mesha Mainor, speaking for herself. In most cases, the reasons for the change in party affiliation were local, and even personal.
A former healthcare provider, Ms. Mainor spent 20 years working with people of all backgrounds trying to find them solutions, and said she joined the state assembly expecting to do the same. But she quickly learned that her party was not open to working across the aisle, and several times insisted she vote down Republican bills, not because it was bad policy, but because Democrats wanted to send a message.
"I think America is saying that we're tired of hyper-partisanship," Ms. Mainor told The Epoch Times, sharing that her many constituents texted and called after she announced in July she was switching party affiliations to show their support. They told her they didn't care which party she belonged to, so long as she continued to represent them.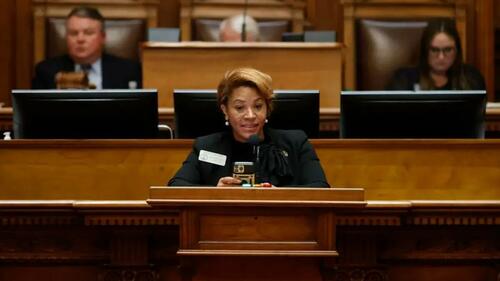 "I champion issues that are brought to me," said Ms. Mainor, who was elected twice on a platform to fix whatever issues constituents brought her.
For instance, when someone who is under investigation is killed, the state holds onto the death certificate, and families have requested Ms. Mainor's help to obtain the death certificates so they can access the insurance money for the deceased's children. Another big issue is school choice, because in Ms. Mainor's district, only about 3 percent of schools are meeting math and reading proficiency.
Ms. Mainor hadn't changed parties because her issues changed; she did so in order to continue championing the issues she ran on.
"The Republican Party, I would say, have a bigger tent," she said, adding that with her new party, she is not expected to vote the party line and has room for disagreement.
'Toxicity'
The disagreement she experienced in the Democratic Party at times got hostile—when she voted against a colleague's bill one time, fellow Democratic legislators blasted her on social media, one holding up a $1,000 check calling on someone else to run for Ms. Mainor's seat.
These sort of strong-arming tactics were one reason North Carolina representative Tricia Cotham switched to the Republican Party.
Her move was heavily criticized, as it gave the Republicans a supermajority—and the power to override vetos—in the House.
Ms. Cotham, whose mother is a prominent Democrat in the state, is also a veteran lawmaker. She served from 2007 to 2016 and left when her oldest son was about to start kindegarten. While recovering from a severe case of COVID-19, she learned her district's seat was open, and ran after a lot of thought and prayer.
In an interview with local media after her announcement, Ms. Cotham recounted the "toxicity" and "nastiness" of her colleagues' behavior toward her, and how she was ostracized in caucus meetings. She criticized the Democrats' emphasis on "shadowing" Republican committee chairs to do opposition research, rather than spending the time on creating good policies, and said the party had changed greatly since her time in office.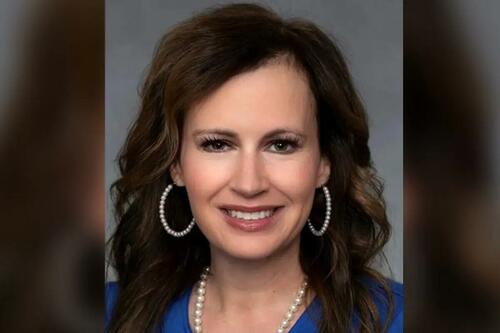 The former educator and education committee chair said she started really "praying on the issue," before making her decision. "I've not changed overnight despite the terrible ads, the vicious, vile words used against me," she said.
Ms. Cotham said multiple times that she had not changed as a person, but her votes on issues relating to abortion and "trans" policy changed after her party switch.
She has frequently avoided the media on the issues and did not respond to multiple requests from The Epoch Times.
In 2015, Ms. Cotham gave testimony against a bill that would require women to wait 72 hours before an abortion. She shared the story of her first pregnancy, an ectopic pregnancy that required an induced miscarriage that saved her life.
In May, she supported a 12-week abortion ban, which she said she thought struck a "reasonable balance" and "middle ground" between extremes, refuting claims of hypocricy.
In April, Ms. Cotham also voted for a bill that would ban biological males from girls' sports, for which she received another wave of criticism from the left.
In an interview shortly after she announced the party switch, she told the local channel that she would always support "LGB" rights, leaving out the "T" for "trans."
In 2016, she voted on a bathroom bill that would allow "trans" identifying students to use the bathroom they preferred instead of the one matching their sex. It was the year after Bruce Jenner "came out" as Caitlyn Jenner, garnering widespread awareness and understanding of what it meant to "transition." The word "transgender" was only just replacing "transexual," and the issue hadn't yet zeroed in on children.
Critics of Ms. Cotham have demanded she be recalled from office, and Ms. Cotham has already refunded donors who supported her campaign on request.
'Nothing Has Changed'
In Louisiana, two state legislators changed parties.
Francis Thompson had served as a Democrat for 50 years before he switched parties in March, giving Republicans a supermajority.
A longtime "conservative Democrat," Mr. Thompson was known in his district for his ability to bring big spending projects to the area.
A local outlet's profile of him described him as a legislator who always cultivated a close relationship with the governor. It described a press conference Democratic Gov. John Bel Edwards held, celebrating a defeat of the Republican effort to override his veto of their bill which would prevent male athletes from competing in women's sports.
Mr. Thompson had voted against the governor, yet he was present at the conference, clapping along with his colleagues—at least one of whom challenged him for attending, according to The Advocate.
"I'm here to honor my Democratic governor," said the then-Democrat legislator, who had been elected by his constituents 11 times in a row, making him the longest serving Democrat lawmaker in the state before he switched parties.
Besides the sports bill, he had also voted outside party lines when he voted to repeal permit requirements to carry concealed handguns, and again to override the governor's veto of a congressional redistricting bill.
When he announced his party switch, Mr. Thompson said that "nothing has changed" and he will continue to vote according to his principles.
He said the Democrat Party had increasingly embraced positions that did not "align with those values and principles that are part of my Christian life."
"There are values and principles that I firmly hold onto that guide my decisions. My conservative voting record over the years I have served in the Legislature speaks for itself," he said in his press conference.
Following the Votes?
Weeks later, Louisiana state lawmaker Jeremy LaCombe switched parties from Democrat to Republican as well, without announcing a reason. His reelection campaign website now touts him as an "independent voice" willing to work with both sides to get things done.
Local outlet The Advocate notes that in recent years, Louisiana has turned red; Mr. LaCombe lost badly to a Republican when he pursued a state Senate seat in 2022.
Neither Mr. LaCombe nor Mr. Thompson responded to multiple requests for comment from The Epoch Times.
West Virginia lawmaker Elliott Pritt switched parties in April, after winning his first term in 2022 as a Democrat.
His district lies in the southern coalfields of the state, which has become predominantly red in recent years.
He told Politico, "Even if I were to run again and win, I would look at another term of never getting another bill passed, never getting anything done."
"For the time I'm going to be there I'm not going to sit there and be a lame duck and not get anything."
The House has 89 Republicans and 11 Democrats, while the Senate has 31 Republicans and three Democrats, making it impossible not to work across the aisle for the minority party.
Loading…