On Monday, McDonald's reported that revenue was up 14% on the quarter in what the burger company attributed to "strategic menu price increases."
The company beat expectations of $6.58 billion for the third quarter, raking in $6.69 billion in revenue, according to Refinitiv (via NY Post).
While the company didn't reveal which of its items had increases, and how they applied them to the company's 13,513 domestic restaurants and 38,000 abroad, one branch in Darien, CT is charging as much as $18 for a Big Mac combo meal, which includes a medium soft drink and medium fries.
That same combo in Times Square costs $13.69 – so it's all over the place, and we suspect 'strategic' doesn't just mean which items they're hiking prices on, but where.
CFO Ian Borden told investors on the Q3 phone call that US prices did increase in the third quarter – but wouldn't specify by how much. He did say that he expects the increases to come out to just over 10% for the full year – the second consecutive 10% annual price hike.
Redditors are aghast:
Meanwhile, many consumers have said that fast food has already gotten so expensive, it's no longer worth it.

One Reddit user asked in now-viral thread: "What is no longer worth it because of how expensive it has become?"

The top-rated response: "most fast food." -NY Post
"A 'value meal' at McDonalds now costs just as much as a meal at a lot of sit down restaurants like Applebee's," another Redditor claimed. "Remember when McMuffins were $2 for $3?" replied another?
Right now, the McDonald's app in NYC shows the cheapest option on its "$1 $2 or $3" menu is a small order of french fries – for $2.49!
Meanwhile, the company is also charging new franchisees in 2024 will have to pay an increased 5% royalty fee, the first such increase in three decades from 4%, plus a percentage of gross sales and other fees.
And once again, the Babylon Bee is spot on…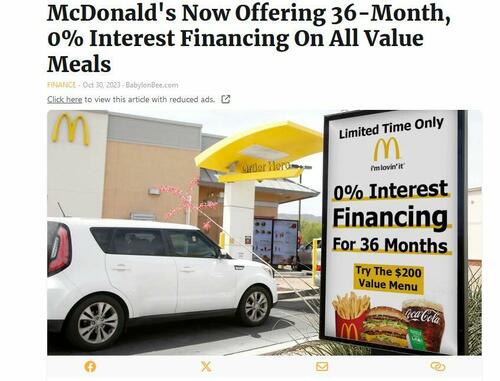 Loading…