Last fall, the Biden administration – scant on accomplishments, embarked on a campaign to pressure airlines to ditch billions in so-called "junk fees" charged to travelers who want to check bags or change flights.
"You should know the full cost of your ticket right when you're comparison shopping to begin with," said Biden last September, adding that the move would help families "pick the ticket that actually is the best deal for you."
While travelers were over the moon, flooding the DOT with letters urging it to adopt the policy, the airlines predictably pushed back, suggesting the move was both illegal and impossible.
Doug Mullen of Airlines for America, which represents giants like American, Delta, and United, cautioned against such transparency, arguing that it "would only cause customers confusion and frustration."
"The department should not regulate in this area," said Mullen.
This stance, however, contrasts starkly with how much coin the airlines are banking on said fees – as airlines raked in over $6.7 billion in baggage fees alone last year, the Washington Post reports in a rare act of journalism (perhaps written to explain why yet another Biden initiative is failing).
Fees, fees everywhere…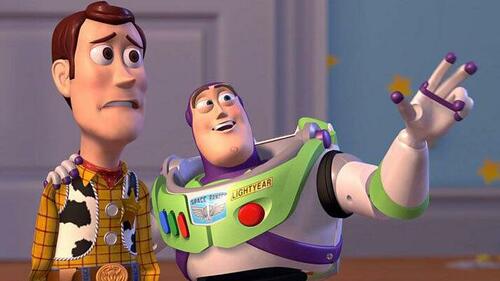 The federal push to reduce fees extends far beyond airlines – with auto dealers, ticket merchants, cable giants, banks and other industries sapping money from consumers via sneaky, unnecessary charges.
[T]he Biden administration has broadened its efforts to expose or eliminate "junk fees" throughout the economy, touching off a groundswell of opposition from airlines, auto dealers, banks, credit card companies, cable giants, property owners and ticket sellers that hope to preserve their profits.

Behind the scenes, these corporations have fought vigorously to thwart even the most basic rules that would require them to be more transparent about hidden charges, according to a Washington Post review of federal lobbying records and hundreds of filings submitted to government agencies. The fees together may cost Americans at least $64 billion annually, according to a rough White House estimate, underscoring its efforts to deliver financial relief to families grappling with high prices.
In the banking sector, the administration's attempts to limit credit card late fees have been met with staunch opposition. The industry, having profited over $14.5 billion from these fees, forewarns a legal battle, indicative of the broader corporate pushback.
Opponents include Citrigroup, JPMorgan Chase, Wells Fargo and Visa, whose various lobbying groups have been working to brute-force Washington DC to oppose the efforts. In May, the American Bankers Association joined two others in telling the CFPB that capping late fees would force them to reduce rewards offered to new and existing customers. The lobbyists also questioned whether the bureau even has the legal standing to act in the first place.
"The late fees are imposed because they work to deter late payment," the ABA and its allies told the agency.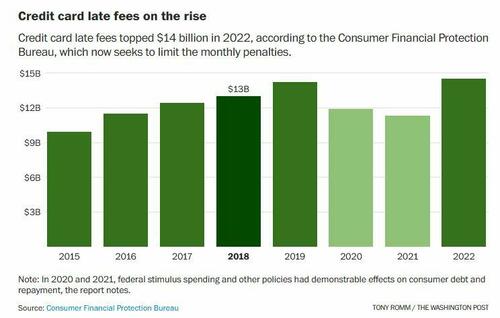 Cable giants, including Charter and Comcast, have similarly responded via lobbying groups – resisting federal efforts to provide consumers with accurate data on service charges. Casinos, insurers, owners of large apartment complexes, and ticket sellers have also fought new federal regulations that would punish them if they conceal their true prices.
Some ticket sellers have called for new rules that would require them to display the full, total price of a performance up front, including any service fees. But some companies still do not fully adhere to the practice: Ticketmaster, for example, only does so for some shows, though its parent company, LiveNation, promised the White House to be more transparent earlier this year.
The Biden administration, meanwhile, continues to push. Lael Brainard, the director of the White House National Economic Council, emphasized the administration's commitment: "We know that junk fees resonate with American consumers. They don't like being taken for suckers." This sentiment underscores the administration's strategy to align with consumer interests, perhaps with an eye on the upcoming elections.
Amid a torrent of legal threats, Biden has repeatedly called on Congress to pass a comprehensive bill that sets the rules for when and how companies can charge extra fees. But even some of the more popular, bipartisan efforts to promote price transparency have faltered in an ever-divided, heavily lobbied Capitol.

A proposal from two unlikely allies, Sens. Maria Cantwell (D-Wash.) and Ted Cruz (R-Texas), would mandate that ticket sellers show their full prices upfront. The duo released the Ticket Act this summer, after a public outcry about major outages and steep fees on Ticketmaster sales for Taylor Swift's Eras Tour.But the bill remains stuck in the upper chamber after Sen. Rand Paul (R-Ky.) blocked a vote out of a belief that such regulation is unnecessary, according to two legislative aides who spoke on the condition of anonymity to describe his stance.
The Federal Trade Commission and the Consumer Financial Protection Bureau are at the forefront of enforcing these changes. Samuel Levine, director of the Bureau of Consumer Protection at the FTC, highlighted the misleading nature of hidden fees: "If a consumer is led to believe something costs $10, and it costs $20, they've been misled."
Loading…