Hurricane Idalia intensified into a Category 4 storm early Wednesday morning as it is expected to make landfall near Florida's Big Bend area. 
As of 0600 ET, the National Hurricane Center said Idalia was about 55 miles west-northwest of Cedar Key and 95 miles south-southeast of Tallahassee, moving north-northeast at 17 mph. The storm has maximum sustained winds of 130 mph. 
Category 4 Major Hurricane #Idalia is close to making landfall. Radar shows intense rain bands moving across northern Florida and southern Georgia.

NHC are forecasting catastrophic impacts from storm surge inundation of 12 to 16 feet ⚠️

Live radar map → https://t.co/RPH6VNVban pic.twitter.com/eHMUQHumJH

— Zoom Earth (@zoom_earth) August 30, 2023
"Idalia could continue to strengthen before it reaches the Big Bend coast of Florida in a few hours," NHC said, adding, "While Idalia should weaken after landfall, it is likely to still be a hurricane while moving across southern Georgia, and near the coast of Georgia or southern South Carolina late today."
Catastrophic and life-threatening storm surges are expected between the Wakulla/Jefferson County line and Yankeetown. NHC said these areas could expect a wall of water up to 16 feet. 
The National Weather Service in Tallahassee called Idalia "an unprecedented event." The destructive winds have already led to 70,000 utility customers without power in Florida, according to online outage tracker PowerOutage.us.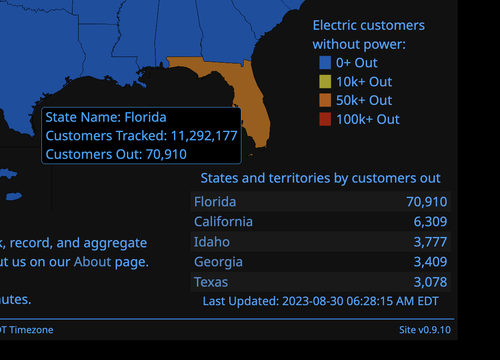 Images of flooding along Florida's Gulf Coast are already being reported on X. 
Big problems with storm surge in #gulfport #stpetebeach #tampabay #HurricaneIdalia pic.twitter.com/o2wrLSaCMv

— Jonathan Petramala (@jpetramala) August 30, 2023
Street flooding this morning at Tarpon Center Drive and along Golden Beach Blvd., Villa Drive and and Flamingo Drive pic.twitter.com/oW7LJOaQVE

— City of Venice, FL (@CityofVeniceFL) August 30, 2023
Gulf Boulevard in Pinellas County. This is dangerous flooding. pic.twitter.com/5XTMSnlGMi

— Spectrum Bay News 9 Weather (@bn9weather) August 30, 2023
Florida Gov. DeSantis provides an update on Idalia… 
"That level of storm surge is life threatening," the governor said about the potential 16-foot storm surge in some areas. pic.twitter.com/pF7vBHVbKV

— WPEC CBS12 News (@CBS12) August 30, 2023
*Developing 
Loading…