Hot on the heels of yesterday's ongoing slump in NAHB Homebuilder Sentiment, housing starts and building permits were expected to decline in October (as mortgage rates roared higher). But… both permits and starts rose MoM in October, +1.1% MoM and +1.9% MoM respectively (vs -1.4% MoM and -0.6% MoM expected respectively).
However, September's 7.0% MoM jump in Starts was downwardly revised to just +3.1% MoM and Permits revised down from -4.4% to -4.5% MoM.
Source: Bloomberg
Even with the revisions, the SAARs both increased modestly in October, but remain in a downtrend overall since their peak at the end of 2021…
Source: Bloomberg
Under the hood all segments increased in October with single-family permits rising for the 10th straight month, and multi-family unit starts rising most since May…
Source: Bloomberg
Given the decline in Starts and Completions, how are residential construction jobs holding up so well?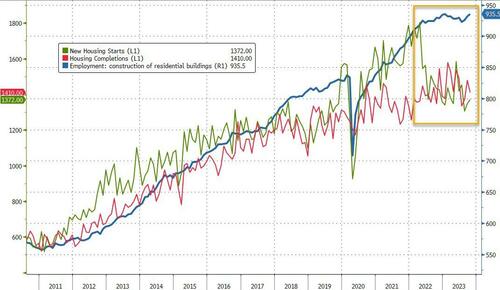 Source: Bloomberg
Finally, given the NAHB sentiment, it would appear build permits are set to keep falling…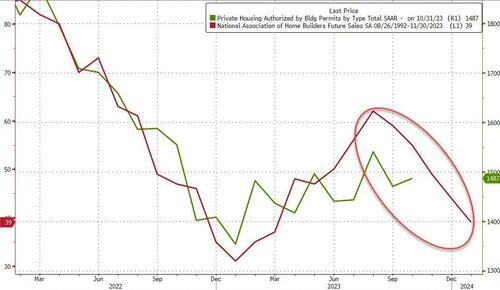 Source: Bloomberg
Is this good news for The Fed? More supply of houses 'disinflating home prices'? We'll see.
Loading…