America's anti-obesity craze, courtesy of GLP-1-based weight-loss drugs such as Wegovy and Mounjaro, produced by Novo Nordisk and Eli Lilly, is in the early innings of unleashing a "food revolution" that could spark devastating consequences for the junk-food industrial complex – as their obese customers eat less Big Macs and carby candy bars. 
To highlight the potential impact of the growing use of GLP-1 drugs, we linked to a Morgan Stanley presentation (available to pro subs) on Thursday that shows a likely 1.7% reduction (vs baseline) in calories consumed. 
Not surprisingly, MS found a more pronounced impact on certain food categories among those on the weight-loss drugs.
Expanding on MS' report is Bank of America analyst Geoff Meacham (available to pro subs), who reveals the downstream effects of the obesity drug will impact the apparel industry as "eventual weight loss in the broader population could spur a wardrobe replacement cycle." 
Meacham said that an adoption rate of 38 million individuals using weight-loss drugs (midpoint of BofA's estimated 2030 TAM) combined with the assumption of buying new clothing could result in $50 billion of new apparel spending. 
"The average US womenswear size is 16 – 18 (XL – XXL), according to the US Department of Health and Human Services, which is up from a size 14 a decade earlier. Weight loss could aid demand for the offerings from traditional retailers (who often carry sizes up to 14), and less demand for plus size retailers like Torrid (CURV)," the analyst said, adding, "athletic apparel brands like Lulu Lemon and Deckers (LULU, DECK) to benefit given the healthier lifestyles shown to be supported by GLP – 1 drug."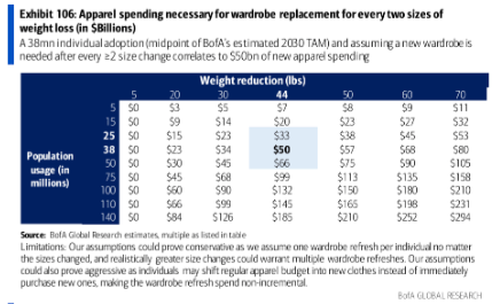 However, the analyst pointed out a key assumption that depends on whether the heavily indebted consumer can afford new clothes: 
"If individuals using GLP – 1 save money through lifestyle changes, they could use this money to fund the clothing spending. As adoption moves towards lower income consumers, this added growth looks less likely and we would expect the customer to trade down to lower priced items to fund spending on new clothes." 
In a separate report, John Furner, the chief executive officer of Walmart's sprawling US operation, said they've been comparing shoppers who pick up appetite-suppressing medications at its pharmacies to shoppers who are otherwise similar but aren't filling those scripts at Walmart and noticed those using anti-fat drugs are spending less on food. 
"We still expect food, consumables, and health and wellness primarily due to the popularity of some GLP-1 drugs to grow as a percent of total in the back half," Walmart CEO Doug McMillon said on a call with analysts in August.
The BofA analyst adds, "The impact of these downstream effects is much less clear to the market but could change consumer behavior over the longer – term with some industries benefitting while others having higher risk. To this end, we've evaluated the impact that broad adoption of GLP-1 drugs could have on consumer-focused sectors, including 1) snacks and beverages, 2) restaurants, 3) tobacco, 4) gaming, 5) apparel, and 6) food retail."
The full note is available to pro subs. 
Loading…