Democratic mayors from Chicago, Denver, Houston, Los Angeles, and New York are feeling the financial pressure as their cities have been swamped with hundreds of thousands of migrants bussed in from the southern border. These mayors have asked President Biden in a letter, urgently requesting federal support and resources, citing the significant strain on their city budgets. 
AP News first obtained the letter, which shows Denver Mayor Mike Johnston is leading the coalition of mayors. The letter states:
We believe additional action is needed and believe as the Mayors leading many of our most affected cities we can be helpful partners in identifying solutions. To address this crisis without further delay, we are requesting an urgent meeting with you to directly discuss ways we can work with your administration to avoid large numbers of additional asylum seekers being brought to our cities with little to no coordination, support, or resources.
Johnston and the mayors outlined several key requests to address the challenges posed by the migrant crisis:
Additional Federal Funding: They advocate for an additional $5 billion in federal funds to cover the expenses already incurred by their cities and to continue serving the growing number of arrivals. The cities are currently spending millions weekly on shelter and support, and the mayors stress that relying solely on municipal budgets is unsustainable.

Accelerate Work Authorization and Adjudication: The mayors request expedited processing of work authorizations, aiming for a 30-day turnaround. They note that many eligible individuals are currently facing waits of six months or more. They suggest supplemental funding for USCIS to reduce these wait times and support waiving fees for applicants.

Increase Access to Work Authorization: The mayors emphasize the need for broadened work authorization for newcomers, noting that many are ineligible under current rules. They argue that allowing newcomers to work would reduce reliance on public support and benefit local economies.

Collaborative Federal Approach to Coordinated Entry: The mayors propose a coordinated entry and distribution process for newcomers, similar to the system used by the Office of Refugee Resettlement (ORR). They suggest the federal government work with nonprofit partners to manage the geographic movement of recent arrivals, potentially placing regional coordinators in major cities to ensure capacity and successful integration.
In recent weeks, blue states have blasted Biden's disastrous open southern border policies as metro areas, like New York City, have received upwards of 100,000 migrants in just a matter of months. 
NYC Mayor Eric Adams has predicted that the migrant crisis "will destroy New York City." 
Migrants are sleeping on sidewalks in so-called sanctuary cities. Many of these cities have transformed into third-world-like states: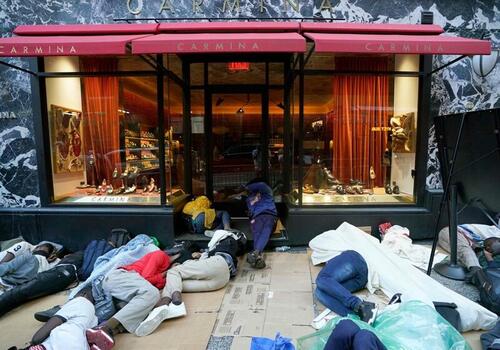 Despite the Biden administration's recent claims to secure the border, we have reported another wave of migrants is headed to the southern border. 
Loading…