China is continuing to militarize disputed islands it has long exercised effective control over in the South China Sea, according to new satellite images.
The images, taken by Planet Labs PBC in early August, show fresh construction on the westernmost island of the Paracel Islands close to Vietnam (and which are claimed by both Vietnam and Taiwan). What has regional and US officials alarmed is the large airstrip which appears to be progressing at rapid pace.
The apparent Chinese military build-up of the island can be seen by comparing these latest satellite images (below) to prior ones.
The Drive was the first to report on and analyze the images, with the publication writing:
The sudden development on the Chinese-controlled Triton Island is revealed in satellite imagery. Clearly, work is still at an early stage, but it's startling just how rapid the progress has been so far. Construction of this airstrip only began a few weeks ago at the most. The War Zone examined imagery from Planet Labs from mid-July showing no such activity.
The new airstrip appears to be over 2000 feet in length according to analysis of the images.
The Drive continues, "As well as the airstrip, satellite imagery reveals a huge new work area, including a cement plant. This has all sprung up within the last month."
"Previously, this Chinese outpost was home to an observation station with two radomes and some big Chinese flags, but not much more. The island was previously served by a small harbor and a helipad," the report added. Chinese state-run Global Times has rejected the allegations. 
#China Is Building A Runway On Its Closest Island Outpost To #Vietnam

Triton is the westernmost island in the #SouthChinaSea's strategic Paracel archipelago and added militarization of it has big implications.

In just the last few weeks, China has begun to build what appears to… pic.twitter.com/VexSjCjlzn

— Indo-Pacific News – Geo-Politics & Defense News (@IndoPac_Info) August 16, 2023
China has over the past years used both artificial islands as well as expanding military bases on the tiny land masses in the waters to extend its maritime claims, butting up against that of American allies in the region like the Philippines or unrecognized Taiwan.
The Chinese military has also repeatedly charged that the US Navy has 'frequently' deployed warships in the South China Sea to "show off its force and severely infringe upon China's sovereignty and security interests."
The Pentagon response has typically been that it's conducting peaceful 'freedom of navigation' operations to ensure adversaries adhere to international law for open waters.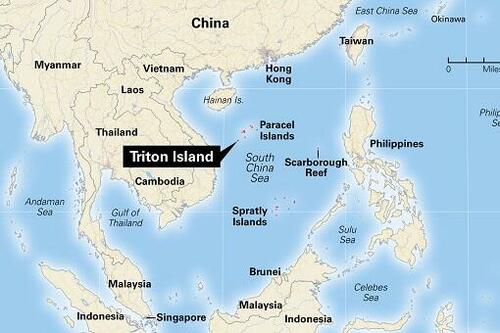 The US also rejects Chinese claims of ownership over disputed island chain which are now becoming de facto PLA military outposts. Many of the islands have been under Chinese military control since at least the 1970s.
Loading…