Poor sugar and cocoa harvests in Mexico, India, and the Ivory Coast, primarily due to El Nino-induced weather disturbances like low rainfall, have caused a spike in candy prices for the second consecutive year. Surging prices are leading some consumers to trade down to value or store-brand candy this Halloween, according to AP News. 
Data from retail price tracking website Datasembly reveals consumers have been slapped with the second year of double-digit inflation in the candy aisle. Prices for candy jumped 13% this month compared to prices last October. That's up from a 14% increase in candy in October 2022. 
"The price of candy has gotten to be outrageous," Jessica Weathers, a small business owner in Shiloh, Illinois, told AP. She usually buys plenty of candy for the trick-or-treaters, but this year, she only bought two bags, indicating, "It doesn't make sense to me to spend $100 on candy."
This Halloween, one-third of consumers are planning to trade down to value or store brands when buying candy for trick-or-treaters, according to market research firm Numerator. 
Data from the Bureau of Labor Statistics show candy prices have rocketed higher in the last several years. 
El Nino weather trends have meant drier conditions for Asia, Central America, and West Africa, which are major growing areas for cocoa and sugar. 
Cocoa prices rocketed to 44-year highs on drier conditions across West Africa. 
"There may be no price relief in sight, at least through the first half of 2024," said Dan Sadler, principal of client insights for Circana, a market research firm.
Global sugar prices have surged to 12-year highs as parts of Asia experienced dry weather that dented harvests.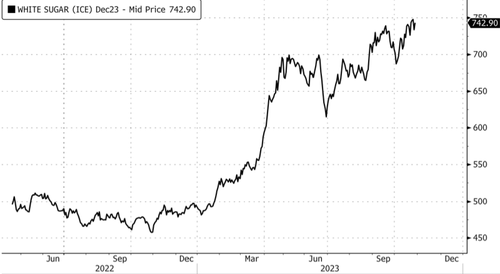 "The US candy consumer is essentially paying the price for poor crops in Mexico and also Asia," John Stansfield, a senior sugar analyst at commodity data platform DNEXT, told NYTimes. 
For some context, at the supermarket, candy inflation means consumers can expect a 250-piece variety pack of Mars Inc. chocolate bars to cost around $25, versus the same package was $19.50 two years ago. 
Last week, Hershey's CEO Michele Buck warned: "We know that value and affordability continue to be top-of-the-line for consumers as budgets are stretched." 
Loading…