Authored by Terri Wu via The Epoch Times (emphasis ours),
Didier Raoult, a renowned French microbiologist, announced hydroxychloroquine (HCQ) as an effective cure for COVID-19 on Feb. 25, 2020. The following month, former U.S. President Donald Trump cited his research and called the drug a "game changer." Since then, Dr. Raoult has been engulfed in a global controversy.
Initially, in March 2020, the Food and Drug Administration (FDA) granted HCQ, a drug widely used against malaria and arthritis, an emergency use authorization (EUA) for treating COVID-19.
However, on May 22, 2020, the Lancet medical journal published a now-retracted study saying that HCQ brought about a much higher risk of death and heart problems in hospitalized COVID-19 patients, citing data from nearly 100,000 patients in over 600 hospitals. The authors noted the mortality rate of the total surveyed population was 11.1 percent, while the death rate was 16 percent and higher for the groups given various HCQ treatments—nearly double that of the control group, which was not given HCQ treatment.
The study preceded a series of decisions by health authorities. In three days, the World Health Organization (WHO) suspended a clinical trial of HCQ for COVID-19. During the same week, France also banned its use on COVID-19 patients, revoking an emergency authorization of HCQ for COVID-19 issued two weeks earlier.
On June 15, 2020, the FDA revoked the EUA of HCQ, citing cardiac adverse events and other side effects. Six months later, the FDA approved EUAs for Pfizer-BioNTech and Moderna COVID-19 vaccines, emergency authorizations contingent on "no adequate, approved, and available alternatives," according to the FDA announcement.
"Chloroquine or hydroxychloroquine was prescribed 1 billion times in the year of 2006. So it means that if 10 percent of the people died with this, that would have made 100 million people die of heart attack, which is stupid," Dr. Raoult told The Epoch Times. HCQ is a newer and improved version of chloroquine.
He said he and other experts wrote to the Lancet, saying the study's findings were impossible. A few months later, the journal retracted the paper. When retracting the article on June 4, 2020, the authors said they could "no longer vouch for the veracity of the primary data sources." They also apologized for causing "any embarrassment or inconvenience" to the journal and its readers.
A day before the retraction of the paper, the WHO announced it was resuming the clinical trial of HCQ on COVID-19. On June 20, 2020, the U.S. National Institutes of Health (NIH) halted its clinical trial, citing no harm and no benefit of HCQ on COVID-19 patients. A month later, the WHO also discontinued its HCQ treatment arm for COVID-19 for similar reasons. France's ban on using HCQ for COVID-19 patients has not been lifted.
Yet Dr. Raoult persisted in treating COVID-19 patients with HCQ and azithromycin, an antibiotic. On April 4, 2023, he published preliminary results of treating over 30,000 patients between March 2020 and December 2021 at the institute he led until August 2022, the Institut Hospitalo-Universitaire Méditerranée Infection (IHU). He said the fatality rate of those treated with HCQ was at 7 percent, "half of the fatality rate of the deaths of any series of hospitalized patients [who] needed oxygen." "So it's very efficient," he added.
In May, French medical bodies called for sanctions against Dr. Raoult for "the largest 'unauthorised' clinical trial ever seen." Dr. Raoult responded, "There's no trial, only the therapeutical choice by the doctors."
Over the years, HCQ has remained a contentious topic. Because he stood by his statement of HCQ's effectiveness on COVID-19, Dr. Raoult, an accomplished scientist who received one of the highest honors in France—the prestigious Grand Prix Inserm—in 2010, has been labeled an anti-vaccine conspiracy theorist.
In response, he has maintained that he is not against vaccines, but to him, the equation of risks and benefits doesn't hold for COVID-19 patients under 50 with low risk, especially children, to elect to take the injections.
He spoke to The Epoch Times while promoting his autobiography at a conference in Saint-Hyacinthe, a small city east of Montreal. The autobiography was published in France in April and in Canada in October. "Being a doctor and courageous runs in my family," he said.
His father was a military doctor, and his great-grandfather an infectious disease doctor. He was born in French Dakar, today's Senegal in West Africa, while his father was posted there working on malnutrition. His grandmother ran a resistance network against the Nazis and survived from Ravensbrück, a women's concentration camp in northern Germany, 50 miles north of Berlin.
"I don't want to be ashamed to be less courageous. She was deported to Ravensbrück, my God," he said. "It's in my family. Sometimes you need to disobey because you think it's not good to obey some things incompatible with your moral sense."
He said patients were told not to see doctors and doctors not to see patients during the COVID lockdown. That was "completely stupid" to him. In March 2020, he opened IHU to COVID-19 patients who were willing to receive HCQ treatments, and people queued in winding single-file lines outside his institute to wait for their turns.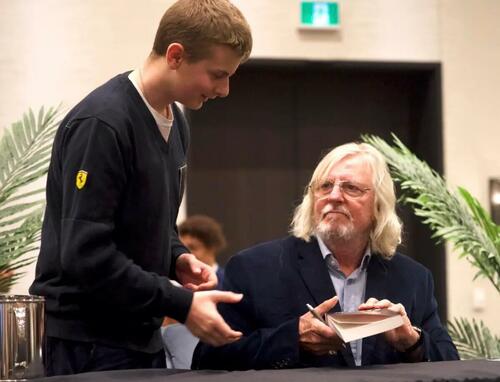 To him, countering the mainstream recommendation that HCQ was dangerous for COVID-19 patients was just an outcome of doing his job. "I don't care about what the others say. I'm just talking about what I'm seeing. It's not a Christian opinion; I don't get any opinion."
He said he was encouraged by a recent U.S. appeals court decision allowing a lawsuit from three doctors against the FDA to proceed. On Sept. 1, a panel of three judges on the 5th U.S. Circuit Court of Appeal in New Orleans revived the case, which alleges the FDA overstepping its authority by running a campaign against ivermectin's effectiveness in treating COVID-19 patients.
"It was very interesting because I hope it will happen sometime in France—the doctor is in charge of treating the patient. This is his role and his duty. So you can have recommendation information from the government or from the agency, but it cannot replace the responsibility of the doctor who prescribes the treatment," Dr. Raoult said.
He added that patients should hold the doctor accountable if he didn't do his job. "But it's not an agency that should determine what the doctor [should] do."
The maverick scientist, now 71, said he wasn't aware of any complaints from the 30,000 COVID-19 patients treated at IHU under his leadership. "This means that the people who have never seen the patient in the Ministry of Health don't know better than we who treated 30,000 people. And I've been practicing medicine for 42 years, so I know what I'm doing."
"Self-esteem is more important than the esteem of others," he said about one of the themes of his autobiography. "I need to be agreed with myself. This is critical."
Tanya Du contributed to this report.
Loading…