As we noted yesterday, jury selection in the Sam Bankman-Fried trial started today, kicking off a trial that is expected to last about six weeks following the crypto firm's historic $40 billion bankruptcy. 
And SBF's appearance was notably different when he made his way into court, according to Bloomberg on Tuesday. The news outlet reported that he was "noticeably leaner" and that his hair was "tamed and trimmed". 
He was wearing "a navy suit that seemed bigger on him than in previous appearances", the report said. Bankman-Fried has been kept in custody for nearly two months after the judge hearing the case, US District Judge Lewis Kaplan, revoked his bail for potential witness tampering months ago. 
His defense team had previously argued for his release, making that case that due to his vegan diet, SBF was supposedly surviving on just bread and water. He sat calmly in court on Tuesday, typing away on a laptop and conferring with his lawyers. 
At a certain point in the proceedings, the judge broached the idea that Bankman-Fried could take the stand to defend himself, emphasizing that the choice was his alone, irrespective of counsel's recommendations. Bankman-Fried affirmed with a "yes" that he understood the judge's comments.
"I think we'll likely see a conviction," Joshua Naftalis, partner at Pallas Partners, told Bloomberg TV on Tuesday. "My expectation is that he will testify."
"The closest analog is Bernie Madoff, who got life in prison," he continued. 
US prosecutors have labeled FTX "one of the biggest financial frauds in American history," Financial Times noted in their trial preview. SBF stands accused not only to defrauding "dozens" of the world's top investors, but also his millions of customers. The report also noted the trial will likely include "millions of pages of evidence" and testimony from SBF's friends and romantic partners. 
Prosecution is going to be tasked with trying to get seven different charges, including conspiracy to commit money laundering and fraud against lenders, investors and customers, to stick, the report notes. They will try to show that Bankman-Fried collaborated covertly to channel billions from FTX customers to his cryptocurrency trading company, Alameda Research.
Funds were then spent on luxury property, political contributions and high-profile advertising.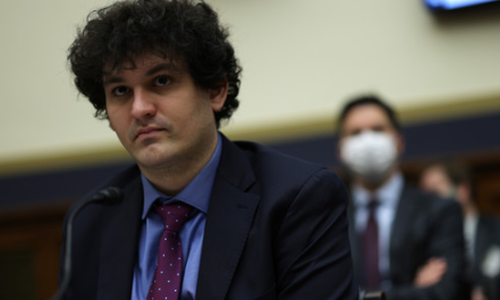 As the report notes, four people who used to work under Bankman-Fried have already admitted guilt. Caroline Ellison, who was previously the CEO of Alameda and was once romantically involved with SBF, is anticipated to be a key witness in the case.
If the trial goes the distance and SBF doesn't admit guilt, plea out or settle prior to trial, the defense is slated to cast blame on others, including Ellison. SBF has claimed to be uninformed about the financial mechanisms that were operating behind the curtain of his business empire, insisting that he had no intention of committing fraud. 
More on the SBF trial: 
Loading…