American Airlines has sued a website that purports to "expos[e] loopholes in airfare pricing to save you money," saying the site is engaging in deception. The airline is also threatening to cancel tickets purchased through the site. 
The website, Skiplagged, centers on a controversial technique called skiplagging or hidden-city flying, which involves buying a ticket that includes a connecting flight, but getting off at the layover airport and skipping the second flight. For example, a traveler who wants to go to Charlotte may find it's cheaper to buy a ticket to New York through Charlotte than buying a trip to Charlotte. To skiplag the trip, the flyer would buy the cheaper New York ticket but just walk out the Charlotte airport rather than getting on the New York flight. 
"Generally, skiplagging is not illegal, but airlines claim that it violates their policies," says the Associated Press. In July, American ejected a 17-year-old who attempted to skiplag a trip to Charlotte from Gainesville by buying a ticket to New York. American also imposed a three-year ban on the teenager, whose ticket was purchased by his father. 
"Skiplagged's conduct is deceptive and abusive," said American in a federal suit filed in Fort Worth. "Skiplagged deceives the public into believing that, even though it has no authority to form and issue a contract on American's behalf, somehow it can still issue a completely valid ticket. It cannot. Every 'ticket' issued by Skiplagged is at risk of being invalidated."
On its website, New York-based Skiplagged embraces the fact "you might upset the airline," and encourages users to avoid overusing the technique on the same route with the same airline in a short time period. It also encourages users to pack only a small backpack that will fit under the seat, lest a gate-check send their carry-on to the final unwanted destination. Checked bags are, of course, out of the question.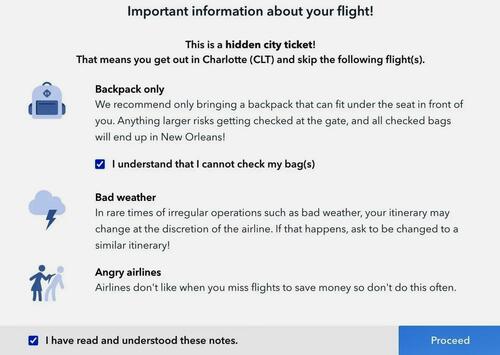 The site also cautions that weather situations could lead an airline to change the itinerary. Skiplagged warns some airlines may request proof of a return flight during check-in: "If this happens to you, just buy a refundable return ticket directly from the airline and cancel it ASAP after boarding."
In its suit, American claims Skiplagged's deception includes the site's offer of cheaper fares: "Many of the fares displayed on Skiplagged's website are higher than what the consumer would pay if they simply booked a ticket on American's website or through an actual authorized agent."
American also accuses Skiplagged of selling tickets for the airline without authorization:
"Skiplagged has never had an agency agreement with American and has never had any authority, whatsoever, to sell tickets for American flights. Indeed, Skiplagged developed methods to illegally obtain access to tickets and offer them to consumers – tickets which are at risk for immediate invalidation – because only an agent of American has the legal authority to form a valid contract between a consumer and American."
Skiplagged founder Aktarer Zaman was sued in 2014 by United Airlines and Orbitz. Just 22 years old at the time, he settled with Orbitz and the United suit was dismissed when a judge said his court didn't have jurisdiction. Not yet in the black at the time, Zaman raised $79,000 in crowdfunded donations to cover his legal fees. 
Turning legal lemons into marketing lemonade, Skiplagged's home page now boasts, "Our flights are so cheap, United sued us…but we won." 
Loading…