The big question into Alphabet's earnings was what, if any, progress they had made on monetizing the AI promise without cannibalizing the company's main moneymaker – search advertising; and just how much capex they blew on NVDA chips to feed the LLM-processing beast.
So how did Alphabet do? A quick look at the results reveals a top and bottom line beat:
EPS $1.55, beating estimate $1.45
Revenue $76.69 billion, beating estimates $75.54 billion

Revenue ex-TAC $64.05 billion, beating estimates of $63.04 billion
Google Services revenue $67.99 billion, beating estimates $66.89 billion
Google advertising revenue $59.65 billion, beating estimates $58.94 billion
YouTube ads revenue $7.95 billion, beating estimates $7.8 billion
Google other revenue $8.34 billion, beating estimates $7.94 billion
Other Bets revenue $297 million, beating estimates $258.8 million
So far so good… but the one thing the market did not like at all, and is the reason why the stock is tumbling after hours, is that unlike peer MSFT which is soaring out of the gate on an across the board beat, Google disappointed on Google Cloud revenues which at $8.41 billion missed estimates of $8.6 billion, despite rising notably from $6.9 billion a year ago.
Looking below the line we find a generally mixed picture:
Operating income $21.34 billion, missing estimates of $21.44 billion
Google Services operating income $23.94 billion, beating estimate $22.89 billion
Google Cloud operating income $266 million, missing estimate $433.6 million
Other Bets operating loss $1.19 billion, vs estimate loss $1.2 billion

In total, GOOGL's operating margin of 28% missed estimate 28.1%. Finally, CapEx of $8.06 billion missed estimates of $8.81 billion
Oh, and for those counting, the number of employees dropped by about 4,000 to 182,381 from 186,779.
Commenting on the quarter, CFO Ruth Porat said that "the fundamental strength of our business was apparent again in Q3, with $77 billion in revenue, up 11% year over year, driven by meaningful growth in Search and YouTube, and momentum in Cloud. We continue to focus on judicious capital allocation to deliver sustainable financial value."
And while we wait to see how many time CEO Sundar Pichai will mention AI and try to capitalize on the stupidity of headline scanning AI algos, it's hardly surprising that he too was quite laudatory of his company's numbers, saying that he is "pleased with our financial results and our product momentum this quarter, with AI -driven innovations across Search, YouTube, Cloud, our Pixel devices and more. We're continuing to focus on making AI more helpful for everyone; there's exciting progress and lots more to come."
Well, there are at least two mentions… only this time the magic is gone and while Sunday may be pleased, the market isn't and the stock is tumbling 7% after hours,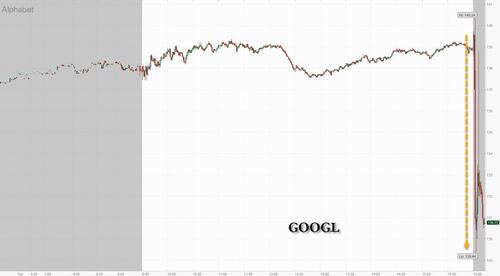 Loading…