If the UAW strikes haven't proven to you that workers want to do less, for more money, perhaps this new survey will.
A new study published by FinanceBuzz this week revealed that more than 1/3rd of all remote workers would quit or find a new job if they were asked to come back into the office. Has anybody told these coddled millennials that the pandemic – and the buffet of excuses that go with it – is over?
For the survey, FinanceBuzz surveyed 1,000 U.S. adults in August 2023. Only people who indicated they have a remote or hybrid (partially remote, partially in-office) job were allowed to respond, the report says. 
Their key findings were:
More than one-third of remote workers (36%) would quit or immediately begin looking for a new job if told they had to return to office.
58% of remote workers are likely or very likely to look for a remote role for their next job.
Compared to 2020, remote workers place increased value on the flexibility to work from anywhere (cited as top perk by 29% in 2020 and 38% in 2023).
25% of remote workers say that flexibility of schedule is the top perk of working from home, down from 31% in 2020.
The percentage of workers that say time with family is the best perk of remote work more than doubled between 2020 and 2023.
For most employees, the crown jewel of remote work appears to be flexibility. According to Finance Buzz's report, 35% of telecommuters indicated that the freedom to live and work from any location is the most compelling benefit, a shift from being the second most favored perk in a 2020 survey. This surge coincides with the growing allure of the "digital nomad" lifestyle and advances in telecommuting technology.
Coming in second place, 25% of remote workers appreciated the scheduling freedom their jobs provided. This marks a drop from 2020, when 31% cited schedule flexibility as their top perk. While the preferred benefits switched positions between the two surveys, they remained the top two choices, resonating with 60% of respondents collectively.
While telecommuting isn't without its pitfalls, no single downside stood out unanimously. Difficulties in fostering workplace relationships were mentioned by 41% of respondents, and 40% reported that working from home presented more distractions.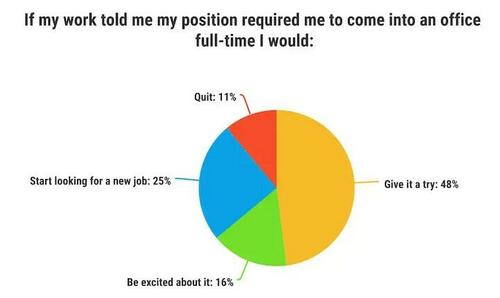 The adoption of remote work has made a lasting impression on the workforce, with many reluctant to revert to a conventional office setting. In fact, 36% of remote workers stated they would prefer quitting their job to relinquishing their work-from-home status. Given this sentiment, it's hardly startling that 58% of telecommuters are inclined to seek another remote position for their next career move, while a mere 14% would opt otherwise.
You can read the full study here. 
Loading…