UMich Inflation Expectations Remain At 12 Year Highs
The most important segment of the UMich sentiment survey continues to be inflation expectations, and after the preliminary data showed medium-term expectations rising significantly, the final print for May was expected to drop modestly from 3.2% to 3.1% (while the rebound in short-term inflation expectations was expected to hold). Both inflation expectations dropped from the flash print, from 4.5% to 4.2% for 1Y and from 3.2% to 3.1% for 5-10Y. However, 5-10Y inflation expectations remain at their highs of the last 12 years…
Source: Bloomberg
The headline sentiment print was better than expected but still lower from April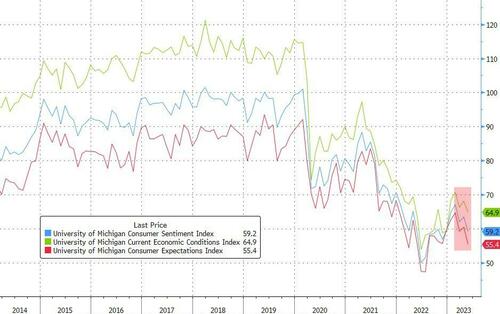 Source: Bloomberg
Consumer sentiment slid 7% amid worries about the path of the economy, erasing nearly half of the gains achieved after the all-time historic low from last June. This decline mirrors the 2011 debt ceiling crisis, during which sentiment also plunged. This month, sentiment fell severely for consumers in the West and those with middle incomes.
Buying Conditions all dropped in May…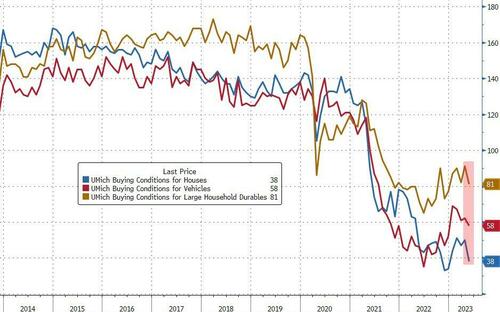 Source: Bloomberg
Interestingly, Republicans' sentiment slipped most while Democrats' confidence barely dipped…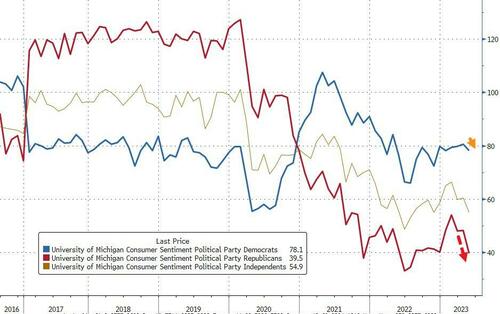 Source: Bloomberg
UMich warns that the year-ahead economic outlook plummeted 17% from last month. Long-run expectations plunged by 13% as well, indicating that consumers are concerned that any recession to come may cause lasting pain.
Loading…