NOAA Predicts Near-Normal Atlantic Hurricane Season
New

You can now listen to Insurance Journal articles!
As the 2023 Atlantic hurricane season approaches June 1, the National Oceanic and Atmospheric Administration is predicting "near-normal" activity.
The season's expectations are mostly due to the fact NOAA scientists predict a high potential for the weather condition known as El Niño, which can inhibit the formation or prevent strengthening of hurricanes.
However, El Nino's influence may be offset by other factors that are favorable to hurricane formation, such as warmer-than-normal sea surface temperatures in the Atlantic Ocean and Caribbean Sea, NOAA added in its latest update.
NOAA is forecasting a range of 12-17 total named storms, with 5-9 hurricanes (winds of 74 mph or higher) and 1-4 major hurricanes (Category 3 or greater). NOAA said it has a 70% confidence in these ranges.
The average hurricane season contains about 14 named storms, 7 hurricanes, and 3 major hurricanes.
The hurricane research team at Colorado State University in its early forecast of the 2023 Atlantic hurricane season predicted slightly below-average activity. CSU will release an update to its forecast on June 1.
AccuWeather meteorologists in late March predicted the 2023 season will have 11-15 named storms, four to eight hurricanes, and one to three major hurricanes.
NOAA said it is implementing upgrades and improvements, including expanding the capacity of its operational supercomputing system by 20% to run more complex forecast models.
The 2022 Atlantic hurricane season was close to average, with 14 named storms, eight hurricanes and two major hurricanes but one of those was Hurricane Ian – among the strongest hurricanes to ever make U.S. landfall on September 28 in Florida. Ian was also one of the costliest hurricanes in history in terms of insured losses, causing an estimated $60 billion. The storm will only trail 2005's Katrina in insured losses.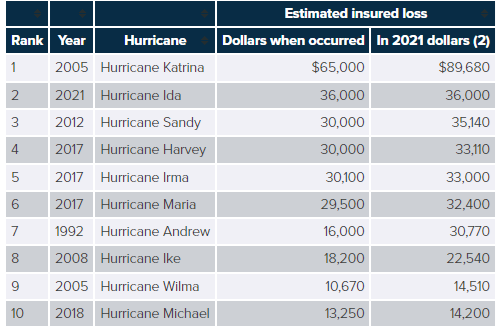 Was this article valuable?
Here are more articles you may enjoy.
Interested in Aerospace?
Get automatic alerts for this topic.