Credit-Suisse-Killing Saudi National Bank Chair Resigns "For Personal Reasons"
Almost two weeks following an interview with Bloomberg TV, in which Saudi National Bank Chairman Ammar Al Khudairy, who is also Credit Suisse Group AG's largest shareholder, ruled out the possibility of raising his stake in the struggling Swiss lender, the bank's stock immediately plummeted, leading to an abrupt takeover by rival UBS. Now the chairman of the Saudi National Bank has resigned, citing "personal reasons."
After his comments on Credit Suisse helped spark a slump in the lender's shares, Saudi National Bank Chairman Ammar Al Khudairy resigns https://t.co/9aaWunmcFT pic.twitter.com/RpqLCQwpMg

— Bloomberg (@business) March 27, 2023
According to a filing on Riyadh's Tadawul stock exchange, Al Khudairy is being replaced by Saeed al-Ghamdi, the bank's current CEO. No further explanation was provided for Al Khudairy's departure, with the statement only mentioning it was "due to personal reasons."
His departure comes 12 days after he told Bloomberg TV in an interview that Saudi National Bank would "absolutely not" be open to increasing its Credit Suisse position.
"The answer is absolutely not, for many reasons outside the simplest reason, which is regulatory and statutory," the chairman of Saudi National Bank said on March. 15. That was in response to a question on whether the bank was open to further injections if there was another call for additional liquidity.
Immediately following Al Khudairy's remarks, Credit Suisse's shares plummeted by 30%.
… and its CDS exploded to record highs…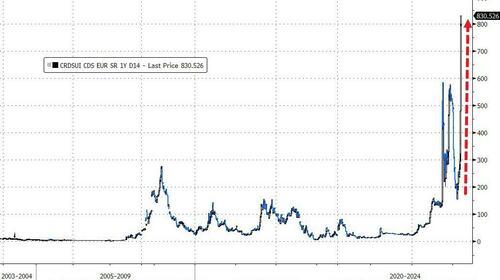 Later that day, the Swiss National Bank agreed to lend Credit Suisse $54 billion to shore up its finances. 
The next day, Al Khudairy tried to calm fears, telling CNBC viewers:
"It's panic, a little bit of panic. I believe completely unwarranted, whether it be for Credit Suisse or for the entire market."
And by the end of the weekend, on Sunday, March 19, UBS said it would take over Credit Suisse. 
And just how much did the Saudis lose because of Al Khudairy's comments?
Figure they had a 9.9% stake for 1.4 billion francs last year, or about a billion dollars in losses. Quite an unfortunate turn of events…
Loading…