BMW To Pause Raising Prices On Premium Vehicles After Years Of 40% Increases
BMW has announced it's going to stop raising prices on its premium vehicles after 2023, marking what could be a top in auto prices as global supply continues to swell and the average consumer is tapped with debt.
Price hikes as a result of increased demand and shortage of semiconductors have led to a stunning average of 40% annual price increases since 2020, according to a new report by Financial Times. 
The automaker said deliveries for the year would "increase slightly". It noted that there was a "slight decrease in European orders at the start of 2023", which the company blamed on rising interest rates. About 40% of sales are consummated with the help of the company's financial services arm. 
BMW's head of sales Pieter Nota told FT: "Full order books in Europe and outside [has translated] into good price realisation. Of course, that has contributed very much to solid profitability of the company."
In the UK, the median price of a new BMW has gone from £36,638 in March 2020 to £51,350 this month, the report notes. The 40% jump leads other manufacturers like Volkswagen (who saw a 19% jump) and Mercedez-Benz (who saw a 39% jump). 
Across all brands, AutoTrader said that prices were up 40%, in line with BMW's rise. Chief executive Oliver Zipse is calling for operating margins of between 8% and 10% for the year. Zipse is also pushing for e-fuels to help BMW meet its decarbonization goals.
The company has long advocated for hydrogen powered vehicles as an alternative to EVs, the report says. The company's BMW iX5 pilot series is fueled by hydrogen. 
The EU has mandated a ban on combustion engines by 2035, but BMW has stated that "not all markets worldwide will have the necessary framework conditions for all customers to switch to pure electromobility in the next decade".
Meanwhile, in the U.S., we noted days ago that used car prices are once again re-accelerating. Cox Automotive reported that its Manheim Used Vehicle Value Index (MUVVI), which tracks the auction prices of used cars, increased 4.3% in February from January, the largest increase for the full month of February since 2009's 4.4% rise. 
Used-car prices peaked around April 2022 and have been trending slightly lower. But the latest year-over-year change in the data shows a slowing decline and monthly reacceleration in prices.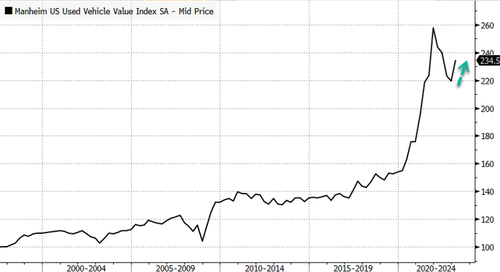 Loading…