Ascot Names Zaffino as Group President & CEO, Following Retirement of Brooks
Ascot Group announced the appointment of Jonathan Zaffino as group president & chief executive officer (CEO), following the retirement of Andrew Brooks, effective immediately.
Zaffino will also join the Board of Directors, while Brooks will continue to serve as a director on Ascot's Board.
Currently group president at Ascot, Zaffino joined the organization in 2020. During his time at Ascot, Zaffino was responsible for the group's U.S. and Bermuda insurance and reinsurance platforms. Prior to joining Ascot, he held a number of executive and management positions at leading underwriting and brokerage organizations.
Zaffino has served in a variety of underwriting and brokerage leadership roles throughout his career. Prior to joining Ascot, he was president and CEO of Everest Insurance, and executive vice president of Everest Re Group Ltd., roles he assumed in 2018. He was president of Everest National Insurance Co. from 2015 to 2016 before serving as president of Everest Insurance North America from 2016-2018. He was also president of Victor O. Schinnerer & Co. from July 2013 to Feb. 2015 and a managing director at Marsh from March 2010 to June 2013, according to his LinkedIn profile.
"Management and the board have worked together over the years to ensure we had a strong succession plan in place, and we're pleased to be able to promote from within for the CEO role. On behalf of the Board of Directors, I'd like to congratulate Jon on this well-deserved appointment and look forward to working with him and Ascot's management to continue Ascot's success as one of the world's pre-eminent specialty insurance and reinsurance organizations," commented Neill Currie, executive chairman.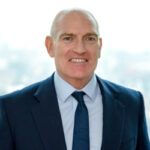 "We'd also like to extend our gratitude to Andrew Brooks. He joined the company at its inception and has led the organization with distinction," Currie added.
"He has been critical to the firm's success, overseeing the growth of Ascot from a Lloyd's of London business to a global platform with operations in the U.S. and Bermuda," Currie said. "He has also been a hugely influential figure in the London insurance industry, currently serving as chairman of the Lloyd's Market Association and member of the boards of the Council of Lloyd's and London Market Group. We look forward to continuing to work with him in an advisory capacity as he remains on the Board of Directors."
"I'm honored to take on the role of CEO at Ascot and build upon the strong foundations established under Andrew's leadership, and I look forward to continuing to work with him in his capacity as a board director. I also look forward to partnering with the board, management and the entire Ascot team to further execute on the great success of the company," said Zaffino. "The future of the business is very bright, and I believe we have the right strategy, culture and colleagues across the globe to deliver leading solutions and capabilities to our clients."
"I've had the privilege of seeing the growth and success of Ascot since I joined the company in 2001 and am incredibly proud of the strength of the business, and the excellent team we have built at Ascot," said Brooks. "I feel that now is the right time for me to take a step back. I am confident that the company is in the best position possible under Jon's stewardship, which was an important factor in his joining Ascot nearly three years ago," he added.
Source: Ascot Group
The most important insurance news,in your inbox every business day.
Get the insurance industry's trusted newsletter