January Payrolls Preview: More Market Whiplash
A torrid, exhausting rollercoaster of a frenzied week full of central bank pauses and pre-pivots, a deluge of economic data and a third of the S&P500 reporting earnings including the world's largest companies, comes to a merciful close with Friday's nonfarm payrolls report.
As Newsquawk writes in its NFP preview, while the pace of payroll additions is expected to cool again in January, and while the  unemployment rate is likely to have risen a little, tomorrow's print will still point to a tight labor market. Recent data has alluded to an easing in wage pressures, and this is likely to continue again in January, which will be received well by Fed officials. A continued decline here may give traders further confidence to price a path for rates more dovishly than the Fed's current projections, and conversely, any upside surprise in the wages metrics may lead to a hawkish repricing of forward rates. Meanwhile, annual payroll benchmark revisions are difficult to predict, but some think that it will result in downward revisions to many of the prints in the second part of 2022.
CONSENSUS EXPECTATIONS:
The US is expected to add 189k nonfarm payrolls in January, cooling from the prior rate (223k) as well as recent averages (three-month average 247k, six-month average 307k, 12-month average 375k).

As a comparison, the ADP's gauge of National Employment in January disappointed expectations, with 106k payrolls added, missing the 178k consensus forecast. The report said that January saw the impact of weather-related disruptions on employment.

Average hourly earnings are expected to rise by 0.3% sequentially in January, the same as last month; on an annual basis, the growth in AHE is seen easing back some more, and after increasing by 4.6% in December, it is expected to further drop to 4.3%.

Average weekly hours, which have been shrinking notable in recent months, are expected to remain unchanged at 34.3

The unemployment rate is seen rising one-tenth of a percentage point to 3.6%. The Fed sees the jobless rate rising to 3.7% this year, before climbing to 4.6% next year, where it is expected to remain until 2025, when the central bank thinks it will edge back down. Should the unemployment rate spike in 2023 "unexpectedly", it is viewed by the market as the surest way to trigger a Fed easing campaign.
DOWNWARD BIAS: There has been a suspicious propensity of the BLS numbers to come just above consensus expectations, with payrolls beating the median estimate on 7 of the past 8 reports (and 12 of the past 15). Will tomorrow make it a perfectly random 8 out of 9?
TIGHT LABOR MARKETS: Labor market proxies continue to allude to tight conditions; the weekly initial jobless claims data for the week that coincides with the establishment survey window declined vs the comparable week for the December data (192k vs 216k); continuing claims also declined (1.675mln vs 1.718mln). However, consumers themselves seem downbeat about the prospects for the labor market. The Conference Board's gauge of consumer confidence for January said consumers' assessment of present economic and labor market conditions improved at the start of the year, but expectations for the next six-months retreated, with consumers less upbeat about the short-term outlook for jobs, though their views for income prospects were more steady. Furthermore, the latest Challenger job cuts was remarkable in reporting a whopping 440% surge in corporate layoffs in January, with 102,943 cuts in the month, more than twice those announced in December and up 440% from January 2022. At some point the DOL will have to admit it is wrong in how it counts layoffs.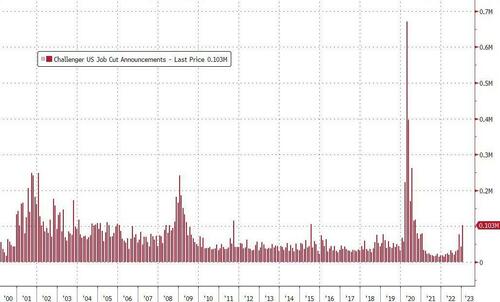 LABOR DEMAND: While analysts generally see labor market conditions as tight, some are pointing to signs of softening: S&P Global's flash composite US PMI for January noted that jobs growth cooled in the month, with January seeing a far weaker increase in payroll numbers than evident throughout much of last year, which S&P said reflected a hesitancy to expand capacity in the face of uncertain trading conditions in the months ahead." Some analysts also point to declining average workweek hours, which have been edging down from 34.6hrs at the beginning of 2022 and is expected to be unchanged at 34.3hrs in January – suggesting that aggregate hours worked in the labor force has been falling.
COOLING WAGES: With monetary policymakers firmly fixated on reducing inflationary pressures, there will again be attention on average hourly earnings figures. The rate of average hourly earnings is seen rising 0.3% M/M, matching December's pace, although the annual measure is likely to fall to 4.3% from 4.6%, analysts predict. As a reference, the ADP's data revealed that the median change in annual pay for job-stayers was unchanged at 7.3% Y/Y, though the rate for job-changers rose 0.2ppts to 15.4%. And although it does not synchronize with this data release, the Employment Costs Index slowed for the third straight quarter in Q4, which will be a welcome sign for Fed officials who want to see wage growth cool; that said, employment costs themselves are still running at a rate of around 4.0% annualized; Wells Fargo said that while the ECI data further supports the argument for inflation moving back toward 2%, "labor cost growth remains too strong to be consistent with it staying there for the long-haul," and the bank thinks that "more slowing will be needed before the FOMC feels comfortable declaring victory on inflation."
PAYROLLS BENCHMARK REVISIONS: Annual benchmark revisions are also due to be made to the data series. This will impact both the Household and Establishment surveys. The household survey will include the annual population adjustment, which means that the household employment measure will not be directly comparable to prior months. Tomorrow's report will also be accompanied by the annual benchmark revision to the establishment survey. The BLS's preliminary estimate of the establishment survey revision suggested a 39k faster pace of monthly job growth on average from April 2021 to March 2022. Additionally, the 2022 immigration rebound suggests the possibility of a rise in tomorrow's estimates of population, the labor force, and potentially the participation rate.
Capital Economics says this could result in a downward revision to many of the payrolls numbers we saw in the second half of 2022, as hinted at in the Quarterly Census of Employment and Wages (QCEW). Accordingly, its economists suggest interpreting January changes with care, even though the unemployment and participation rates are not likely to be majorly impacted. "The most recent QCEW data suggest that employment growth plummeted over the second quarter," adding that "that closely tracks the downshift evident in the household survey measure of employment, which aside from the resurgence in December, remained far weaker than the payrolls measure over the second half of last year." CapEco also notes that the recent quarterly Business Employment Dynamics survey shows a similar pattern.
OUTLIER EXPECTATIONS: We should flag one potential market-moving forecast from Goldman, which estimates a blowout 300k payrolls surge in January, well above consensus of +190k, and here's why: "While consensus appears to expect the spike in corporate layoff announcements to weigh on tomorrow's report, jobless claims have fallen further, and California WARN notices suggest the majority of these mass layoffs have not yet been implemented. Our well-above-consensus forecast also reflects strength in Big Data employment indicators, a boost from favorable seasonal factors that are spuriously fitting to last winter's Omicron wave, still-elevated labor demand, and a 36k boost from the return of striking education workers. On the negative side, ADP's employment data flagged possible disruptions from winter weather and California flooding."
ARGUING FOR A STRONGER-THAN-EXPECTED REPORT:
Layoffs. Consensus expects a slowdown in job growth in part because of the spike in corporate layoff announcements, as shown by the red line in the left panel of Exhibit . But as shown by the jobless claims data in the same panel, so far these announcements have not translated into an economy-wide increase in job loss. Relatedly, as shown in the right panel, across California WARN notice filings over the last three months, only 20% of mass layoffs were scheduled for the January payroll month (December 19 to January 14). Taken together, this suggests that the spike in corporate layoff announcements, while salient in financial markets and the press, will exert only a modest drag on tomorrow's employment report (just as the Biden admin wants it).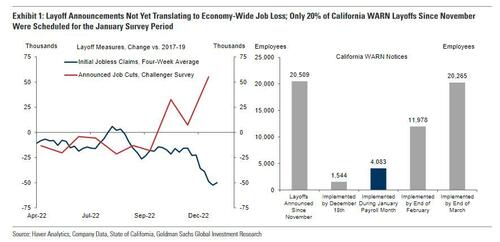 Big Data. High-frequency data on the labor market indicate a strong and potentially accelerating pace of job gains, with three of the four measures we track consistent with above-consensus January payrolls.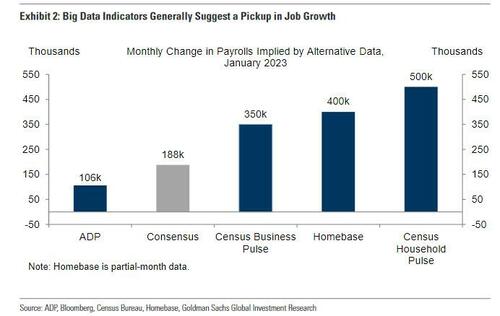 Residual seasonality. The January seasonal factors have evolved favorably in recent years, with a month-over-month hurdle for private payrolls of -2,829k in January 2022 compared to -2,695k on average in 2017-19 (see Exhibit 3). Goldman believes the BLS seasonal factors are overfitting to the Omicron-related payroll deceleration in January 2022 (+500k mom sa, vs. +609k on average in 4Q21 and +714k in February 2022). The bank's forecast for tomorrow assumes a boost of 50-100k from residual seasonality.
Job availability. JOLTS job openings increased 572k to 11.0mn workers inn December, although online measures declined through January. Additionally, the Conference Board labor differential—the difference between the percent of respondents saying jobs are plentiful and those saying jobs are hard to get—increased in January (+2.4pt to +36.9).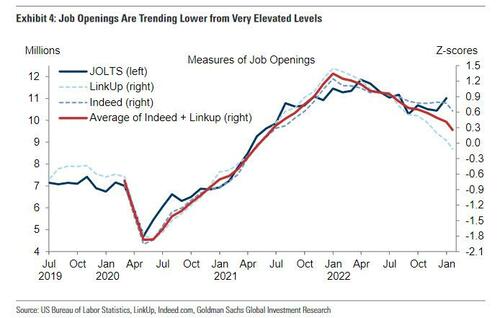 California strikes. A strike of academic workers across the University of Californian school system lowered job growth by 36k in the December report and will boost job growth in tomorrow's report by the same amount, as the labor dispute was resolved during the January payroll month.
Jobless claims. Initial jobless claims decreased during the January payroll month, averaging 209k per week vs. 225k in December, and continuing claims in regular state programs increased 52k from survey week to survey week, although we find that residual seasonality and other non-economic factors explain some of the variation in jobless claims over the last few months.
ARGUING FOR A WEAKER-THAN-EXPECTED REPORT:
ADP. Payroll-processor ADP estimates a 106k rise in private employment in January, a sharp slowdown from the upwardly revised December increase of 253k. Commentary from ADP notes the impact of weather-related disruptions to employment during the reference week. While we cannot rule out a drag on January nonfarm payrolls from winter weather or California flooding, snow cover in major population centers was below normal during the payroll survey week, and the stability of California electricity demand argues against widespread establishment closures.
NEUTRAL/MIXED FACTORS:
Challenger job cuts. Announced layoffs reported by Challenger, Gray & Christmas increased by 38k to 90k January (mom sa). Roughly 40% of the announced layoffs were in the tech sector, which accounts for a very small share of overall employment. According to Goldman, many laid-off workers will be able to find new jobs relatively quickly, and the required reduction in aggregate labor demand will come primarily from fewer job openings rather than lower employment.
Covid. Rising covid cases could weigh on tomorrow's report if a significant number of hourly workers missed work during the survey week due to illness. That being said, the test positivity rate in New York City fell back to 12.2% during the January payroll survey week, compared to 13.8% in December and 11.2% in November, and 9.6% in October.
Employer surveys. The employment components of business surveys were mixed-to-stronger in January. Our services employment survey tracker increased by 2.7pt to 52.1 and our manufacturing survey employment tracker ticked down by 0.4pt to 50.8.
BENCHMARK REVISIONS: Tomorrow's report will be accompanied by the annual benchmark revision to the establishment survey. The household survey will include the annual population adjustment, which means that the household employment measure will not be directly comparable to prior months. Tomorrow's report will also be accompanied by the annual benchmark revision to the establishment survey. The BLS's preliminary estimate of the establishment survey revision suggested an upward adjustment of 462k to the level of March 2022 employment, which implies a 39k faster pace of monthly job growth on average from April 2021 to March 2022.
Needless to say, if the stronger-than-expected factors prevail, and if jobs magically come out far hotter than expected – say 300K or more – then much of the post FOMC meltup may whiplash lower as the "data dependent" Powell will not like to see a resurgence in the US labor market.
Source: Goldman
Loading…