Cosmos ATOM is now bearish. Here are the key technical indicators
The Cosmoverse event promised new developments, including an interchain security

Cosmos native token ATOM has been falling after the event

ATOM is bearish, but we should remain keen on technical levels
If you consider adding positions in Cosmos ATOM/USD, key technical indicators may not be convincing. Of course, ATOM has been one of the strongest cryptocurrencies since June. It has defied all bear flags in the sector to remain on an uptrend. However, it has now broken below its almost 4-month ascending trendline. 
We all know that ATOM's gains preceded the Cosmoverse conference held on September 26-28. A white paper release for the conference proposes significant utilities for the Cosmos ecosystem. Also dubbed Cosmos 2.0, the development will introduce an interchain security feature. The security feature has been a long-standing issue for users. The white paper also calls for changes in the issuance schedule and utility of ATOM, the native token. These changes were at least expected, and that's why the native token was gaining ahead of the conference. 
Now getting back to the basics, investors are known to price assets ahead of anticipated pronouncements. Whereas Cosmos 2.0 promises major improvements to the ecosystem, the short-term speculations seem to have waned. Consequently, ATOM trades at $12.68, a drop from $16.95 a week before the Cosmoverse event.
Atom loses ascending trendline for the first time since June
Binance
Binance is one of the largest cryptocurrency exchanges in the world. It is better suited to more experienced investors and it offers a large number of cryptocurrencies to choose from, at over 600.
Binance is also known for having low trading fees and a multiple of trading options that its users can benefit from, such as; peer-to-peer trading, margin trading and spot trading.
Coinbase
Coinbase is a global cryptocurrency exchange. Its platform is well designed for beginner investors and it offers a wide range of coins, as it has over 100 to choose from.
Coinbase has high level security built into the platform, a range of diverse features to use and it offers its users options for storing their crypto, such as being able to store coins on the Coinbase exchange.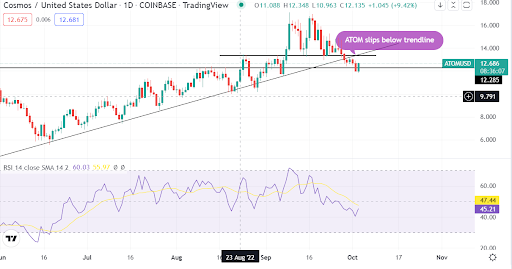 Source – TradingView
A slip below an ascending trendline confirms a bearish move for ATOM. The drop happened after ATOM lost an important $13.3 support. However, bulls should remain optimistic.
ATOM fell to another support at $12.0, but the bulls are defending the level. The token has recovered slightly above the level. The RSI shows a slight upside with no oversold conditions.
Concluding thoughts
It is not yet time to buy ATOM, though the cryptocurrency shows some stabilization. The $12.0 and $13.3 are the levels to watch for bullish reversal signals.