3,000 Canadian Pacific Rail Workers Strike As Fertilizer Shipments Grind To Halt 
The North American agricultural sector could be in for a major shock if Canadian Pacific Railway Ltd's (CP Rail) work stoppage is not resolved in a timely manner because it could spark a shortage of fertilizer and other shipments critical for the spring growing season, according to AP News. 
AP News reports more than 3,000 CP Rail conductors, engineers, train, and yard workers represented by the Teamsters Canada Rail Conference stepped off the job Sunday as the union and CP Rail couldn't strike a deal.
CP Rail is the leading carrier of potash, a potassium-rich salt mined from underground deposits formed from evaporated sea beds millions of years ago, used to support crop development. In prior investor documents, the rail company said it hauls 70% of the potash produced in North America, all from mines in Canada. The railroad also carries fertilizers, including phosphate, urea, ammonium sulfate, ammonium nitrate, and anhydrous ammonia. 
A disruption of fertilizer shipments could significantly impact US farmers on the cusp of planting season. The work stoppage may exacerbate existing supply chain bottlenecks in North America stemming from COVID. The agricultural sector can't afford any more disruptions as Western economic sanctions on Russia and Belarus, two major fertilizer producers, have unleashed higher prices globally and shortage fears. Here's how much fertilizer Russia exports to North America.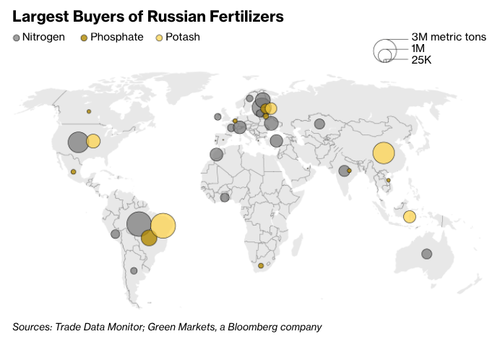 The union said they tried to continue bargaining, but CP Rail "chose to put the Canadian supply chain and tens of thousands of jobs at risk."
"As Canadians grapple with a never-ending pandemic, exploding commodity prices and the war in Ukraine, the rail carrier is adding an unnecessary layer of insecurity, especially for those who depend on the rail network," the union said.
Canadian potash spot prices per ton in USD are nearing record-high levels.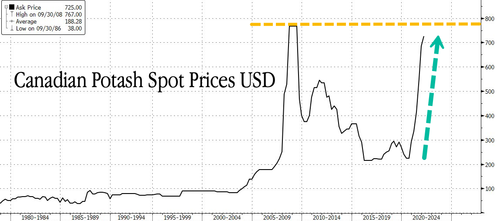 CP Rail extends throughout the Midwest; Its rail services cover Dakotas, Minnesota, Iowa, Illinois, Wisconsin, Missouri, other regions, including parts of the Northeast. 
Federal negotiators are moderating the discussions between CP Rail and the union. However, there's no timeline on when an agreement will be reached. 
Mike Steenhoek, the Iowa-based executive director of the Soy Transportation Coalition, was quoted by Reuters as saying, "the current war in Ukraine is placing additional pressure on delivering U.S. agricultural production and inputs, particularly fertilizer." 
"A shut down in operations at Canadian Pacific will certainly compound that stress," Steenhoek said. 
Canada is about a month away from seeding, and parts of the US could be imminently ready to plant. If farmers don't have enough fertilizer on hand, it could have severe implications for declining yields for this year's harvest. 
For the sake of the North American food supply, let's hope a resolution is found shortly. Otherwise, anyone who didn't prepare for food shortages will be eating lentils and insects.