S&P Futures Surge, Yields Jump After Lavrov Says "There Is A Way To Move Forward"
Having sunk near session lows ahead of the US open, futures suddenly spike higher, pulling 10Y yields and the Russian ruble alone for the ride, when comments from Russian foreign minister Sergey Lavrov who was addressing the press alongside Putin, eased investor nerves for an "imminent" – in the words of the US deep state – invasion.
Speaking across what may be the longest table in the world…
… Lavrov initially told Putin responses to Russian security proposals from the EU and NATO have not been satisfactory, noting that Russia will try to get responses from all EU countries.
Setting an early bitter mood, Lavrov also said NATO is trying to dictate rules in Europe and Russia is not satisfied with U.S. view on alliance's expansion adding that part of US response to security demands were unsatisfactory but part of the response was more constructive. Lavrov then noted that Russia's proposals should be taken into account as a whole, adding that indefinite talks are not possible.
However, what sent futures surging, was Lavrov comment that he supports continuing diplomatic talks with the West in response to a question on whether "there was a chance for agreement" on key issues, and that he can see a way to move forward with talks.
A somewhat scripted meeting in which Lavrov informs Putin there is still time for diplomacy. The length of the table being prepared for Olaf Scholz when he arrives tomorrow in Moscow will be a thing of wonder. https://t.co/ZwxGFSn5mH

— Patrick Wintour (@patrickwintour) February 14, 2022
Putin responded "all right" to Lavrov's proposal, which was the trigger for a sharp spike in futs…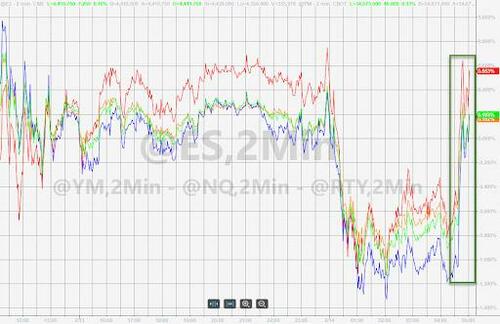 … which were bracing for the worst after the latest lies from the US state department on Friday, which said that an imminent Russian invasion was on deck. The comment also sparked some selling in safe havens such as 10Y Treasurys whose yields jumped…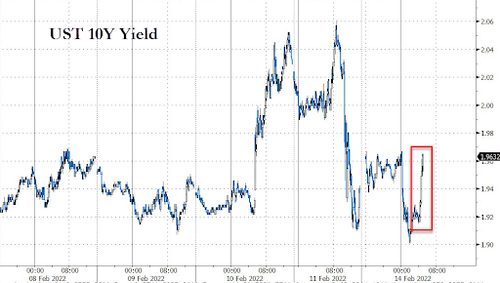 … the dollar sank…
… while the ruble jumped to session highs on Lavrov's comment.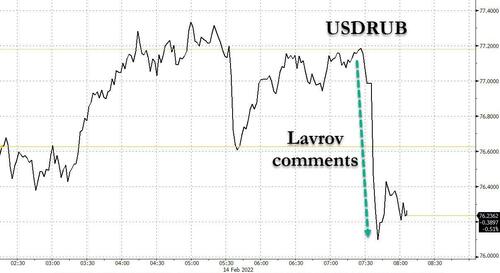 And while futures are now trading near session highs, we now look forward to Bullard's comment in 20 minutes on CNBC to bring it all back down again…