Manhattan Retail Rents Plunge Without Office Workers, Tourists
As back-to-work slips in Manhattan and tourist activity across the borough struggles to regain pre-pandemic levels, retail rents are still dropping, according to Bloomberg. 
Average asking rents in the borough plunged 14% in the fourth quarter of 2021 compared with one year ago, according to a new report published Monday by commercial real estate services company Jones Lang LaSalle Inc. (JLL). 
JLL said retail rents in the quarter fell the most in Times Square, down 37%, but the repricing has resulted in some retailers signing new leases, taking advantage of heavily discounted rents. 
The number of new leases in the borough jumped 24% from the prior quarter, decreasing available inventory from 28% to 27%. 
"Decreased availability correlates directly with the surge in leasing activity, as retailers continue to capitalize on market conditions to secure high-quality spaces at a discount," JLL said in the report.
Landlords have been offering up to one year free of rent and even renovations to spaces to attract retailers as many storefronts across the borough lay dormant. 
Manhattan's retail market has been in shambles and could take years to recover as foot traffic remains below pre-pandemic levels. The main reason behind this is the lack of people returning to office buildings. 
According to Kastle Systems, whose electronic access systems secure thousands of office buildings across the borough and the city as a whole, shows only 14% of workers are back to the office. The latest drop in December is due to the Omicron variant.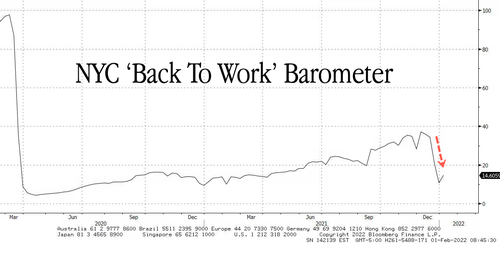 While some promising signs emerge in the Manhattan retail data, the recovery will be long and slow. Furthermore, who in their right mind would want to return to the office when Manhattan's Soros-funded DA is taking a page from progressives in California to downgrade felony charges for armed robberies and drug dealing. Wall Street firms have already told their employees to dress down to avoid being attacked.