How To Trade UnitedHealth Stock After Its All-Time High | Investing.com
Dow-30 member UnitedHealth is up around 39% in 2021.
Q3 metrics released in early November were robust and management raised full-year EPS guidance.
Long-term investors could consider buying the dips in UNH shares, especially if they decline toward $470.
Investors in the health insurer UnitedHealth Group (NYSE:), a member of the mega-cap, 30-component , are enjoying significant returns in 2021. Year-to-date, UNH stock has returned 38.9%. By comparison, the Dow Jones US Insurance Index is up 24.9%.
On Dec. 16, UNH shares hit a record high, just shy of $497. But since that peak, they've eased about 2%, trading around $487. The share price now supports a dividend yield of 1.2%. And the stock's 52-week range has been $320.35 – $496.96, while the market capitalization (cap) stands at $458.8 billion.
Management announced robust Q3 metrics on Oct. 14. Revenue was $72.3 billion, compared to $65.1 billion a year ago. The mega-cap healthcare group reports revenue in two main segments:
UnitedHealthcare, which offers healthcare benefits to employers, individuals as well as Medicare and Medicaid beneficiaries;
Optum, a health information technology and innovation firm that provides a range of services to improve healthcare and insurance services.
Adjusted net earnings per share (EPS) came in at $4.52. Cash flow from operations was $7.6 billion. UnitedHealth also increased full-year net adjusted earnings to $18.65 to $18.90 per share.
On the results, CEO Andrew Witty said:
"Our positive growth and operating results are thanks to the 340,000 Optum and UnitedHealthcare team members."
Prior to the release of the , UNH stock was around $450. Then on Dec. 16, it saw an all-time high of $496.96. And on Dec. 17, it closed at $487.12. Meanwhile, on Dec. 14, Goldman Sachs initiated coverage of UNH stock with a buy rating, adding to the positive price momentum.
What To Expect From UnitedHealth Stock
Among 28 analysts polled via Investing.com, UnitedHealth stock has an "outperform" rating.
Chart: Investing.com
Analysts also have a 12-month median price target of $494.44 on the stock, implying an increase of more than 1.5% from current levels. Put another way, Wall Street believes most of the good news has already been factored into the share price. The 12-month price range currently stands between $360 and $570.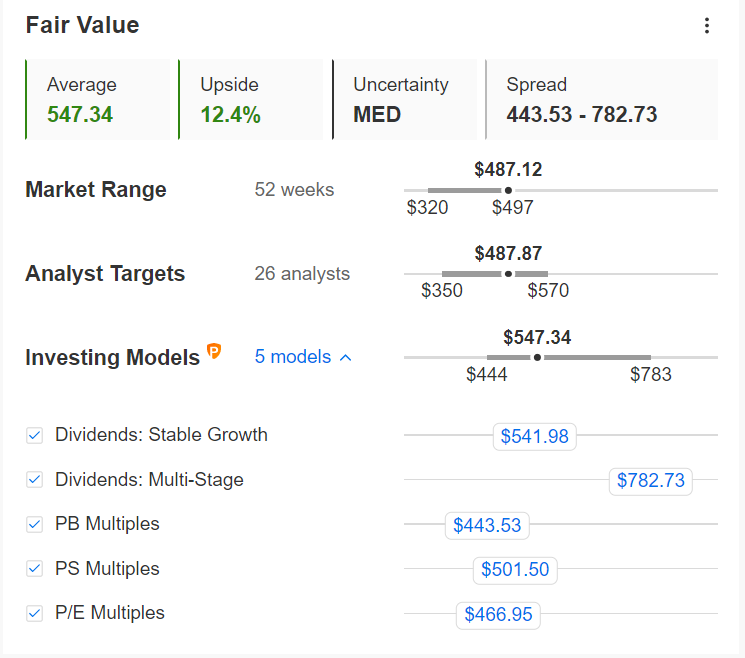 Chart: InvestingPro
However, according to a number of valuation models, such as those that might consider dividends and P/E or P/S multiples, the average fair value for UNH stock, via InvestingPro, stands at $547.31, implying an upside potential of more than 12%.
Moreover, we can look at the company's financial health determined by ranking more than 100 factors against peers in the information healthcare sector. In terms of growth and profit health, UnitedHealth scores 4 out of 5 (top score). Its overall performance is rated "great."
Trailing P/E, P/B and P/S ratios for UNH stock are 29.7x, 6.5x and 1.6x. By comparison, those metrics for peers stand at 8.5x, 1.4x and 0.7x. Put another way, UnitedHealth stock has a frothier valuation level than its peers.
Finally, readers who watch technical charts might be interested to know that several of UNH's short and intermediate-term indicators are pointing to overbought levels, and suggesting caution.
In the coming weeks, we expect UnitedHealth stock to potentially drop toward $470 or even slightly below. In that case, the $460 level should act as initial support.
Following such a potential decline, the shares are likely to trade sideways for several weeks, until they establish a base, possibly around $460, after which a new leg could start.
Adding UNH Stock To Portfolios
UnitedHealth bulls with a two- to three-year horizon who are not concerned about short-term volatility could consider buying the stock around these levels for long-term portfolios. The target would be $547.31, the fair value implied by several models.
Alternatively, investors could consider buying an exchange traded fund (ETF) that has UNH as a holding. Examples would include:
iShares U.S. Healthcare Providers ETF (NYSE:): This fund is up 22.0% YTD, and UNH stock's weighting is 25.34%;
SPDR Dow Jones Industrial Average ETF Trust (NYSE:): The fund is up 17.1%YTD, and UNH stock's weighting is 9.05%;
Amplify CWP Enhanced Dividend Income ETF (NYSE:): The fund is up 15.4% YTD, and UNH stock's weighting is 6.65%.
Finally, those who are experienced with options strategies and believe there could be further declines in UNH shares, might prefer to do a bear put spread.
Most option strategies are not suitable for most retail investors. Therefore, the following discussion is offered for educational purposes and not as an actual strategy to be followed by the average retail investor.
Bear Put Spread On UNH Stock
Current Price: $487.12
In a bear put spread, a trader has a long put with a higher strike price as well as a short put with a lower strike price. Both legs of the trade have the same underlying stock (i.e. UnitedHealth here) and the same expiration date.
The trader wants UNH stock to decline in price. However, in a bear put spread, both the potential profit and the potential loss levels are limited. Such a bear put spread is established for a net cost (or net debit), which represents the maximum loss.
Let's look at this example:
For the first leg of this strategy, the trader might buy an at-the-money (ATM) or slightly out-of-the-money (OTM) put option, like the UNH Feb.18, 2022, 480-strike put option. This option is currently offered at $16.23. It would cost the trader $1,623 to own this put option that expires in slightly less than two months.
For the second leg of this strategy, the trader sells an OTM put, like the UNH Feb.18, 2022, 470-strike put option. This option's current premium is $12.85. The option seller would receive $1,285, excluding trading commissions.
Maximum Risk
In our example, the maximum risk will be equal to the cost of the spread plus commissions. Here the net cost of the spread is $3.38 ($16.23 – $12.85 = $3.38).
As each option contract represents 100 shares of the underlying stock, i.e. UNH, we'd need to multiply $3.38 by 100, which gives us $338 as the maximum risk.
The trader could easily lose this amount if the position is held to expiry and both legs expire worthless, i.e., if the UnitedHealth stock price at expiration is above the strike price of the long put (or $480.00 in our example).
Maximum Profit Potential
In a bear put spread, potential profit is limited to the difference between the two strike prices minus the net cost of the spread plus commissions.
So in our example, the difference between the strike prices is $10.00 ($480.00 – $470.00 = $10.00). And as we've seen above, the net cost of the spread is $3.38.
The maximum profit, therefore, is $6.62 ($10.00 – $3.38 = $6.62) per share less commissions. When we multiply $6.62 by 100 shares, the maximum profit for this option strategy comes to $662.
The trader will realize this maximum profit if the UNH stock price is at or below the strike price of the short put (lower strike) at expiration (or $470.00 in our example).
Those readers who have traded options before are likely to know that short put positions are typically assigned at expiration if the stock price is below the strike price (i.e., $470.00 here). However, there is also the possibility of early assignment. Therefore, the position would need monitoring up until expiration.
Break-Even UNH Price At Expiration
Finally, we should also calculate the break-even point for this trade. At that price, the trade will not gain or lose any money.
At expiration, the strike price of the long put (i.e., $480.00 in our example) minus the net premium paid (i.e., $3.38 here) would give us the break-even UNH price.
In our example: $480.00 − $3.38 = $476.62 (minus commissions).
Bottom Line
We believe UNH stock is a great addition to most long-term portfolios. However, following the recent run-up in price, the valuation has become frothy. Therefore, in the near future, a potential decline of 5%-7% could be in the cards. Interested investors could regard such a drop as an opportunity to buy UnitedHealth shares.