3 Stocks To Watch In The Coming Week: GameStop, Costco Wholesale, Broadcom | Investing.com
Equity investors will likely see another bout of next week as concerns grow over the outlook for the global economic recovery after the emergence of the Omicron variant of COVID which has forced many countries to re-introduce travel restrictions.
On the heels of the news about Omicron, Goldman Sachs cut its growth target for the U.S. economy this year and next, that the spread of the new strain of the coronavirus would exert a "modest downside" drag on growth. 
The investment bank now expects U.S. GDP to expand 3.8% this year, down from 4.2%. It reduced its 2022 estimate to 2.9% from 3.3%. These worries pushed all major indexes lower last week as investors exited risky assets, instead seeking refuge in government bonds.
Amid this renewed sell-off related to the coronavirus, here are three stocks on our radar during the upcoming trading week:
1. GameStop
GameStop (NYSE:), the video game retailer's stock favored by the Reddit retail investor crowd, will report its third quarter earnings after the market close on Wednesday, Dec. 8. Analysts, on average, are expecting a loss of $0.52 a share on sales of $1.2 billion.
Though shares of this electronics vendor are still up more than 800% for the year, investors are awaiting a credible plan from the company's new management to turn around this brick-and-mortar retailer.
Ryan Cohen, an activist investor who became GameStop chairman after building a 13% stake, told investors in June that he won't disappoint them. The same month, GameStop named former Amazon (NASDAQ:) veteran Matt Furlong as its chief executive officer. 
The stock closed on Friday at $172.39, after falling 14% during the week as investors shunned riskier assets. In this context, it's important that GameStop's quarterly performance shows, mostly to the company's retail investor base, that the new management is succeeding in cutting losses and putting the retailer on a sustainable growth path. 
2. Costco Wholesale 
One of the U.S.'s largest discount retailers, Costco Wholesale (NASDAQ:) will report its fiscal 2022 first quarter results on Thursday, Dec. 9 after the close. Analysts are expecting $2.62 a share in profit on sales of $54 billion.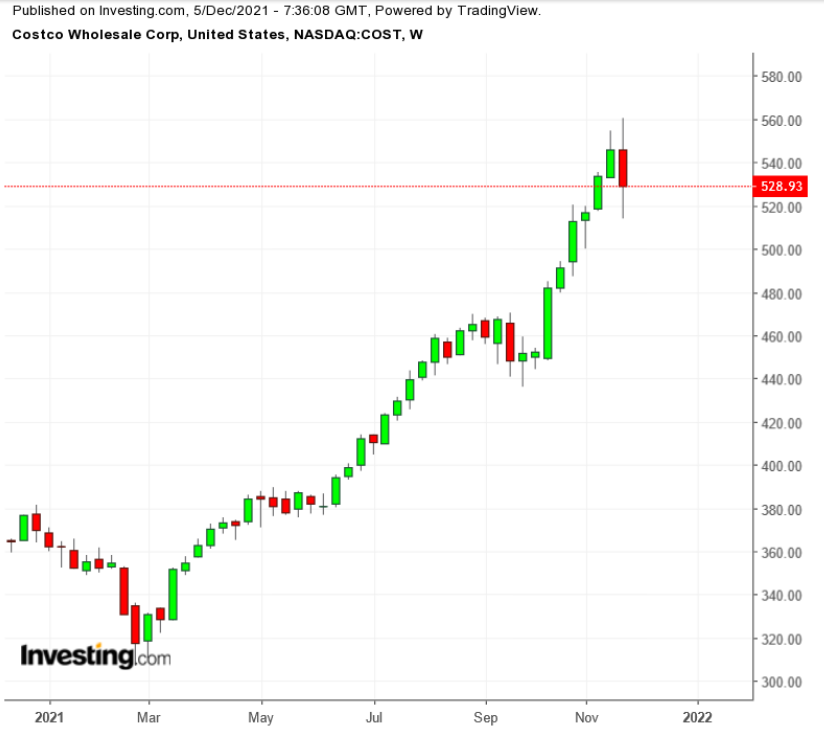 During the past year, Costco has been one of the favorite picks of equity investors. The COVID-19 pandemic provided an unprecedented surge in sales volumes for the international big-box retailer as consumers stocked their pantries to avoid too many trips to stores.
The latest results will likely show that amid the increased economic activity after the reopening. Costco reported last week that its November sales surged about 16% to $18.13 billion. Shares of Costco, up about 40% this year, closed on Friday at $528.93.
3. Broadcom
The last big chipmaker to release earnings this current season is Broadcom (NASDAQ:). The San Jose, California-based company will report its fiscal 2021, fourth quarter earnings after the market closes on Thursday as well. Analysts are expecting $7.74 a share profit with the projected sales of $7.36 billion.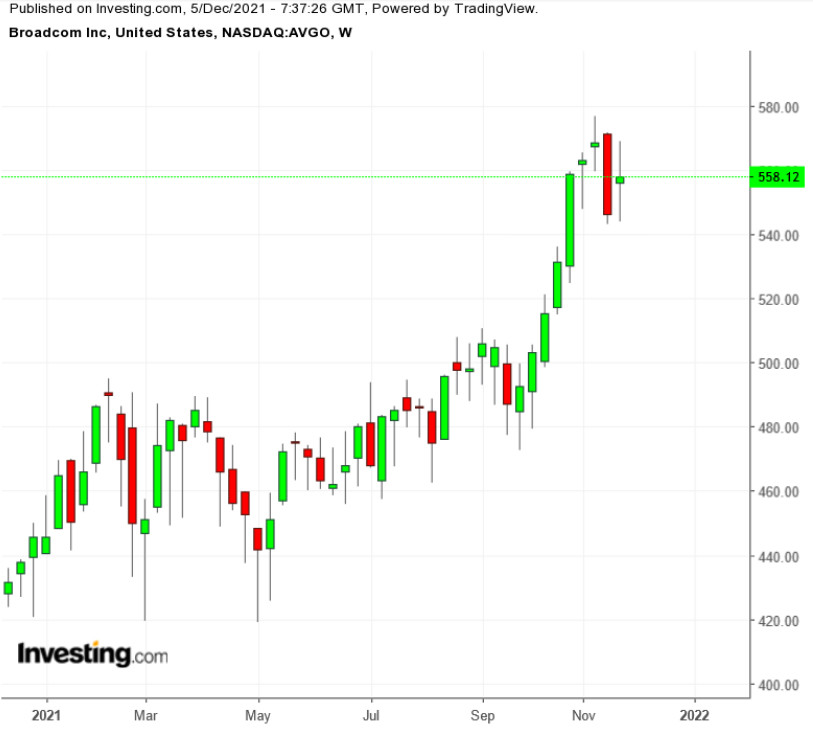 During the company's latest earnings release, investors will be eager to know whether Broadcom's current strategy, spearheaded by CEO Hock Tan—to grow through acquisitions as well as buying software assets that are struggling—is paying off. 
Broadcom is one of the world's largest chipmakers with lines of business spanning smartphone parts, key components of networking equipment, and semiconductors that run home Wi-Fi gear and set-top boxes.
In September, the company by reporting slower-than-expected sales growth even though demand for its chips remained strong. At the time, the company told investors it was tightly controlling which orders it fills in order to avoid creating a future glut. 
Broadcom shares, which closed at $558.12 on Friday, have gained 27% this year and about 40% during the past 12 months.