Futures, Crypto Surge: Evergrande To Make Thursday Interest Payment, PBOC Injects Most Liquidity Since January
US equity futures markets and cryptos are surging higher as headlines from China that Evegrande Onshore Property Unit would pay the bond coupon on Thursday September 23rd.
This headline alone sparked panic-buying in futures…
And bitcoin spiked too…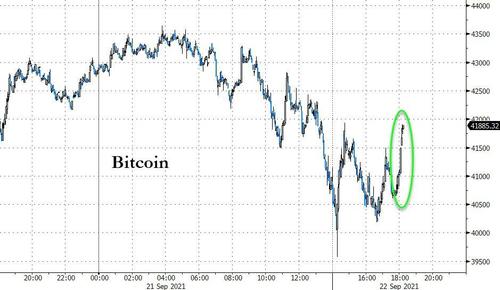 But… Of course, the buy first, think later mantra is in full play here as shortly after the first glorious headline, Bloomberg reported that the September 23rd yuan coupon payment had been negotiated with bondholders away from the clearing house.
Evergrande's onshore property unit will make interest payment for its 5.8% 2025 bond Thursday, according to exchange filing.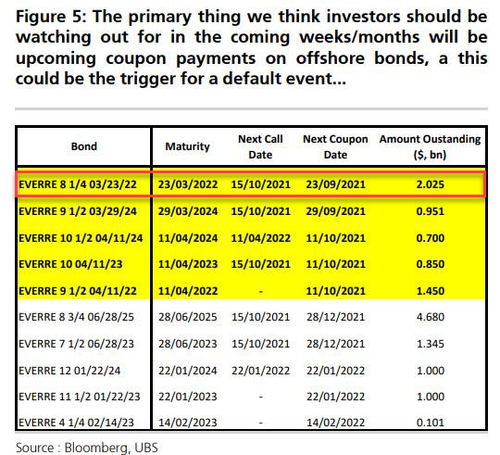 Morgan Stanley had previously suggested this plan of action, forecasting that Beijing may initiate a managed debt restructuring of "a troubled property developer" in the coming week, followed by policy easing in October to contain spillover to the broader economy, according to Morgan Stanley.
The world's most indebted developer is supposed to pay bond interest totaling about $119.5 million on Thursday. Interest comes due Thursday on two Evergrande notes, even as it falls behind on payments to banks, suppliers and holders of onshore investment products:
There's $83.5 million of interest due that day on an 8.25%, five-year dollar bond, Bloomberg-compiled data show. Any missed payment would have a 30-day period before it's considered a default, according to the bond covenants.

Evergrande also needs to pay a 232 million yuan ($36 million) coupon on an onshore note the same day.
So, it appears the onshore note has been negotiated – though we do not know what kind of haircut was applied – and we do not know about the dollar bond.
But that wasn't all, PBOC confirmed it was boosting its daily liquidity injection by 120 billion yuan. That is the biggest liquidity injection since January.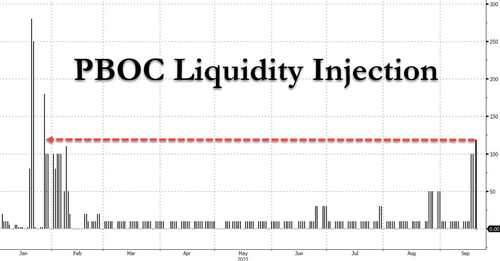 "The PBOC kept its net injection against a possible market plunge," said Zhaopeng Xing, senior China strategist at Australia & New Zealand Banking Group Ltd.

"This will soothe the tightness and keep liquidity loose. Next week will see big fiscal spending flows, which will solve the quarter-end liquidity issue."
Did Xi just fold?
Or will the Evergrande plan leave dollar bondholders in the hole while domestic bonds get covered?