As Agricultural Commodities Surge, Eating Costs More (And That's Not Transitory) | Investing.com
This article was written exclusively for Investing.com
Inflation is pushing prices higher
Breakfast is getting pricey: Coffee and sugar rally to multi-year highs
Lunch costs rise: Grains remain at highest levels in years
Dinner skyrockets: Meats cost more in 2021
More increases on the horizon
Over the past weeks, many commodity prices have corrected lower. Meanwhile, all raw materials remain appreciably higher than at the 2020 lows. Over the past months, the consumer price data indicates that is rising to levels not seen in years. excludes food and energy, but any consumer will tell you the cost of filling the gas tank or shopping at the supermarket has skyrocketed.
Economists at the US Federal Reserve believe inflationary pressures are transitory. They have blamed the increase on bottlenecks in the supply chain, pointing to problems at lumber mills that sent the price of wood to an all-time high in May. More recently, a semiconductor shortage lifted car prices, leading the central bank to point to another temporary factor. However, shoppers know that the higher prices for everyday essentials are not likely to come down any time soon.
The bottom line is that it costs a lot more to eat these days, which is not likely to be a "transitory" situation. Eating has become expensive, and we could be in the early innings of trends that will take food prices far higher over the coming months and years.
Inflation is pushing prices higher
The May and June consumer price index data was highly inflationary. The US central bank attributed May's rise to and prices, which rose to record highs. In June, they pointed to the semiconductor shortage and higher new and used car prices. The Fed continues to call rising inflation a "transitory" event.
On Aug. 11, July CPI rose 5.4% from the level in July 2020. The barometer increased 0.50% on a month-over-month basis and matches consensus forecasts.
Meanwhile, core inflation excluding food and energy rose 0.3% in July, lower than the 0.4% forecasts.
Economists argue that the core CPI data is a more reliable inflation indicator because of the volatility in petroleum and food prices. Meanwhile, consumers need to eat and power their lives.
Food and energy are not luxuries; they are necessities. The latest data continues to tell us filling our vehicles and fueling our bodies continues to get more expensive each month. Inflation is taking a bite out of people's budgets even if the Fed says it is a temporary event. The problem is that consumer prices rise a lot faster than they decline. 
Breakfast is getting pricey: Coffee and sugar rally to multi-year highs
Many nutritionists say that breakfast is the most important meal of the day. It fuels our bodies to face the day's challenges. and are breakfast staples for many. 
Source, all charts: CQG
The chart shows that Arabica coffee futures on the Intercontinental Exchange traded in a range from $1.0970 to $1.3080 in August 2020. In August 2021, the range has been from $1.7160 to $1.8655.
Based on the highs during the months, coffee prices are over 42.5% higher in 2021 than in 2020. Moreover, coffee reached its highest price since October 2014 in July at $2.1520 per pound.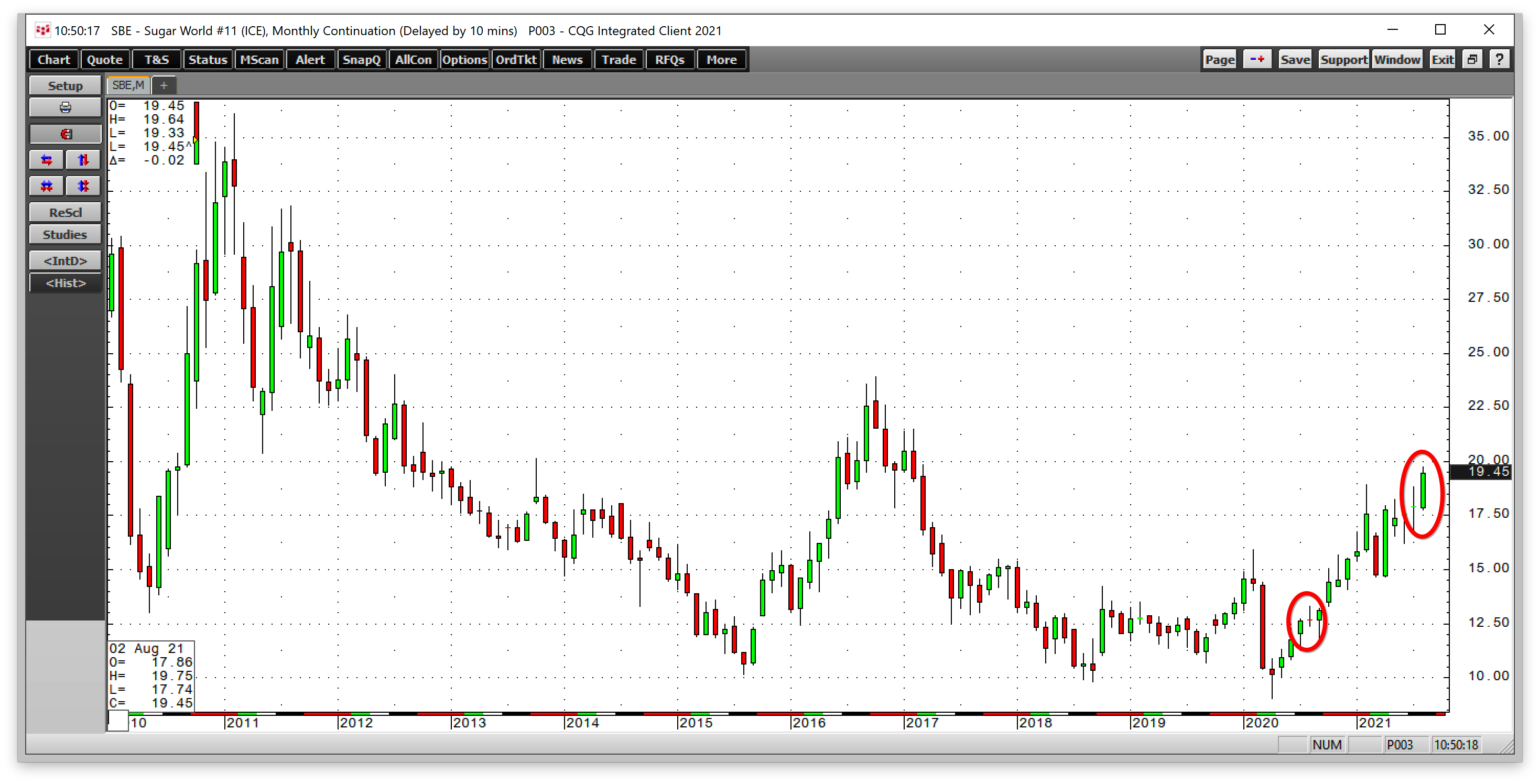 Sugar futures traded between 12.39 and 13.28 cents per pound in August 2020. The range this month has been from 17.74 to 19.75 cents. At the highs, sugar is nearly 49% higher this August compared with last year at this time. Sugar traded to its highest price since March 2017 this week.
Breakfast is a lot more expensive in August 2021 than it was in 2020.
Lunch costs rise: Grains remain at highest levels in years
Grains are staples in many of the foods we eat. The ingredients in our lunchtime sandwich have moved appreciably higher from August 2020 to August 2021.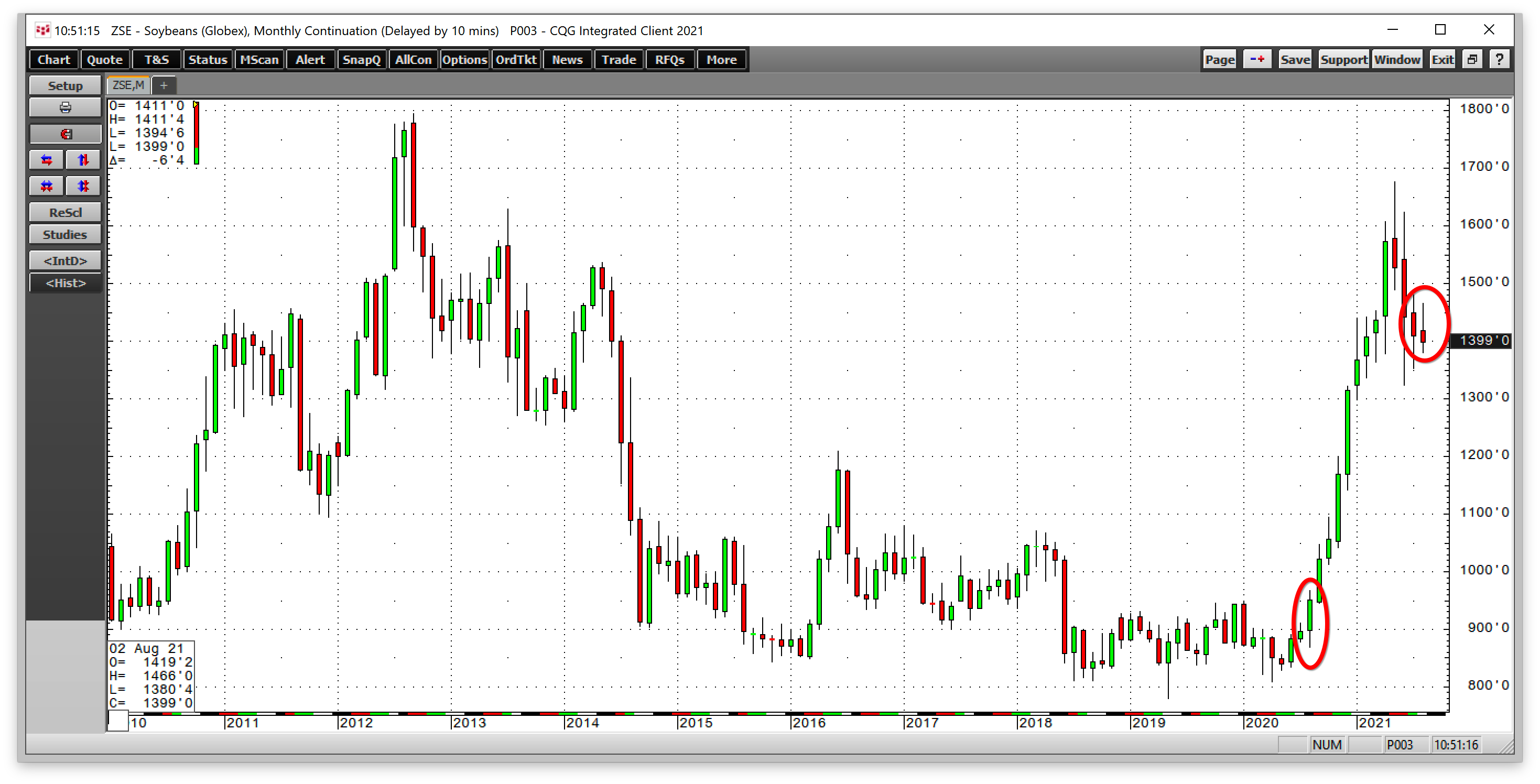 Last August, nearby traded to a high of $9.67 per bushel. At the $13.99 level on Aug. 12, the oilseed futures were 44.7% higher.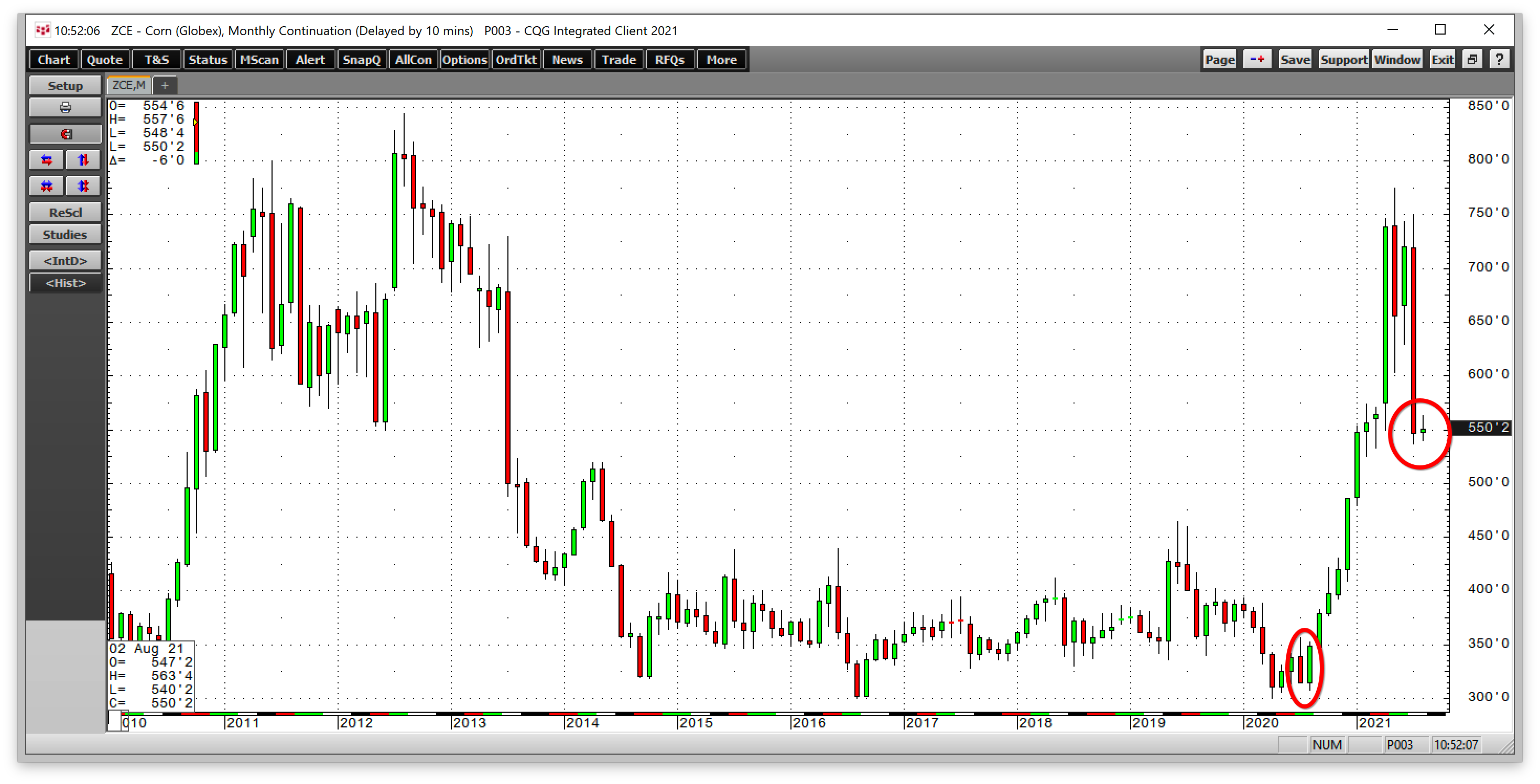 moved from a high of $3.53 last August to the $5.5075 per bushel level, a 56% gain over the period.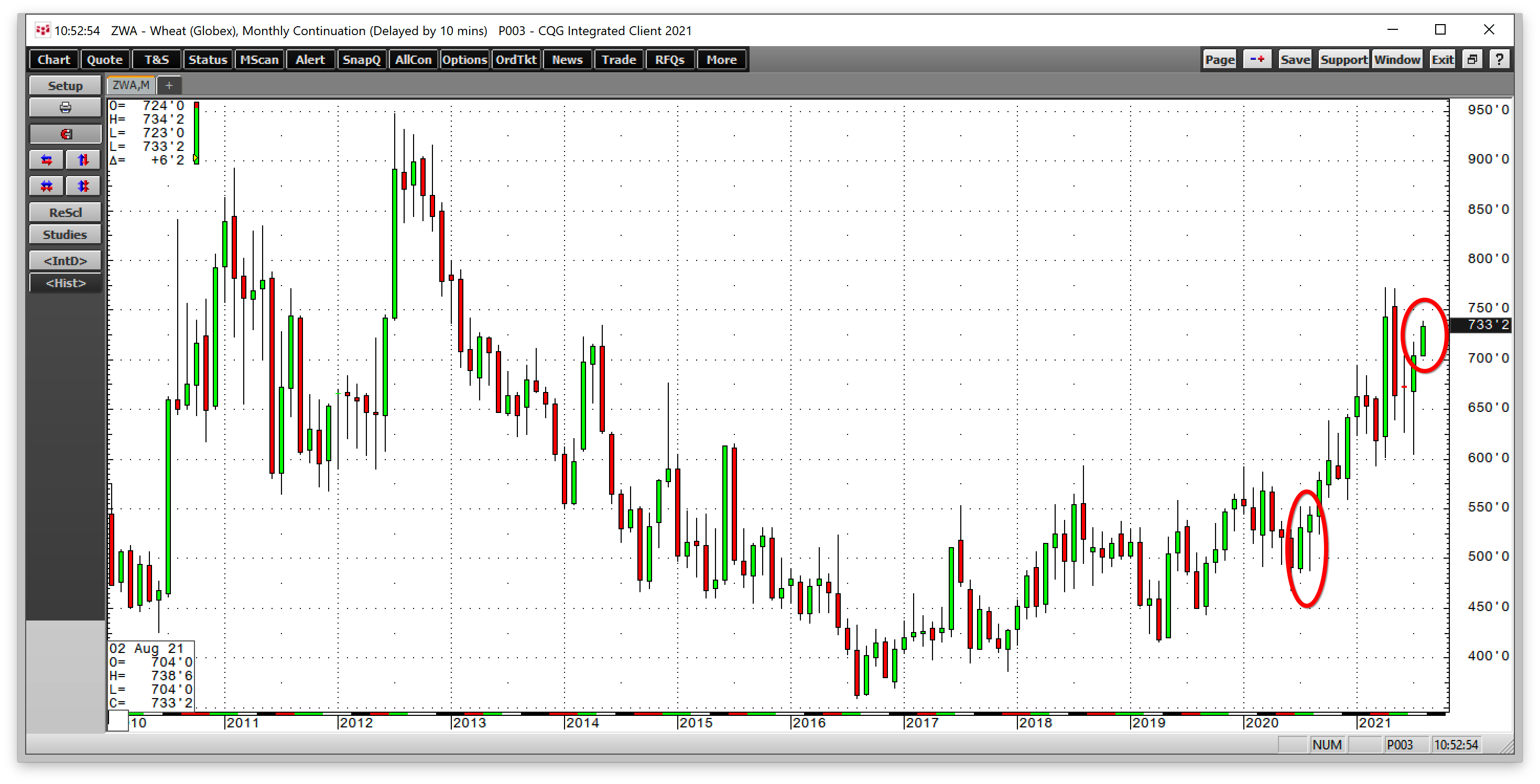 is the primary ingredient in bread, which feeds the world. In August 2020, CBOT wheat futures reached a high of $5.5175 per bushel. At the $7.3325 level, wheat is over 32.9% higher on a year-on-year basis.
Dinner skyrockets: Meats cost more in 2021
Meats are the proteins that many people consume at dinner time. Dinner has become a lot more expensive over the past year.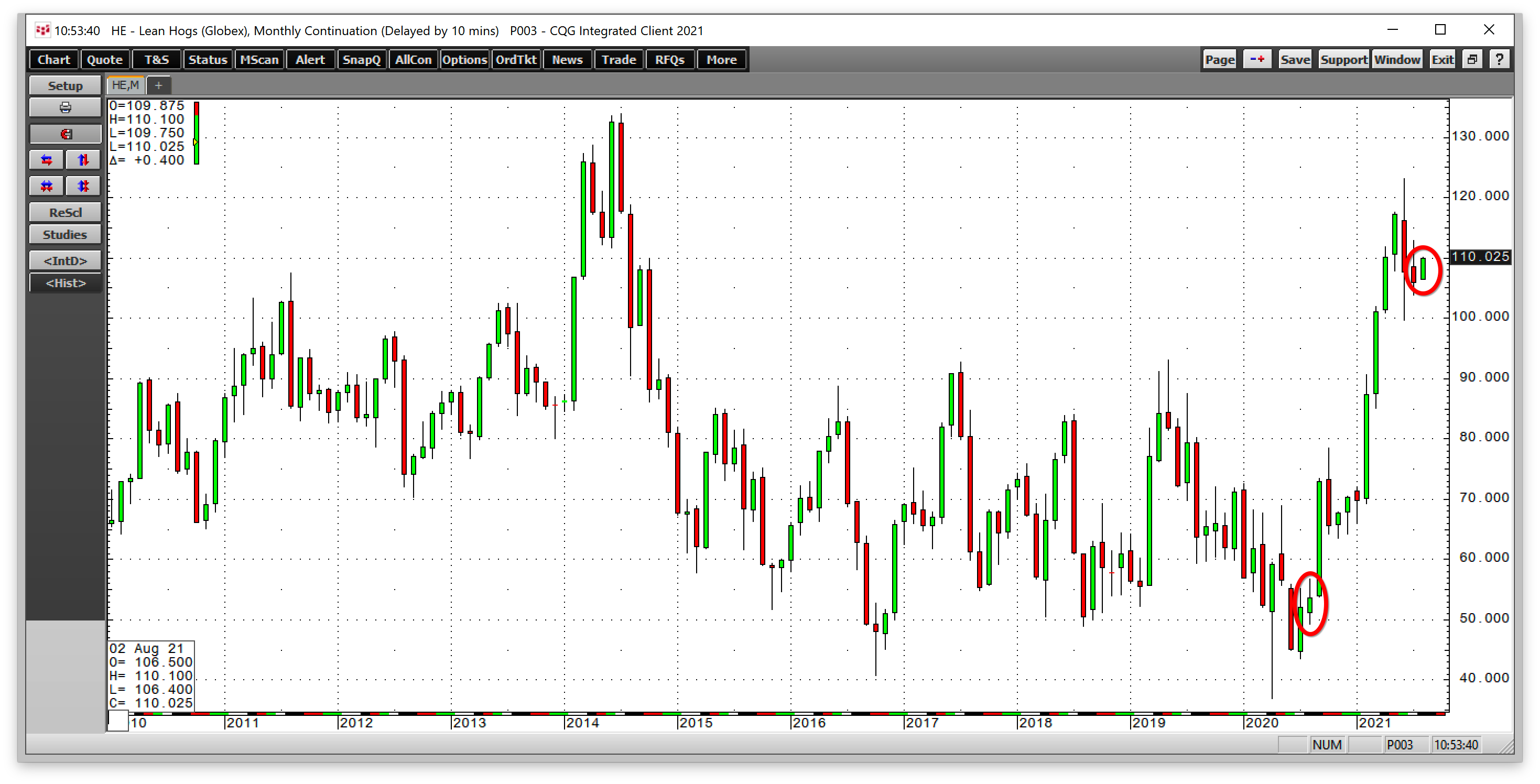 Nearby reached a peak at 56.70 cents per pound in August 2020. At the $1.10050 level on Aug. 12, they were over 94% higher.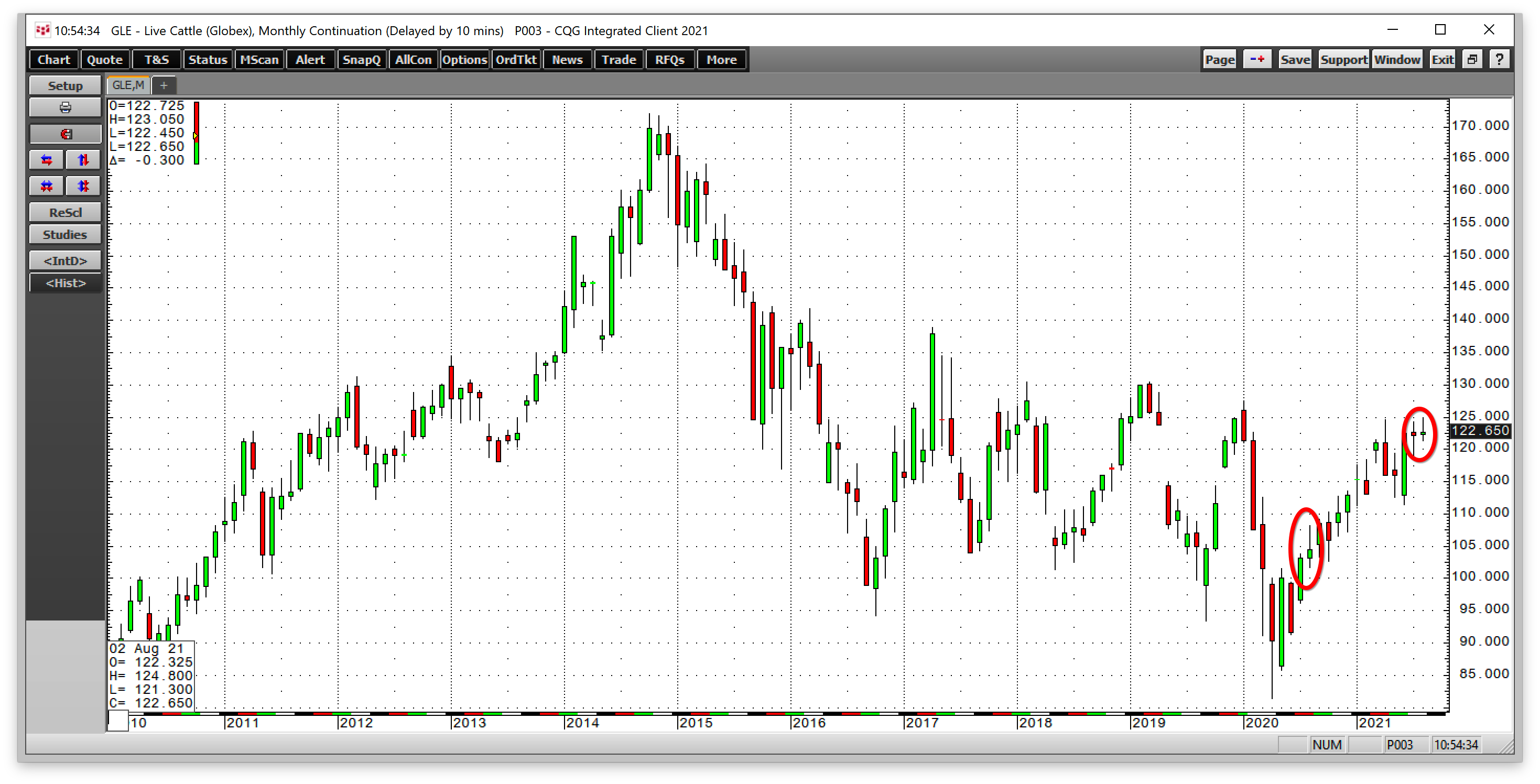 futures on the nearby contract peaked at $1.08225 per pound in August 2020. At $1.22625 on Aug. 12, wholesale beef was 13.3% higher.
More increases on the horizon
The Fed may call inflation "transitory," but it takes a big bite out of consumers' budgets. The trend is always your best friend in markets across all asset classes. In the commodities that feed the world, the path of least resistance of prices remains higher in August 2021.
The tidal wave of central bank liquidity and tsunami of government stimulus has planted inflationary seeds in the economy that are blooming in the form of higher agricultural and other commodity prices. Industrial metals, energy, and other raw materials have also experienced dramatic year-on-year price increases.
Economists may argue that the proper measure for inflation excludes the items that power our lives and provide nutrition. Most consumers have a far more realistic view as they have to pay up for essentials, and prices continue to rise.