US Retail Sales Disappoint In April As Stimmy Surge Stalls
After hot-hot-hot inflationary prints this week, following dismal jobs data last week, all eyes are on this morning's retail sales data to discern if America's future is a stagflationary cornering of The Fed. While no one expected a repeat of March's explosive gains, analysts still expected a modest rise (while BofA – who have been consistently correct – warned that a big disappointment was possible with retail sales actually falling MoM). It turns out, BofA was right as retail sales disappointed in April, printing unchanged from March (versus +1.0% expected) after an upwardly revised +10.7% MoM stimmy surge in March.
Source: Bloomberg
Worse still Core Retail Sales tumbled 0.8% MoM (versus expectations of a 0.3% rise)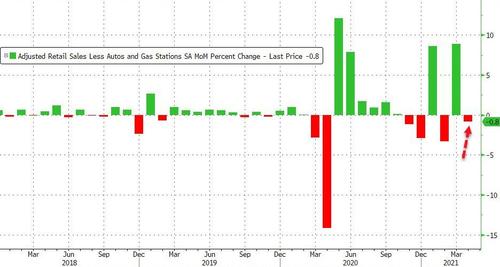 Source: Bloomberg
Under the hood, clothing, gas stations, and online retailers saw sales sink MoM…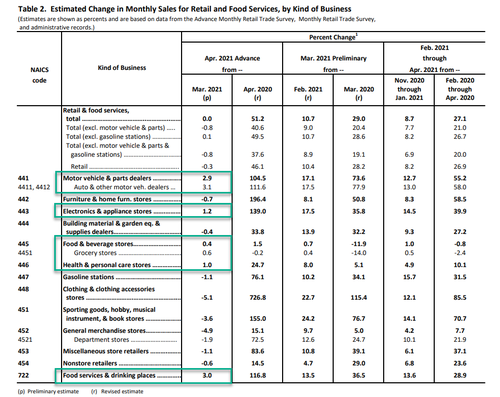 Of course, on a YoY basis – due to the collapse comps – retail sales are up a stunning 51%…
Source: Bloomberg
Worse still, the Control Group – which feeds into GDP, tumbled 1.5% MoM…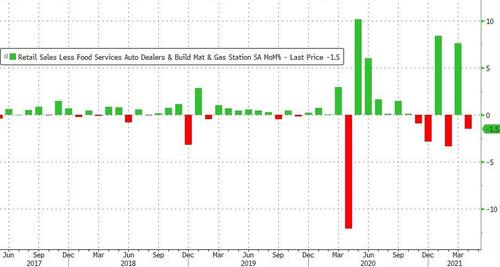 Source: Bloomberg
And to put it all in context, thanks to trillions in free money, US retail sales are officially "above trend"…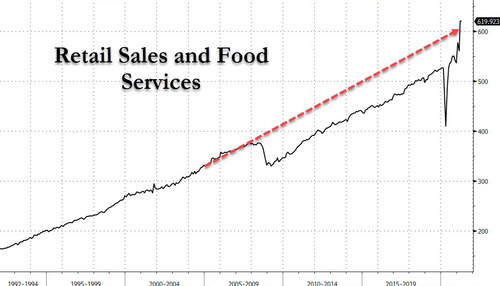 Source: Bloomberg
Put another way – We've brought forward 5 years of trend retail sales growth since the pandemic started due to stimulus
We're gonna need more stimmies!