US Consumer Confidence Plunges As Inflation Fears Soar
After a dismal jobs print, one could be forgiven for thinking sentiment would be disappointing (but then again, being paid to sit on the couch sure beats working), but analysts expected further gains in the UMich confidence measure.
Oh boy were they wrong, as higher inflation fears sparked a plunge in sentiment in preliminary May data to 82.8 in May from 88.3 the prior month (that was well below even the most pessimistic estimate in a Bloomberg survey of economists).
The gauge of current conditions fell to 90.8, while a measure of expectations dropped more than 5 points to 77.6.
Source: Bloomberg
Buying Conditions plunged across the board, but this is the weakest print for home-buying sentiment since 1983…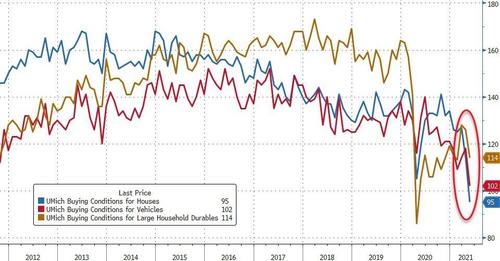 Source: Bloomberg
After 8 straight months of improvements, Democrats started to worry again this month…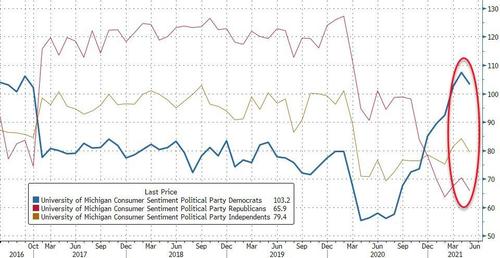 Source: Bloomberg
"Consumer confidence in early May tumbled due to higher inflation," Richard Curtin, director of the survey, said in the report.

"Importantly, consumer spending will still advance despite higher prices due to pent-up demand and record saving balances."
Americans are becoming increasingly concerned about the cost of goods rising as expectations for inflation over the next year rose to 4.6% in the month, the highest in a decade.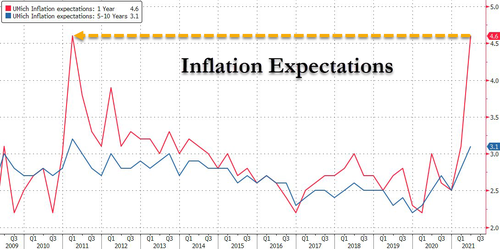 Source: Bloomberg
Don't they know it's "transitory"?