China PMIs Disappoint Again As Production, New Orders Slide
For the 4th time in the last 5 months, China's Services and Manufacturing PMIs missed expectations in April.
China's official manufacturing purchasing managers index declined to 51.1 in April from 51.9 in March (and well below the 51.8 expectations), according to data released Friday by the National Bureau of Statistics.
The non-manufacturing gauge, which measures activity in the construction and services sectors, dropped to 54.9 (from 56.3 in March), compared to 56.1 projected by economists.
While the trend is not the friend of the Chinese economy, we do note that both PMIs remain above the 50-level demarcating an expansion in output. The reading has now remained in expansionary territory for 14 straight months.
The subindex measuring production fell to 52.2 from 53.9 in March. Total new orders also dropped to 52 from 53.6 in March, and new export orders fell from 51.2 in March to 50.4, but stayed in the expansionary territory for two straight months.
Surveyed manufacturers said chip shortages, international logistics jams and rising delivery costs have weighed on their operations, the statistics bureau said.
The non-manufacturing PMI again outpaced manufacturing, supporting the view of the services sector is catching up and manufacturing activity peaking.
The one potential silver lining, looking ahead, is that China's economy could be about to get a boost as Deutsche Bank notes that from June onward, the credit impulse -on a YoY basis – should mechanically rebound thanks to base effects. More importantly, as the chart below shows, higher frequency leading indicators are also consistent with a recovery in the credit impulse.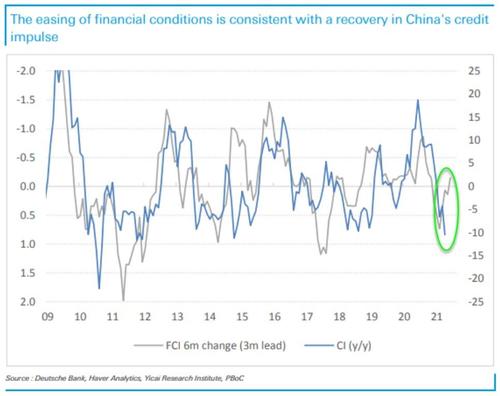 Indeed, recent easing of financial conditions suggests the credit impulse should converge towardsa zero. In turn, this would be consistent with stable PMI manufacturing new orders. And even more notably, for those paying attention to supply chain disruptions and inflationary impulses worldwide, a stabilization of China's manufacturing is key given that it tends to lead global manufacturing and is a key driver of global inflation expectations.