TWTR Tumbles On Weak User Growth, Lowered Outlook
At first glance, Twitter looked solid – beating top- and bottom-line (albeit modestly)…
However, two things stand out and have sparked concern for investors:
First, Twitter added 7 million news users, and now has 199 million total daily users. That's 20% growth, which was only marginally in line with expectations, but notably slowdowns in that growth…
The 13% US user growth in Q1 (which incorporates the post Jan 6th Trump ban) is the weakest since Q2 2019.
And the outlook for that user growth was not great…
"Looking ahead, the significant pandemic-related surge we saw last year creates challenging comps, and may lead to mDAU growth rates in the low double digits on a year-over-year basis in Q2, Q3, and Q4, with the low point in terms of growth likely in Q2."
Second, and considerably more important, Twitter appeared to lower its Q2 revenue outlook.
The company says revenue should come in between $980 million and $1.08 billion for the quarter.

Current estimates are on the high end of that range at $1.05 billion.
The result is an 8% drop in TWTR after hours…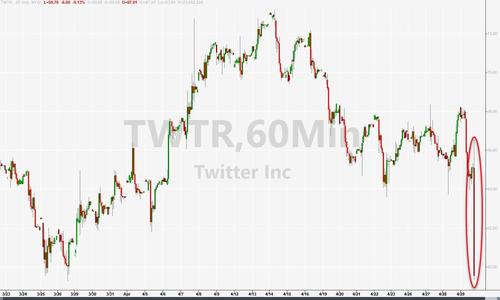 After Facebook and Google's breathtaking results, this is a big notice that TWTR just doesn't have the kind of direct-response advertising products its competitors have.