Hedge Fund Giant Shorts SPACs As "'Bezzle' Becomes Apparent"
"The SPAC phenomenon will end badly and leave many casualties."
That is the ominous warning from Paul Marshall, co-founder of hedge fund giant Marshall Wace with $55 billion AUM, as he sounds the alarm on the black-check-company-bubble.
As we noted last week, it's already been a very bad month for SPACs: last week we pointed out that the SPAC Bubble may have popped as the "Flood Of New SPAC IPOs Hit A Brick Wall." In the article, we said that the flood of recent SPACs which through the end of March was a non-stop torrent…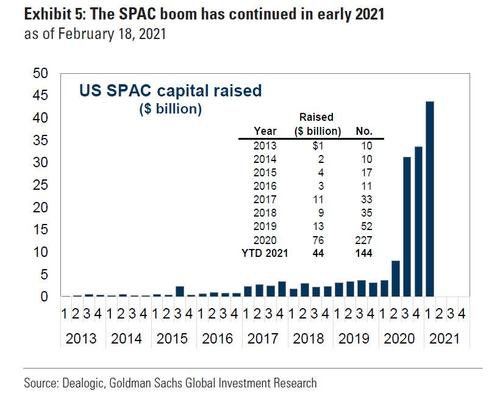 … had come and gone, spelling trouble for the broader market for initial public offerings with just three SPACs listing last week,, following just a pair of IPOs by SPACs last week which was a collapse from the more than 20 deals a week during most of the year.
There was much more pain to come for SPACs, however, and as we reported earlier this week, out of the blue the SEC lobbed an accounting bomb at the SPAC frenzy, when it began privately telling accountants that warrants, which are issued to early investors in the deals, might not be considered equity instruments. As Bloomberg explained, the proposed changes could result in warrants being considered a liability for accounting purposes, a shift which would spell a massive nuisance for accountants and lawyers, who are hired to ensured SPACs are in compliance with the agency.
Simply put, as Bloomberg concluded, "the communications mean that filings for new SPACs may not go forward until the warrants issue is addressed."
And sure enough, since peaking in mid-February, the U.S. IPOX SPAC index, which tracks U.S. blank-check stocks, has plunged over 24% (more than twice as bad as the 10% drop in 'traditional' IPOs since the same peak)…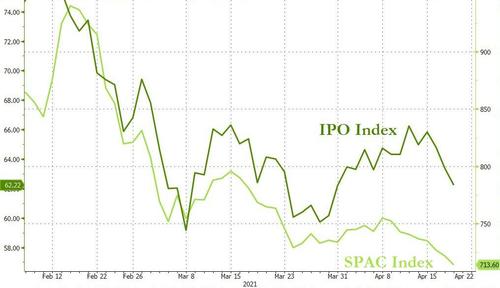 The life cycle of SPACs is riddled with "perverse incentives" for investors, sponsors and the companies using the shortcut route to come to market, warned Marshall in his latest letter to investors. As Bloomberg reports, the billionaire didn't hold back as he claimed that the SPAC structure could even have been designed to encourage "the bezzle," referencing a term coined by economist John Kenneth Galbraith to describe the period in which an embezzler has stolen money but the victim doesn't yet realize it.
While retail investors got carried away in the SPAC bubble in January and February, the latest rebound ramp in risk-appetite has done nothing for SPAC popularity. Did Colin Kaepernick's 'Woke' SPAC mark the top?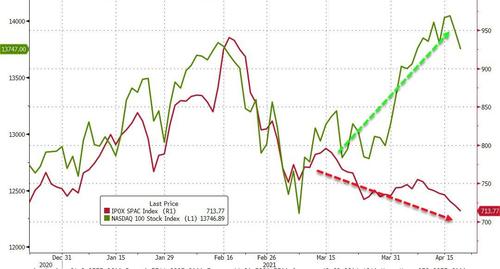 Marshall concludes by saying that the firm owns or has owned "almost every SPAC" on the long side and is now also betting on their prices to collapse.
"We have increasing exposure on the short side as the SPACs go ex-deal and the low caliber of the deals, and even the potential for bezzle, becomes apparent," he said.
Trade accordingly.