US Housing Starts Rebound To Highest Since July 2006, Rental Permits Tumble
After February's unexpected plunge (weather-driven), Housing Starts and Permits bounced back in March but in a very different manner.
After a downwardly-revised 10.3% plunge in February, Housing Starts spiked 19.4% MoM in March (much better than the +13.4% MoM expected).

After an upwardly-revised 8.8% drop in February, Building Permits jumped 2.7% MoM (modestly better than the +1.7% expected)
Source: Bloomberg
This pushed Housing Starts to their highest since July 2006 (but the forward-looking building permits remains well off its post-pandemic-plunge spike highs),,,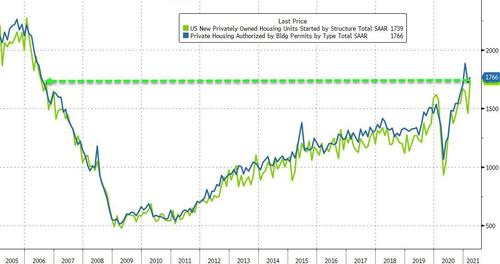 Source: Bloomberg
Both single- and multi-family starts bounced back in March…
But, while single-family permits were up 4.6% MoM, multi-family permits dropped 3.6%…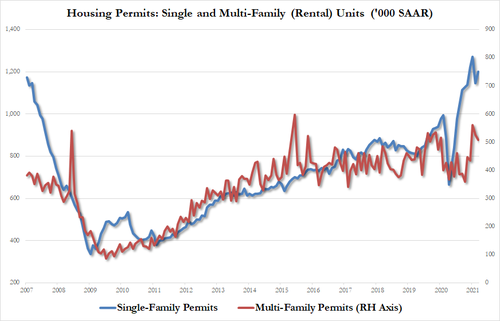 It would appear homebuilders are shifting away from 'rental nation'. Are soaring, record-high lumber prices stalling the optimism of homebuilders going forward?