Morgan Stanley Prime: These Are The 6 Main Hedge Fund Trading Themes In 2021
Those wondering how hedge funds are doing may get conflicting answers depending on whom they ask.
On one hand, according to Goldman Prime (best known these days for liquidating its margin called clients to extinction), the average Long-Short hedge funds was flat for Q1, with some outperformance observed only in the first two weeks of April.
On the other hand, if one reads the FT, one finds articles such as "Hedge funds post best start to year since before financial crisis"  in which we read, perplexingly, that "hedge funds have navigated the GameStop short squeeze and the collapse of family office Archegos Capital to post their best first quarter of performance since before the global financial crisis."
According to the FT, "funds generated returns of just under 1% last month to take gains in the first three months of the year to 4.8%, the best first quarter since 2006, according to data group Eurekahedge. Recent data from HFR, meanwhile, show funds made 6.1% in the first three months of the year, the strongest first-quarter gain since 2000."
The gains are a marked contrast to the first three months of 2020, when funds slumped by around 11.6 per cent as the onset of the pandemic sent equity and other risky markets tumbling. However, funds later recovered strongly to post their best year of returns since 2009.
While we agree that 2020 was catastrophic for hedge funds, it's certainly new to use that hedge funds did so well in Q1 – after all according to the HFRX hedge fund index, the average hedge fund is not only underperforming the S&P500 and retail investors, but was effectively flat for Q1.
Morgan Stanley's latest Prime report confirms as much, writing that "March was another challenging month for HF performance, with most strategies posting losses despite Global equity indices ending higher MoM." The report goes on to note that one of the main drivers behind this was the long side, as HF longs lagged the MSCI by close to ~5.5% for the month across Global L/S positions, which caused total alpha to end the month down -3.5%.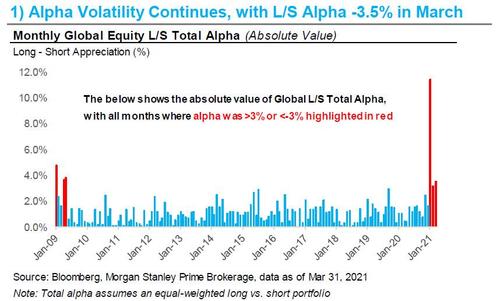 Some more details from Morgan Stanley:
The average Global fund ended the month down ~20bps, while the average Global Equity L/S fund was down slightly more at -0.9%; this all compares to the MSCI AC World Index posting gains of +2.7% in the month of March. Notably, the average fund was down slightly more heading into the final week of March, but was able to recover in the final few days. YTD, the average Global fund is now up +2.9% vs. the MSCI up +4.7%, while the average L/S fund is up +3.5%
MS also calculates that on an asset-weighted basis, "the average Global Equity L/S return was -2.0% for March MTD."
The divergence between the FT report and HFR/Prime brokers appears to be that the former focused on a handful of outlier performers and extrapolated while ignoring the overall trend in the industry.
Case in point, the FT writes that "among some of the biggest winners is technology specialist Lee Ainslie's Maverick Capital, which late last year switched into value stocks. Maverick has also profited from a longstanding holding in SoftBank-backed ecommerce firm Coupang, which floated last month, and a timely position in GameStop. It has gained around 36 per cent. New York-based Senvest, which began buying GameStop shares in September, has gained 67 per cent."
Also profiting is Crispin Odey's Odey European fund, which rose nearly 60 per cent, having lost around 30 per cent last year, according to numbers sent to investors.

Odey's James Hanbury has gained 7.3 per cent in his LF Brook Absolute Return fund, helped by positions in stocks such as pub group JD Wetherspoon and Wagamama owner The Restaurant Group. Such stocks have been helped by the UK's progress on the rollout of the coronavirus vaccine, which has raised hopes of an economic rebound."
It appears that what the FT did is merely read the latest HSBC hedge fund league table and work backward. So here it is, stripped of all commentary: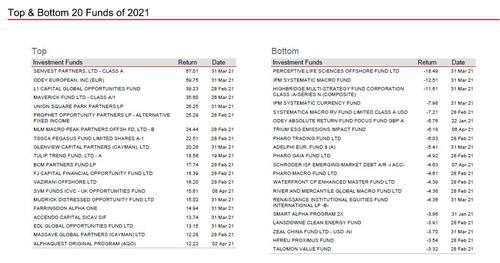 So to provide some actual signal, here are the 6 main themes from the latest Morgan Stanley prime broker report, first focusing on global hedge fund positioning and leverage…
THEME #1: HFs Sell Global Equities in March; Global L/S Ratio Dips in Line with Net Activity
HFs were net sellers of Global equities in March, though the net selling was mostly concentrated in the week ending March 19th, driven by the US and China – HFs added to shorts and sold longs in both countries. Despite this, N. Am was the only region to see net buying in March, while AxJ, Japan, and Europe were all net sold.

In line with the selling in March, the Global L/S ratio (ex. Quants) fell MoM, though it remains quite elevated over the longer term. Currently, the ratio sits just below 2.5x, which represents the 86th %-tile over the last 12M and the 99th since 2010.

THEME #2: Gross & Net Leverage (across Strategies) Falls from Recent Highs
Despite the fact we saw funds across all strategies adding to both longs and shorts on a net basis in March, the average gross leverage level (across strategies) fell from a +1.1 z-score at the start of March to a +0.9 z-score by month-end. For reference,  gross leverage reached near peak levels since 2010 in late Jan of this year (in line with the last week of Jan. in 2018). After reaching a high since 2010 in mid-February this year, net leverage across strategies also fell in March from a +2.7 z-score to start the month to +2.5 z-score by month-end. The main drivers behind this were Multi-Strat / Macro and Asia funds, as net leverage fell -8% and -4% across the two strategies respectively.

… and then the 4 main themes on North American positioning:
THEME #1: Re-Grossing That Began In Feb Slowed in March, But Gross Leverage Remains Elevated
One the key trends following the Jan de-grossing event has been the re-grossing across single-names by L/S funds, which is something we saw play out throughout all of Feb and into the early days of March. The re-grossing trend has since slowed materially, with gross flows across single-names essentially paired off for the past ~2.5 weeks. While we have yet to see HFs de-gross in any material size, it has been an interesting break in trend, and comes at a time where gross leverage remains near longer-term highs – US L/S gross leverage now sits at 198% (95th %-tile since 2010), which is where it stood at the end of Feb.

THEME #2: Growth and Value Detract from L/S Returns; HFs Beginning to Rotate Towards Value
Long Growth / short Value was one of the more effective trades throughout all of 2020, as attribution from the two factors was one of the main drivers behind the strong positive alpha generated last year. 2021, however, has been a much different story with the two factors now among the largest detractors from total return across US L/S positions. The negative attribution began in late 2020, but it wasn't really until this past month where we began to see HFs actively rotating away from Growth into Value – currently, net exp to Value is near ~6 month highs, though it remains light relative to longer-dated history.

From a flows perspective, most of the rotation took place in the weeks ending 3/19 and 3/26, with these two weeks in particular among the largest weeks of buying of Value / selling of Growth in the past year.Z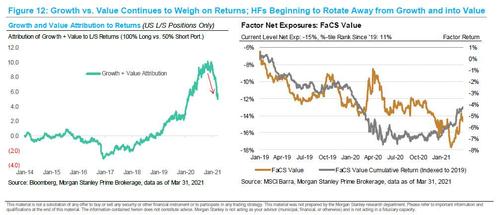 THEME #3: HFs Add to Higher Quality Names in the Back Half of March
In addition to buying Value on a net basis in the month of March, HFs were also relatively large buyers of the Quality factor. The majority of the buying took place in the 2nd half of March as the factor began to outperform, which perhaps indicates a declining risk appetite, with HFs favoring higher quality names. The shift towards Quality was largely driven by a shift away from small caps in favor of large cap stocks. Net exposure to Quality, like Value, is also close to ~6 month highs, but remains in the 24th %-tile since the start of 2019.
THEME #4: Flows to Large Cap Tech Turn Positive, While Unprofitable Tech Sentiment Cools
In line with the shift towards Large Cap names / Quality / Size, HFs were net buyers of Large Cap Tech in the back half of March. Net exposure to this cohort of names had bottomed in early March as flows had been trending towards selling for most of 2021 (and also in late '20), but it has since rebounded sharply in recent weeks.

On the other hand, we've seen the buying of the more 'Unprofitable / Expensive' Tech names slow, in line with the challenging performance of these names. Net exposure had reached a high at the end of Feb, but the combination of marginal amounts of selling (short adds) and weak relative performance have caused net exp to fall to the 69th %-tile over the last 12M.